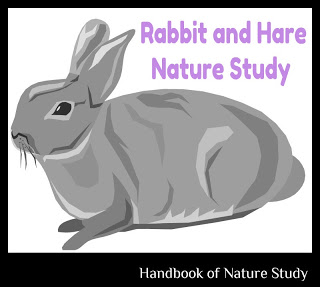 Outdoor Hour Challenge #44
Mammals: Rabbits and Hares
1. Read pages 214-219 in the Handbook of Nature Study.
In this case, I would actually mark sections to read to your child about rabbits as a way to introduce them to an animal they probably haven't seen in the wild. You do not need to read the whole section on rabbits but only as much as you think they will be interested in hearing. If you are using The Burgess Book of Animals, you may wish to skip reading from the Handbook of Nature Study to them altogether.
Although few of us will have access to a real rabbit of any sort to study up close, children will enjoy reading about the rabbit and then remembering some facts about rabbits for any future opportunities that may arise. Be creative and see if you can visit a pet shop that has rabbits that you can observe or let others know that you are studying rabbits and they may know someone who owns a rabbit that you can study with your children.
Here is a great link to read with your children that includes photos of the cottontail rabbit as well as images of the rabbit's tracks.
Cottontail Rabbit
2. Supplemental Reading in The Burgess Animal Book for Children: Read Stories 1-3. After you read each chapter, stop and pause for a little discussion about the animals in each story. See if your child can narrate back to you a few facts about each animal. If narration is new to your child, you may need to prompt them at first but it does get easier as you practice. Use the illustrations if you need to get them started.
"The purpose of this book is to acquaint the reader with the larger groups-orders, families, and divisions of the latter, so that typical representatives may readily be recognized and their habits understood."
The Burgess Animal Book, Preface
3. Spend 10-15 minutes outdoors on a nature walk. Ask your children where they think that they might see a mammal. If you have snow or mud, look for animal tracks of any kind. Look for any other signs of animals as you walk. Look for gnawing marks on trees and plants. Look for scat or cones or seeds left from a meal.
"The cotton-tail thrives amid civilization; its color protects it from sight; its long ears give it warning of the approach of danger; and its long legs enable it to run by swift, long leaps."
Handbook of Nature Study, page 218
Don't forget that you can also observe other mammals if you have the opportunity. Cats, dogs, squirrels, and horses may be available. You can draw attention to the similarities and differences between a rabbit and these other mammals. For example: How are a cat's and a rabbit's ears different? Why do you think they are different? How are a cat and a rabbit alike? (both have fur, both have four legs, etc.)
4. For your nature journal this week, try sketching two different kinds of rabbits. Use The Burgess Animal Book as a reference or you can Google Cottontail rabbit, Northern hare, Swamp rabbit, Snowshoe rabbit, Jack rabbit. (Please preview before you share with your children because many times the images are of dead rabbits.) As an alternative to a nature journal, see the resources below for printable activities.
Rabbit Lapbook on Homeschool Share
Rabbit Coloring Page