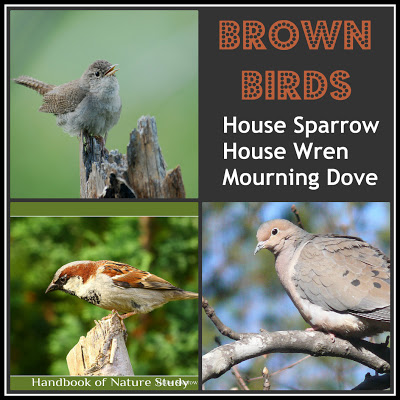 Outdoor Hour Challenge
Brown Birds #5
House Sparrow, House Wren, and Mourning Dove
Inside Preparation Work:
1. Read in the Handbook of Nature Study pages 83-91. This includes three sections on sparrows: English sparrow, Chirping sparrow, and Song sparrow.
2. Read in Backyard Birds pages 22-27 on brown birds: House sparrow, House wren, and Mourning dove. This week we are going to focus on bird songs so make special note of how the book describes each song. If you haven't noticed already, in the back of this book, on the last page, is a Life List for you to record when and where you spotted and identified each bird listed in the book. This is a good time to begin a life list of birds seen.
3. Peterson Field Guide: Look up and read about the house sparrow, house wren, and mourning dove. Make note of each bird's field marks.
4. Read in the Handbook of Nature Study pages 42-43 about the songs of birds.
"Anyone who attempts to recognize birds by sight alone misses much of the pleasure that comes to those who have taken the time and pains to learn bird songs and use them as a means of bird recognition. It is true that not all people have a talent for music; but everyone interested in birds can learn to identify the songs and most of the call notes of common birds."
Handbook of Nature Study, page 42
Outdoor Hour Time:
With each challenge you have been asked to spend ten to fifteen minutes outdoors together as a family exploring your own backyard or neighborhood. You have also had opportunities to hang different birdfeeders to attract and nourish birds in your backyard. I encourage you to make sure to keep your feeders clean and filled, remembering that the more you involve the children in these tasks, the more they will become invested in the birds that come to visit you.
This week make sure to spend some of your outdoor time silently listening for birds. You can very easily learn the common bird songs in your area by using the internet links provided in each challenge. Also, remember that the Handbook of Nature Study explains, "Birds do most of their singing in the early morning and during the spring and early summer months."
Remember all the other suggestions for bird observation that you have worked on so far in the Outdoor Hour Challenges: wing and tail shape, beak size and shape, and how the bird flies.
If you have a special habitat near your home, make plans to visit and look for birds. Do you have a pond, some woods, the seashore, or a marsh near-by that you can travel to easily? Take advantage of what is unique in your local area.
Follow Up Activity for the House sparrow, the House wren, and the Mourning dove:
After your outdoor time, make sure to discuss any birds that you observed and try to remember as many of their features as you can. Pull out your field guide and refresh your memory about this challenge's particular birds. You can add nature journal pages for any of the birds that you studied during this challenge. You will find a coloring pages for the house sparrow, the mourning dove, and the song sparrow in Cornell's bird coloring book: Feeder Birds Coloring Book.
If you are using NotebookPages.com's bird study set (noted below), you can complete the pages on bird songs. I suggest using these pages to record the bird songs you hear during each Outdoor Hour Challenge.
Follow Up Activity for Other Birds Observed:
By this time in the bird challenges, you should be gaining some skills at looking at field marks for birds you see during your outdoor time. Make a nature journal page for one new bird that you observed this week. You can also use your Peterson Field Guide to help identify your bird.
Also I am highly recommending that you purchase the Bird Bundle from NotebookingPages.com as a great supplement to your study of birds using the Outdoor Hour Challenge. Note: These are affiliate links.


Use code discount5 to save $5 on any purchase $10 or more from the NotebookingPages.com Shop. (This does not include membership purchases.)
Save