Outdoor Hour Challenge
Week 12 – November 19, 2021
Cultivate the Habit of Reading Nature Books
Over the years, our family has built a nature themed library of our favorite and most useful resources. There are picture books featuring the natural world, fiction with a nature theme, and non-fiction reference and activity filled books. Even now with my children all grown and on their own, I use this nature library for my own benefit and enjoyment.
This entry is not intended to be an exhaustive list of nature books you could have in your home. Rather, it's filled with possible selections and ideas you can adapt to your own personal tastes and habitat.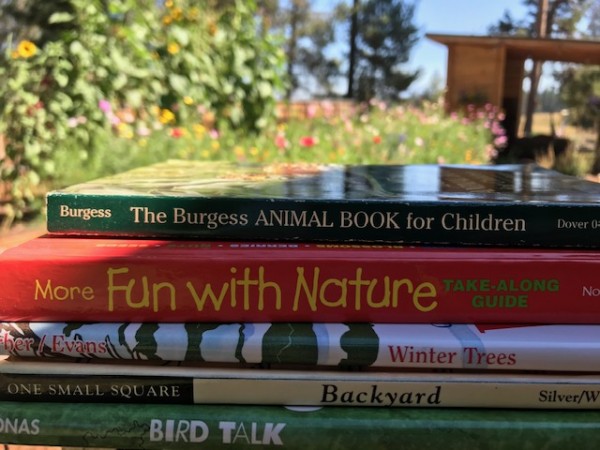 Start Collecting Books ASAP
"Nature themed literature is a wonderful way to generate an interest in the natural world. These books can also be used to enhance an area of study by sharing information along with illustrations in a simple and non-threatening way. Children can usually sit still for a few minutes while you share a picture book and many times, they will later pick up the book again all on their own and really study it."
This is a quote from a newsletter article I wrote and then shared on the blog. You can read the entire article here: Using the Public Library to Enhance Your Nature Study.  
The link above also includes a free printable Nature Book Report notebook page for you to use with your family.
Young Children – Create a Book Basket
Gathering seasonal or themed nature study books into a basket takes a few minutes of preparation but it can provide hours of enjoyment for your family.
Three Ways a Book Basket Facilitates Learning
(Read more in the January 2015 Newsletter found in the Archives)
¨ Introduces and allows familiarity to nature study topics: Make sure to read or page through any picture books in the basket at the beginning of the month. Demonstrate how to use field guides (or learn how to use them together with your children).
¨ Reference: If you choose books that fit into your monthly nature study themes, you can refer to the books in the basket as needed to support or go more in-depth as you work through your weekly topics.
¨ Allows for independent learning: Leaving the basket out at a level accessible to your children will allow them to study the books on their own during their free time.
Recommendations for Your Nature Library
The list below shares some of my favorite books from our family's nature library. Please use this list as a starting point and then build upon it with books that capture the interest and locality of your family. Please see the August 2015 Newsletter found in the archives for more of my personal favorites, including field guides, children's literature, reference books, and more.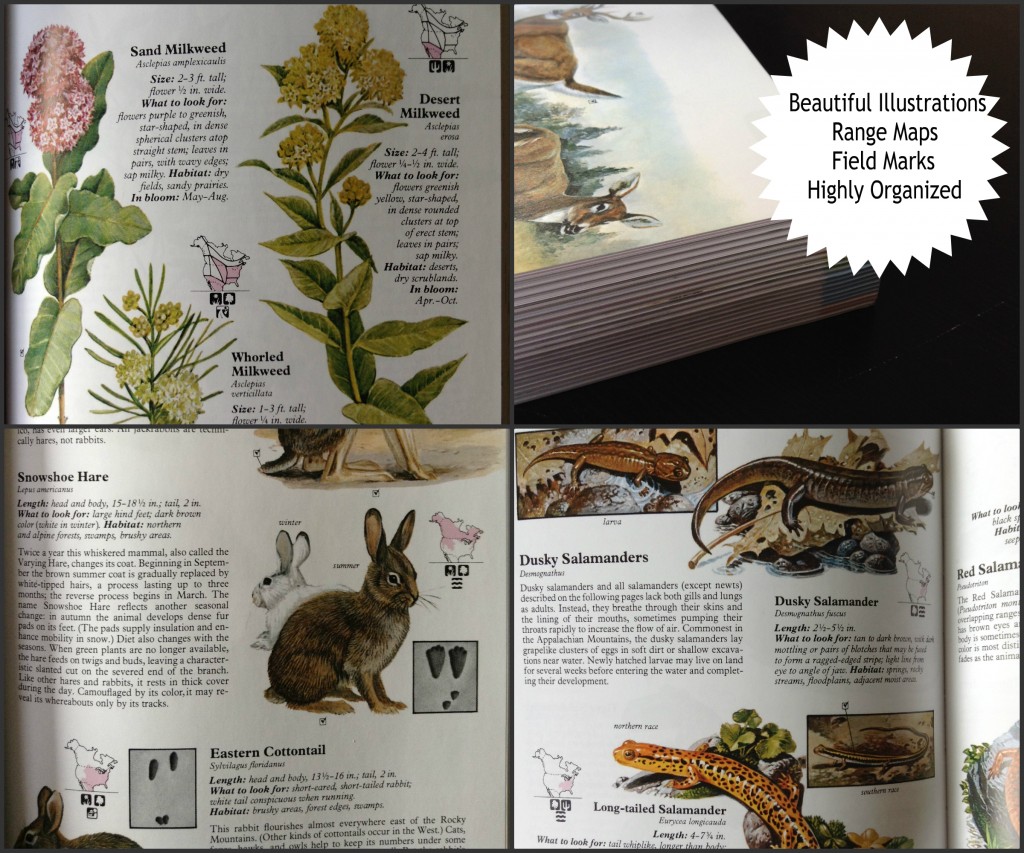 North American Wildlife: One of my all-time favorite books for nature study. This colorful edition will keep the interest of children of all ages.
Tracks, Scats, and Signs:  This is one of my favorite books for learning about signs of mammals. It is perfect for a winter mammal study! Look for printables available to Member's in the Library.
Backyard Birds: This book is the basis for a whole series of bird nature study ideas. It's a great beginner's book on birds. Please note it is used extensively in my Learning About Birds ebook available to Members.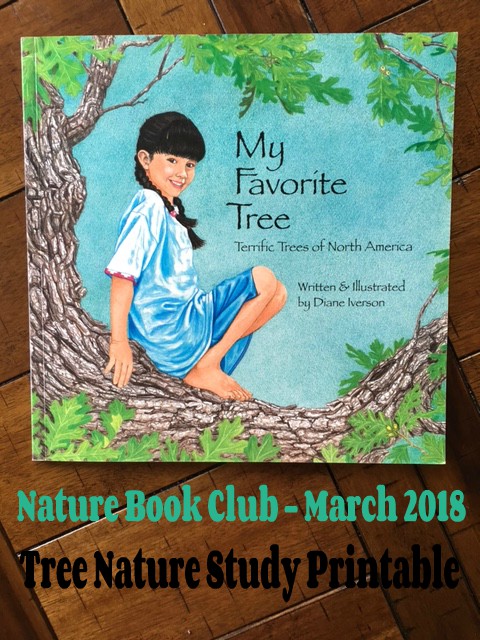 My Favorite Tree: You will love having this book as part of your nature library. Learn more about so many interesting trees and use the resources in this entry to take your study deeper.
Birds, Nests, and Eggs: I am passionate about the study of birds and this reference is a great introduction to a bird study for children and families.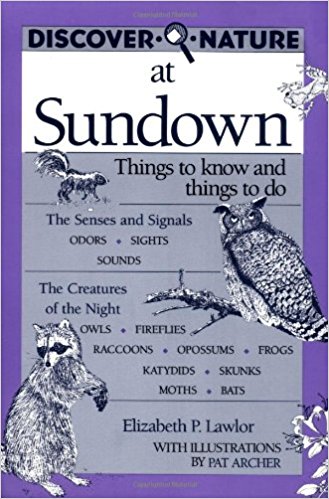 Discover Nature at Sundown: This is one in a series of books that takes you into more advanced nature study around a specific theme. This book focuses on things you can study at sundown.
One Small Square: Seashore: Are you getting ready for a trip to the beach? This book will give you plenty of nature study observation ideas to try. I also highly recommend this whole series of One Small Square books for your nature library.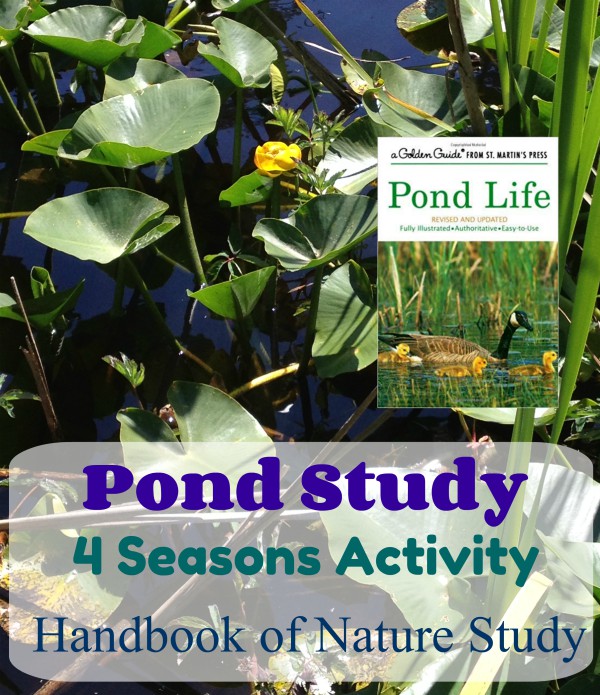 Pond Life (Golden Series): We have used this book extensively in our own family's pond studies. I hope you look for it at your library and enjoy its awesome illustrations and information. Members can download a pond habitat printable set from the Member's Library.
America's Prairies and Grasslands: This beautiful book is one in a series that I highly recommend.  Members can download a prairie habitat printable set from the Member's Library.
Ultimate Naturalist Members:
Printables:
Nature Book Report notebook page
Newsletters :
March 2012 – Children's Nature Literature
November 2013 – Nature Literature
January 2015 – Book Basket
August 2015 – Nature Library – If you're at all interested in building a nature library, this is the newsletter that has the most detailed ideas and resources for you to use.
If you're not a member here on the Handbook of Nature Study yet, please consider joining to gain the benefit of having a nature study library at your fingertips. There are numerous resources available for you to help create the habit of nature study within your family.