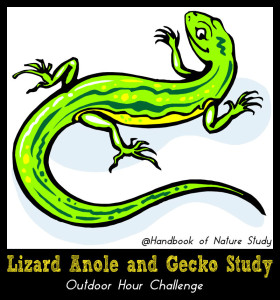 You can find lizards everywhere on earth except the Arctic and Antarctic.
Lizards are cold blooded, lay eggs, and have scales.
Lizards never stop growing and they shed their skin as they outgrow it.
The tail of a lizard can be released when it is grabbed by a predator, leaving the tail to squirm to distract or confuse the attacker as the lizard takes cover. (It will grow back slowly.)
Most small lizards are insectivores, eating ants, termites, gnats, bees, etc.
Inside Preparation Work:
Use pages 210-213 in the Handbook of Nature Study to introduce the topic of lizards. View the images and share a few of the descriptions to create some interest in lizards. Then use the links below to view online some of the various lizards, including anoles and geckos, linked there. There are a lot of possible subjects to study but don't be overwhelmed. Find something in your local area that you could someday see in real life.
Lizards of the United States Links: Anguids, Teeids. There are lots of lizards in the US but if you follow the two links here you will find listings and images for more lizards than you can study in a week. Find a lizard that lives in your area by viewing the map in each listing.
Green Anole for younger children . Advanced Students: Green Anole—background information. Green Anole video on YouTube: http://youtu.be/blXmYtPXrQ4
Geckos of the US—I found this to be an informative page about geckos found in the United States. Geckos– this link has some amazing images! Green Gecko video on YouTube: http://youtu.be/SdGBnQzpXb4
Outdoor Hour Time:
Spend some time outdoors this week hunting for lizards, anoles, or geckos. This may be a up-close study that you cannot accomplish until the opportunity arises but view the challenge as preparation for when the opportunity arises for a lizard, anole, or gecko study.
Use the Reptile and Amphibian Field Trip mini-book included in the Autumn Nature Study continutes ebook to stimulate interest in this subject by visiting a local pet shop.
Follow-Up Activities:
Use the notebook page included in the ebook to record your lizard observations and/or lizard facts. Coloring page for younger students.
Visit your local public library to look for books that feature lizards, anoles, and geckos.
Advanced Study: Create a list of three questions about lizards that you can research on your own. Record the answers on the notebook page provided in the ebook.
Join us for this series of challenges every week here on the Handbook of Nature Study. If you want to purchase the Autumn Nature Study Continues ebook so you can follow along with all the notebooking pages, coloring pages, and subject images, you can join the Ultimate or Journey Membership Levels. See the Join Us page for complete information. Also, you can view the Autumn Nature Study Continues content list on the announcement page.