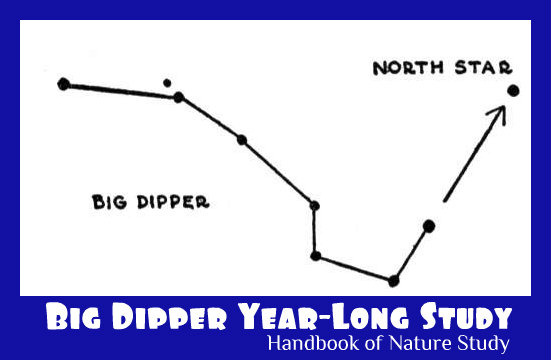 What a great time to be outside in the evenings! I am so glad it is summer and we can spend hours after dinner in the backyard or taking walks in our neighborhood. One of the things we do regularly is to look up at the stars and try to find the Big Dipper. It is like a close companion…it is constant. Have you taught your children how to recognize the Big Dipper yet? It isn't hard to do at all!
Use this archive Outdoor Hour Challenge to get you started.
Big Dipper Study – With free printable notebook page and awesome study links.
For your convenience, there is a free printable notebook page to use as a follow up, even if it is the next day. Make sure to read the information in the challenge so you are equipped to handle any questions and as a way to know where to look for answers you don't already know. The notebook page will be one you use for the next year as you spot the Big Dipper in every season…this will help you note the changes that occur in the position.

Make sure to use the suggestions in this month's newsletter to help you get more from your night sky studies!
Save