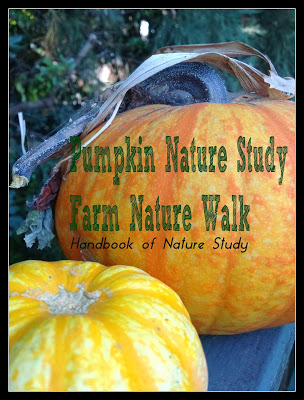 Outdoor Hour Challenge
Pumpkin Nature Study
There are several traditional pumpkin studies here on the Handbook of Nature Study:
Pumpkin Observations-Colors and Textures
Use your magnifying lens to examine the parts of a pumpkin-skin, seeds, slime, stem. Record your observations, including its texture
Use your crayons or markers to find just the right shade for the outside skin of your pumpkin. Create a nature journal page.
Take photos of your pumpkin from all angles
Don't forget there is a Pumpkin Farm Journal Page and a Colors and Texture Grid Study in the October Newsletter.
Getting Started Suggestion:
If you already own the Getting Started ebook, complete Outdoor Hour Challenge #2 – Using Your Words. This is the perfect challenge to help your children find some words to describe their pumpkins. You can use the accompanying notebook page to record your words.