Signs of Autumn Reminders and Printable
Are you looking for ideas for some simple autumn nature study ideas? In this post you'll find many ideas from the archives here on the Handbook of Nature Study. Please pick the ideas that get you excited to be outdoors this season with your children. You many wish to make a note in your planner to accomplish several of these ideas for the next few months.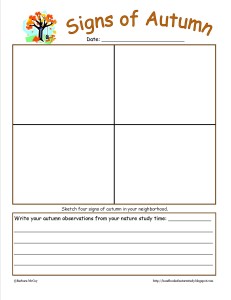 You can use the Signs of Autumn notebook page to record your observations or you can use your own nature journal.
Some signs to look for:
Dry grass and weeds
Seeds
Wildflowers-thistles, goldenrod
Birds eating at feeders or flying overhead to migrate
Chilly morning temperatures or dew on the grass
Fruit ripe on trees
Insects or webs
Nuts, acorns, or berries
Clouds and wind
For families that are completing yearlong studies as part of their nature study plan, you'll find links below to ideas for subjects. You can start now in autumn and make observations over the next year of your chosen topic. Our family has greatly benefited from following a subject over the course of a complete year, making seasonal observations as we go.
Here are some ideas from year-long nature study topics we've done in the past: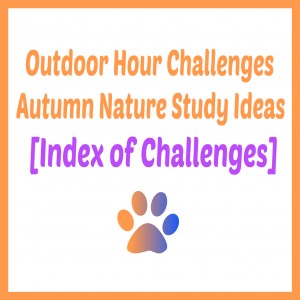 If you're not a member here on the Handbook of Nature Study yet, please consider joining to gain the benefit of having a nature study library at your fingertips. There are numerous resources available for you to help create the habit of nature study within your family.
Please note that the Ultimate Naturalist Library will only be available until 12/31/2021. At that time my website will be shutting down.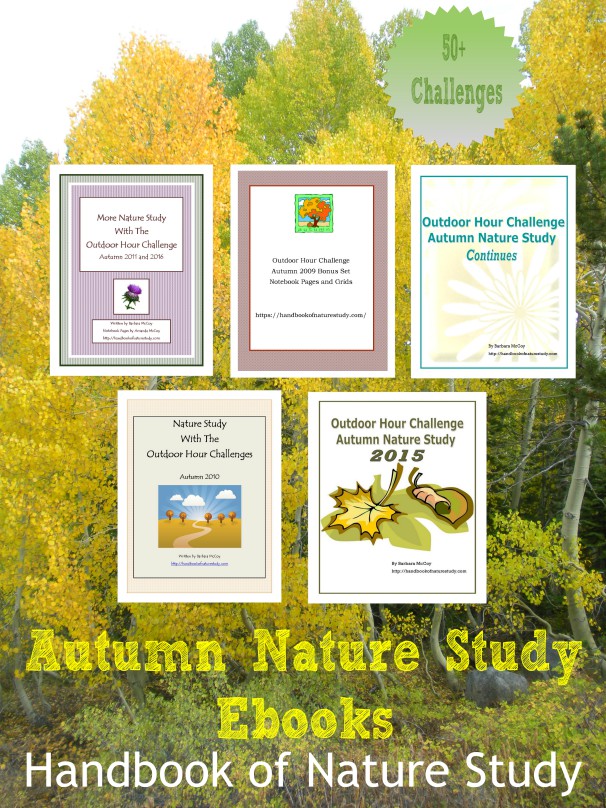 If you're an email subscriber to the Handbook of Nature Study, you may consider saving this email in a folder for future reference. The blog will be retiring at the end of the year as well.