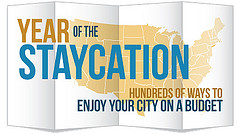 "Year of the Staycation" is a project hosted by The Happy Housewife and Spring Bargains. I was asked to write about fun and inexpensive activities for families going to Yosemite National Park. Even if you don't live in California, you will enjoy reading about all the wonderful family-oriented things there are to do at Yosemite National Park and someday you might just get to try a few during your own visit!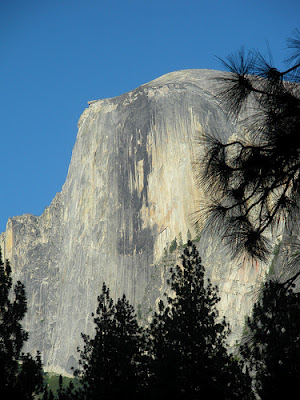 Half Dome Towering Over Curry Village At Yosemite National Park
Did you ever visit a place that feels like home…a place you could come back to over and over again? Yosemite National Park is that place for our family. We live close enough that it is a day trip and for many other Californians it could be just a few hours away as well. With a little preparation, your family could very well enjoy a day at one of the most beautiful places on earth. I hope you are inspired to take a trip to Yosemite National Park…..where you will see beautiful landscapes, majestic waterfalls, incredible wildlife, tall trees, and flowers. No one ever leaves disappointed. For this post I will narrow things down a bit and assume you are going there for the first time, with young children, you are going to be there for the day, and you want to take a day hike.
What will you find in this entry?
1. How to Prepare For Your Trip – Can You Really Visit Yosemite For The Day?
2. What To Expect Once You Arrive
3. Ideas for Free Activities and Reasonably Priced Eating
Preparation is the Key-First You Need to Get There
How do you get to Yosemite? Some of the roads in Yosemite National Park are closed during the winter and even into late spring or early summer depending on the snowpack. To find out about road closures, check the official National Park Website. Once you know that the roads are open, choose the entrance that is nearest your home. Use this page to find the appropriate road to take: Directions.
Driving Times from California Locations-You May Be Closer Than You Think
San Francisco 200 miles or 4 hours
Fresno 125 miles or 2 3/4 hours
Modesto 110 miles or 2 1/2 hours
Sacramento 180 miles or 3 1/2 hours
Lake Tahoe 170 miles or 3 1/2 hours
In the late spring and all throughout the summer you have longer daylight hours to make your day trip possible. If you get on the road early, you can have a full day at Yosemite before needing to head home. Our family has about a three hour drive to Yosemite so we leave at 5 AM and arrive back at home around 10 PM which is a long day but well worth the effort.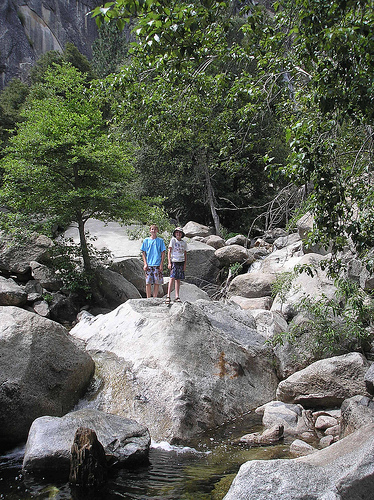 Climbing on Rocks is Fun and Free!
National Parks – Value For Your Money
There is an entrance fee of $20 for the day ($40 for an annual pass). At the entrance station, make sure to get your free map and brochure. These are going to help you know what is available for free activities on the day of your visit. On one side of the map is a smaller inset map that shows where to park for day parking (either at Yosemite Village or at Curry Village). It also shows the free shuttle bus route which will take you around the Valley to see waterfalls, views of the granite vistas, the Visitor's Center, and the Nature Center.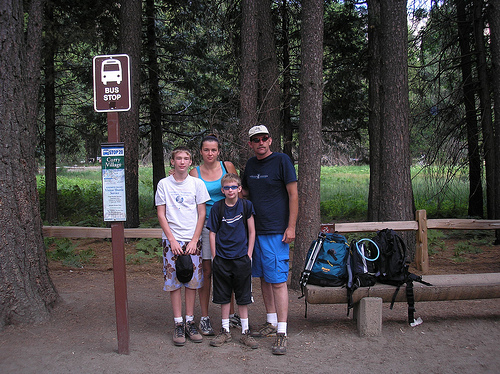 All set for a day of fun…waiting for the bus at Curry Village.
What Should You Bring With You?
1. Snacks and Lunch- There are several restaurants, delis, and grocery stores in the Valley but the lines can be long and the food can be expensive. I highly recommend taking a simple picnic to enjoy at one of the many picnic areas available within walking distance from the shuttle bus stops. Make sure it fits in your daypack.
2. Comfortable walking shoes for everyone and a baby backpack or stroller for younger ones. Nothing spoils a day faster than blisters and sore feet. Hats are also something to consider if you are visiting during the spring and summer months. My boys usually wear their swim trunks just in case they decide to get wet in the river. If you can fit an extra set of clothes in your daypack, it is probably a good idea.
3. Daypack for carrying vital items such as a small first aid kit, snacks, water, maps, camera, and sunscreen.
What To Expect When You Arrive
Whatever direction you arrive into Yosemite Valley, the view is going to take your breath away. Make sure to stop for photo opportunities in the many turnouts available. The views will give you an idea of the scope of this National Park and an idea of how it was formed from glacier activity. (Don't worry, you will learn more at the Visitor's Center).
First of all, get yourself into the valley and head straight to Yosemite Village. Park your car at the Day Use Parking Lot (shuttle stop #1) and either walk or take the free shuttle to the Visitor's Center (stop #5). Once at the Visitor's Center, take some time to view the exhibits to get an idea of the geology of the place and also an overview of just how large Yosemite National Park is. If you need to eat lunch or get a snack, Yosemite Village has a grocery store and deli and several eating options to choose from.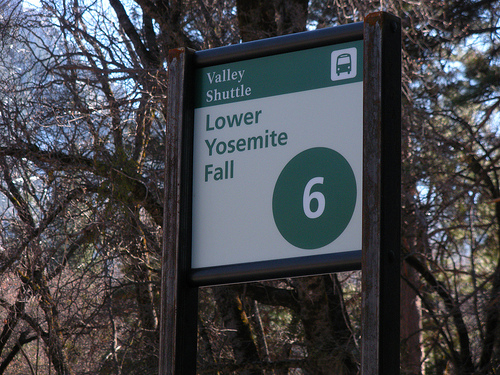 Armed with your lunch and the free map of the Valley you received when you entered the park, you can get back on the shuttle and ride over to Yosemite Falls (stop #6). You also have the choice to walk over since this is a short 10-15 minute hike even with little ones to the base of the falls.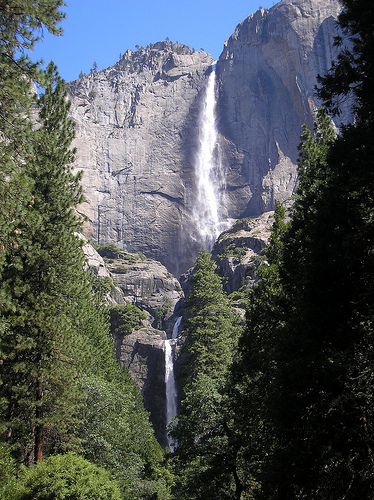 Million Dollar View
Seeing Yosemite Falls is worth the trip itself. The path is easy to walk and your little ones will have no trouble walking by themselves. Eat your lunch now if you are hungry sitting at the picnic tables available by the shuttle stop or on one of the many benches or boulders. Watch out for squirrels and Steller's jays that want to share your lunch!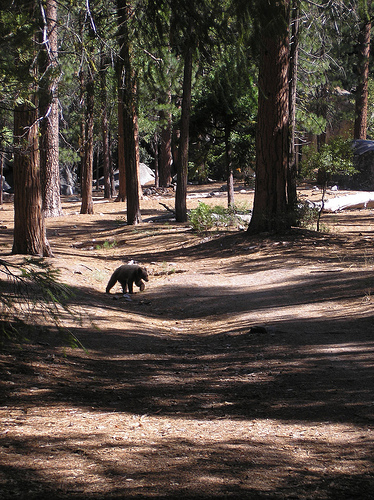 It is not uncommon to see bears, coyotes, and deer in Yosemite Valley.
Don't miss looking for wildflowers, deer, squirrels, birds, and perhaps even a bear as you hike around the valley. If you are quiet and observant, you may spy something incredible! Read HERE what to do if you see a bear.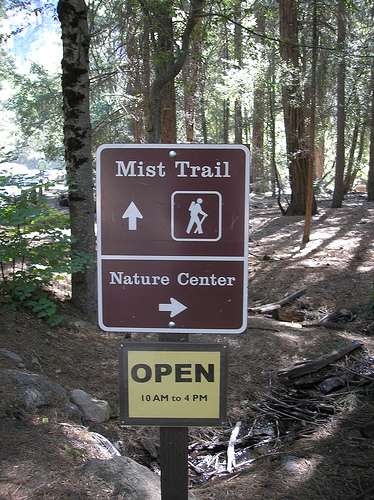 Happy Isles
After you have taken your photos and enjoyed the falls, head back to the shuttle stop. Take the shuttle to the Happy Isles stop and get off (stop #16). You can take the short hike along the Merced River over to the nature center at Happy Isles. This is a fabulous place for children to learn about the natural aspects of Yosemite and I highly recommend it.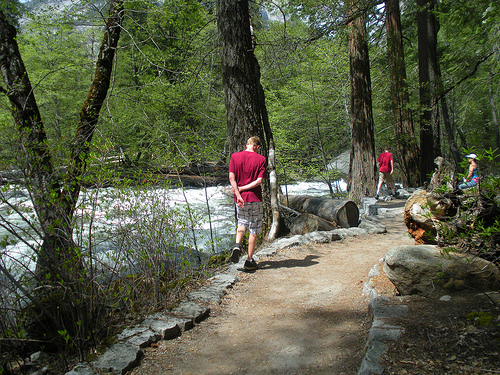 Nice easy walking along the Merced River at Happy Isles.
I have written a webpage with detailed information for several of the day hikes in Yosemite Valley aimed at helping families get on the trail. You can read that information along with images of what to expect here on my Yosemite For Families Squidoo page. (Happy Isles and Vernal Falls hikes are included on that page!)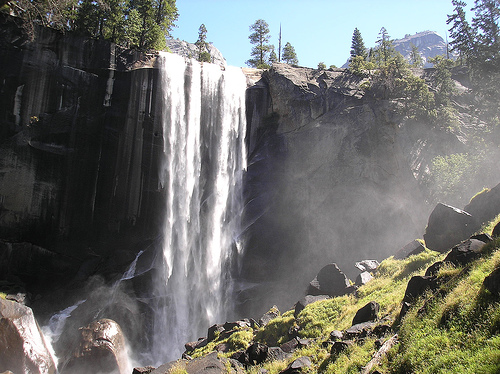 Vernal Falls from the Mist Trail
Now if you are feeling up to a little hike, more strenuous than the rambling path to Yosemite Falls but still very reachable for even younger hikers, head to the bridge at the base of Vernal Falls. You will find signs near the shuttle stop at Happy Isles to direct you to the trail. This hike will get you off the main pathways of Yosemite and you will experience a little more of the park, possibly having spots on the trail all to yourself. This hike is 1.6 miles to the bridge at the base of Vernal Falls and has an elevation gain of 400 feet. the trail is a little rough in spots and several spots of steep incline and descent. Take your time and don't take strollers. There is a drinking fountain and restroom at the shuttle stop and at the Vernal Falls Bridge.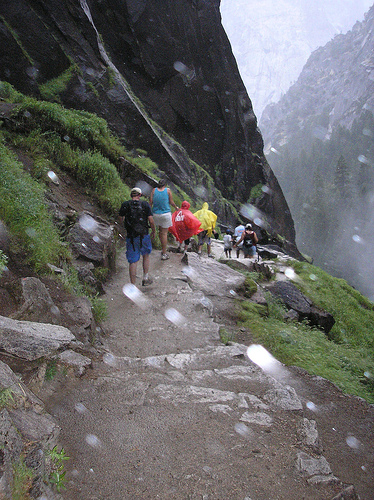 Coming down the Mist Trail can be a little wet with spray!
If you go another 2/10ths of a mile past the bridge at Vernal Falls, you will be on the Mist Trail and you have an even more awesome view of the falls. You might as well try it if the kids are up to it!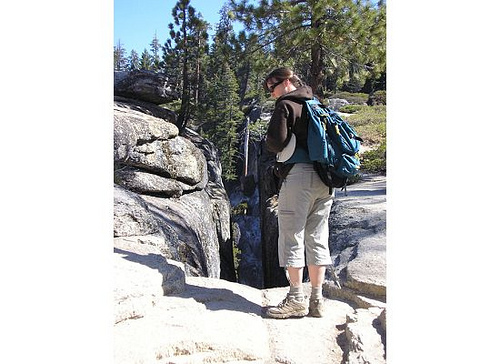 Here I am on the trail…expect to hike on granite so wear comfortable shoes.
After your hike, retrace your steps and get back on the shuttle and head back to the village to complete your grand shuttle bus tour of the valley. If you want a great cafeteria style dinner before you leave, stay on the shuttle until you get to the Yosemite Lodge. (stop #8) They have a very nice food court there and you can feed your family without breaking the bank. There is also a small grocery and gift shop at Yosemite Lodge if you need anything before you head out of the park. We like to pick up a candy bar for the road trip home….after all that hiking you can get hungry!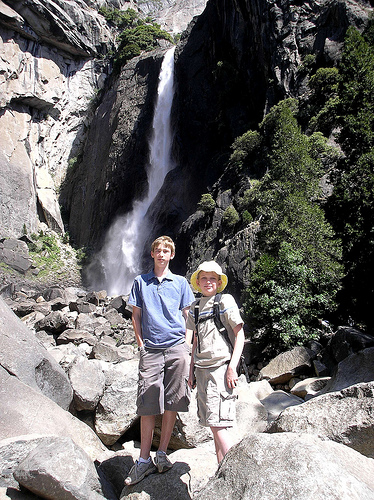 Hike to the Base of Yosemite Falls
If you are done for the day, jump back on the shuttle bus and ride back to Day Use Parking to get your car and head out of the valley. Twilight is one of my favorite times to leave the valley since the granite walls are glowing and the sky is so peaceful. On your way out, you can take a quick stop at El Capitan Meadow to look up at the towering granite of El Capitan. This is about the time I promise myself that I will come back soon to have another adventure in this home away from home.
Those are my suggestions for a one day trip to Yosemite or for the first day of a weekend trip.
Ready For Some More Tips and Suggestions?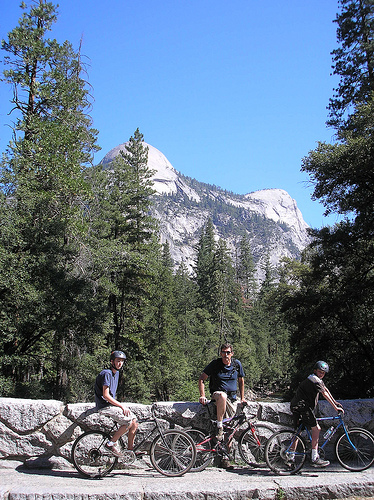 Riding Bikes Around Yosemite Valley – Stoneman Bridge
Tips to know:
1. There is no gas station in Yosemite Valley so make sure you gas up before heading in.
2. There are bears in Yosemite so you will be asked to not leave food in your car.
3. As an alternative to hiking and riding the shuttle, there is a great bike trail around the valley. Bring your bikes and see Yosemite close up and personal.
4. Yosemite Village and Curry Village have lots of picnic tables to have lunch at. There are several picnic sites along the river that are nice in the summer months.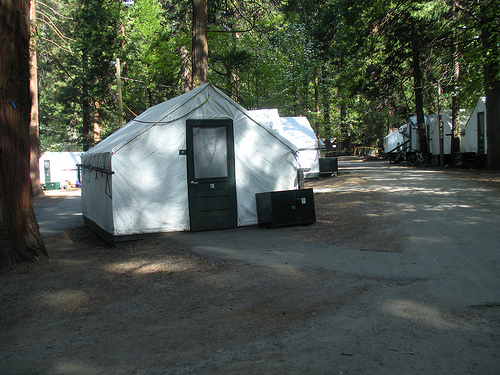 Curry Village Tent Cabin
If you would like to spend the night with reasonably priced accommodations, check the tent cabins at Curry Village. These have beds, linens, electricity, some have heat, and they are near-by to the shuttle stops, bike rentals, raft rentals, and restaurants. We love to rent a cabin and spend the night and many times if you check the website there are special prices that include overnight accommodations for around $100 a night. (Sign up for their email alerts and they will keep you informed when a deal comes up. We went last fall and paid $49 a night!)
If you end up staying one night and need something to do the second day, try some of the free or inexpensive ideas below or take a drive up to Glacier Point.  (Check to see if the road is open before heading up to Glacier Point.)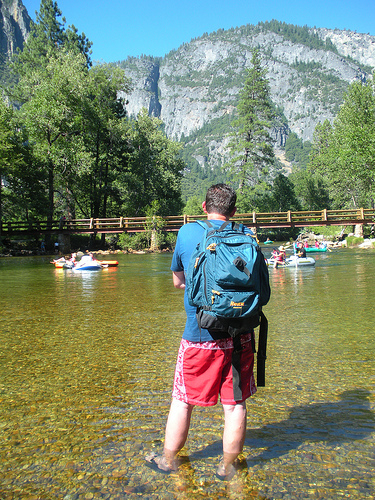 Merced River in Yosemite Valley at the Swinging Bridge
Ideas for Free Activities and Reasonably Priced Eating
Yosemite Visitors Center (stop #5 and 9)- Free museum and exhibits on the history and geology of the National Park. Also, you can get information about the Junior Ranger Program at the Visitor's Center.
Happy Isles Nature Center (stop #16)- Wonderfully done nature center for the whole family
Ranger-Led Events – Check the Visitors Center or the park brochure for more information.
Evening Campfire Programs at Curry Village and at Yosemite Lodge
Ansel Adams Gallery  -(stop #4) Near the Visitor's Center
Art Activity Center – Check the brochure you received at the entrance station for times and activities available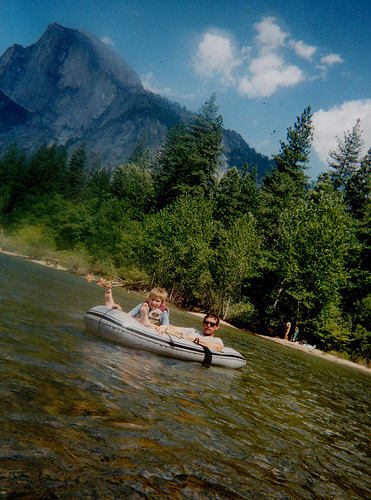 Rafting down the Merced River – You Can Bring Your Own Rafts
Ahwahnee Hotel – Historic hotel to visit via the free shuttle bus (stop #3). Walk the lobby, patio, and grounds to see this beautiful old hotel.
Bike and raft rentals at Curry Village (stop #21) – Rent bikes to get a new perspective as you ride the trails around the Valley floor.  Rent an inflatable raft to float the Merced River on a hot summer day….perfect!
Yosemite Lodge (stop #8) has a food court available for all meals. We have found this to be a great way to save money on food if you need to eat out while you are in Yosemite Valley.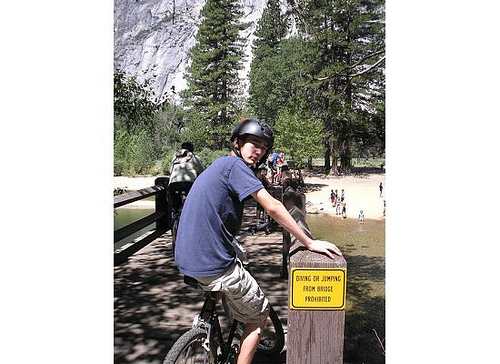 The grocery stores at Yosemite Village(stop #10) and Curry Village(stop #14) are the best places to find ice cream treats which you can eat at the picnic tables outside.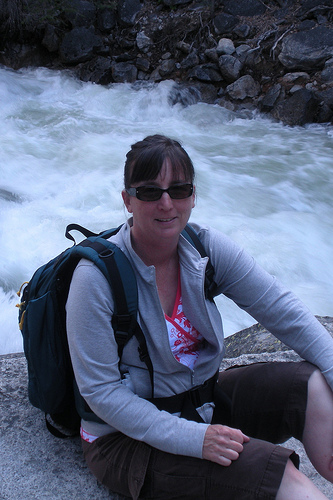 Barb at Yosemite National Park 2009

My Absolute Favorite Yosemite Resources



Love this book!
My additional page on hiking in Yosemite For Families