Now available in the Ultimate and Journey level memberships:

1. Autumn Weed Notebook Page: This notebook page is a complement to any autumn weed or wildflower nature study. During the month of October, we will be studying jewelweed and prickly lettuce. If you don't have either of those plants to study in real life, you can use this notebook page along with any weed or wildflower you want to focus on. You can get some autumn weed nature study ideas here: Autumn Weed Study.
2. Pond Nature Study Set-18 pages of notebooking pages included: As part of your family's autumn nature study, you can start a year long pond study. Use the notebook pages in this set to follow up your pond time with a few of the more common subjects you may encounter. Topics include: dragonfly, damselfly, ducks, freshwater clams, mayfly, nutria, reeds, smartweed, water boatman, water snails, water spiders, water strider, whirligig beetles, aquatic insects, aquatic plants, pond fish, pond mammals, and tracks in the mud.
If you would like some pond study ideas, you can click over to see this study from my archives: Pond Study. 

(See the end of this post for more information on how you can become a member.)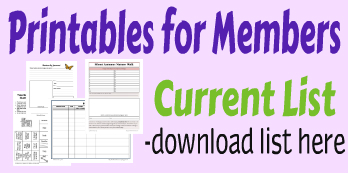 Print a complete list of printables available in the Ultimate and Journey level memberships by clicking the button above.


Members also have access to the Nature Planner pages in their library.
Print out this month's page and use it to stimulate your weekly nature study time.
These are Amazon affiliate links to two books I have purchased and used with my family's pond study.