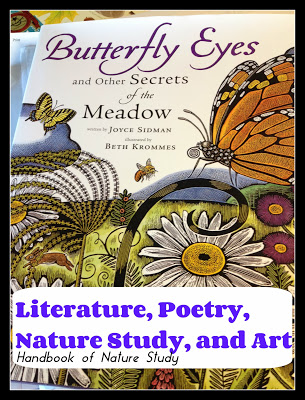 This post contains affiliate links to a book I highly recommend and have in my own library.
This month I am really encouraging you to look for ways to use literature in your nature study. I want to share a new favorite book, Butterfly Eyes and Other Secrets of the Meadow
by Joyce Sidman. This outstanding book is a treat for the eyes and an inspiration for your pens and crayons!
I love it when a book can engage young readers and Butterfly Eyes uses lovely poetry and clever riddles to draw the reader in. The riddles help the children use their imaginations and their knowledge of meadow inhabitants in way that makes learning fun.
So many meadow creatures are featured in this book. I know lots of you may not live near a meadow so this book will introduce many of the animals, insects, and plants you will find there, creating enthusiasm for a future meadow visit with the narratives and illustrations.
The format is poetry riddles that your child will guess to identify the meadow creatures found on the following pages. The poems are on the over-sized pages…sometimes you even have to turn the book sideways to view the whole scene!
The end pages of the book are complete pictures of many of the subjects found in the book and are a great way to review once you are doing with the last page.
The style of the artwork is another great aspect of this book. Done with scratch art techniques, your children may want to imitate this style to create a beautiful scene for their nature journal or to display on your art wall.
Use the ideas in the November 2013 newsletter in the article I wrote on library books to help you get started reading this amazing piece of nature literature to your children.
Identify the creatures on the dust jacket of the book.
Make up your own nature riddles.
Create a piece of artwork using scratch art. (Step by step instructions: Scratch Art.)
Memorize one of the poems in the book.
Pick one animal or insect from the book and create a nature journal page for it using a field guide
Look for other books by this same author at your library!