This week we were determined to complete our Cottonwood Tree Study as part of the Outdoor Hour Challenge. It is hard to get motivated when it is really hot outside but we persevered….most of our study was indoors anyway so we had no real excuse. Once we started it was very enjoyable, gleaning much from our reading in the Handbook of Nature Study and then direct observation.
Our neighbor had a cottonwood tree in their front yard until a few years ago when they cut it down to make room for some other landscaping. I remember there were certain times of years I did enjoy having that tree next door. It was MESSY. The "cotton" would cover our deck and yard as it blew over in our direction.
So without a specimen nearby, we had to travel across town to view another cottonwood tree that I noticed along the edge of a big field. It really is a very pretty tree with a nice shape and growing sort of tall. The trunk is easy to recognize once you know what to look for.
We had the chance to observe a cottonwood tree when we visited Anna Comstock's cabin in New York last May. I gathered a bit of cotton to include in my nature journal. I wrapped it up in a paper towel and folded into the front of my journal for safe keeping. We took the opportunity with this challenge to examine the cotton closely.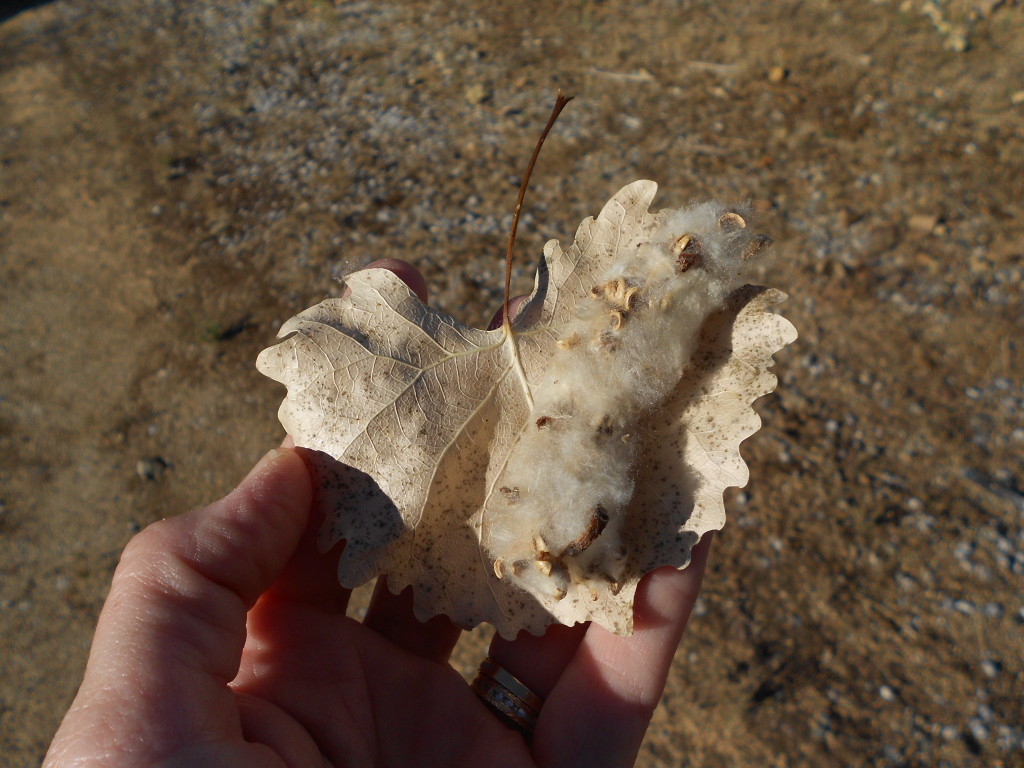 We examined the seeds with our magnifying lens and it was truly amazing to see the structure of this catkin with its seeds.
"The little pointed pods open into two or more valves and set free the seeds, which are provided with a fluff of pappus to sail them off on the breeze; so many of the seeds develop that every object in the neighborhood is covered with their fuzz…" Handbook of Nature Study, page 656
Pappus was a new word to us so we looked it up. A pappus is the flower-like structure on the top of the akene. (Remember your dandelion study?) You can see a variety of kinds of pappus on this website: Who's Your Pappus? I also found information at the bottom of this page on Backyard Nature. I need to add the word to my journal entry so I don't forget it.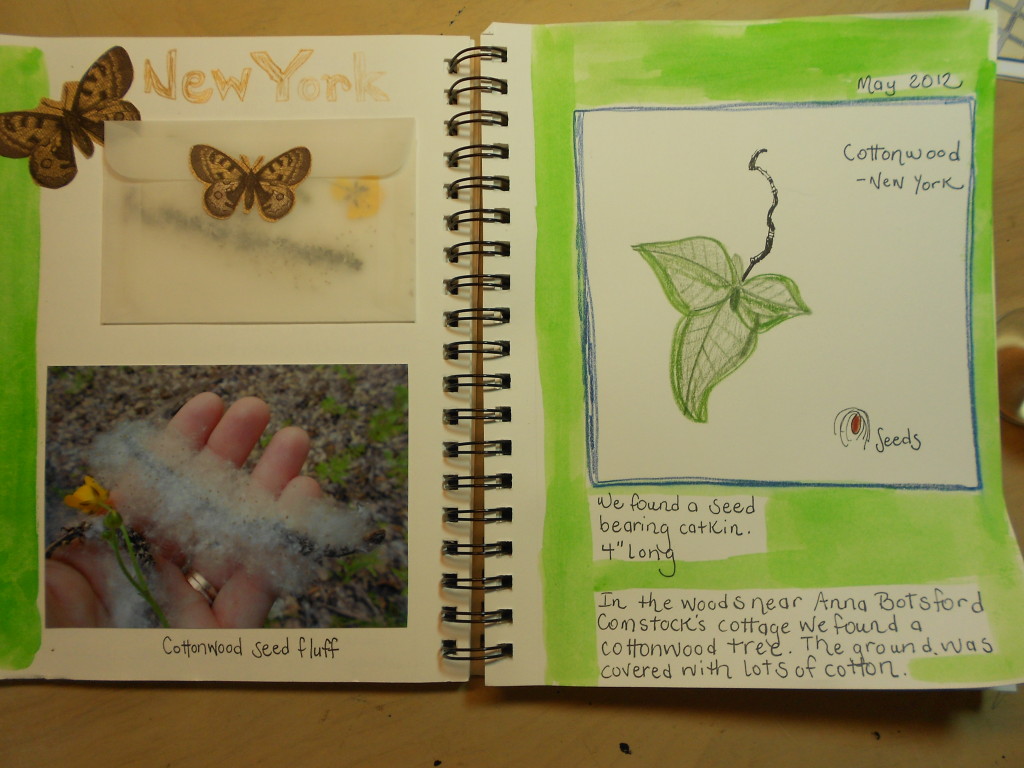 So here is my journal after I finished with it. I found an envelope (glassine envelopes for scrapbooks) for the cottonwood seed fluff sample and the pressed flower that I had collected from the woods. I watercolored around the edges to give it some color and used my metallic gel pens to make a title. I printed a photo of the cottonwood cotton since it is a part of the memory of that early morning walk that I will treasure for a long time to come.
We are going to go back to our local cottonwood tree and take photos for the Summer Photo Challenge and as a guide for our watercolor project for the week.  Mr. B is working on his notebook page from the More Nature Study Book 4 challenge using his field guide for the cottonwood tree. We think ours is a Black Cottonwood so he is doing the research on that species for his challenge.
Another great tree challenge to add to our nature journals…hope to see some of your trees in the upcoming Outdoor Hour Challenge Blog Carnival. Remember that every entry into the June Newsletter carnival is an entry to win the Your Backyard Monarch Butterfly DVD and Study Guide. Last day to submit your entries is June 29, 2012.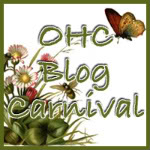 Don't forget the Great American Backyard Campout!
And my Camping With Kids link-up from yesterday.