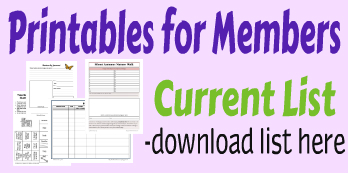 Each month I add printables to the Ultimate and Journey level memberships here on the Handbook of Nature Study. In doing some revamping of the website, I thought it might be helpful to keep a current list of printables available in the library for you to use as a reference.
Click the button above or use the button on the website sidebar to always keep up with the current printables available along with the ebooks and newsletters in the various levels of membership.
Ultimate Naturalist Library- Current Contents
17 ebooks!
60 newsletters in the archive
51 printables including notebook pages, planning pages, nature grid studies, coloring pages, and nature walk ideas
Current members only need to access their membership library by clicking the "members area" on the website to find this wealth of nature study goodness.
If you are not yet a member, you can join us at any time and your library access will immediately activate when you purchase a membership.