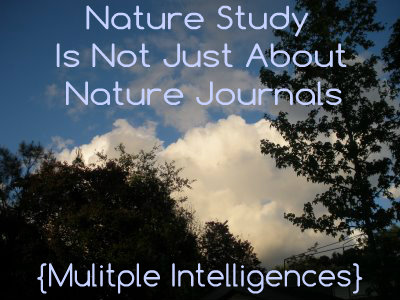 I was reading a post on a discussion board about nature study and documentation this week and it reminded me of this post, Nature Study vs. Nature Journal , that I wrote a while back. The board discussion was more or less about some parents' thinking that it did not count as "real nature study" if the children do not document the experience in their journals.
I tend to disagree with that statement.
The *most* important part of nature study is the actual time spent observing something in nature…..first hand and hopefully in your own neighborhood.
More is always better when it comes to outdoor time in my opinion. It seems to take a period of time to find your stride when you are just starting out with nature study. At some point though, each family finds a way to balance the outdoor time with some follow up activity.
I try to remember that we each have a different learning style. We can learn to apply that style to nature study. I remember reading about the multiple intelligences and how they applied the nine (used to be seven) ways children learn to a study of birds. I can't remember the details so I will do my best to come up with my own examples.
Nature Study Using Multiples Intelligences
Musical learner: Enjoys listening to and learning to imitate bird calls. Easily identifies a bird by its call. Writes a song about birds.
Verbal-Linguistic: Records a birding experience in a nature journal using words or tells a story about the nature walk. Writes or copies a poem about a bird into their nature journal. Learns the Latin names of birds as well as the common names. Reads the biography of Audubon.
Mathematical-Logical: Tally birds at a feeder. Keep a running list of birds seen over a period of time in a nature journal. Collect bird feathers and categorize them into groups. Studies migratory maps and learns where local birds go for the winter. Learns all the state birds. Experiments with different kinds of bird seed to see which ones particular birds like best.
Visual-spatial: Makes a model of a bird from clay. Sketches a bird in their nature journal. Notices the differences between birds: beaks, wing shapes, tail shapes, size. Builds a birdhouse. Designs and builds their own birdfeeder.
Kinesthetic: Loves to take a walk and look for birds using binoculars. Climbs a tree to find a bird's nest or just experience a "bird's eye" view. Hangs a bird feeder and keeps it full. Plants a bird garden.
Interpersonal: Joins a birding group and learns from the more experienced birders about their local area. Volunteers at a bird reserve with a friend. Organizes a field trip to a bird aviary for their co-op.
Intrapersonal: Spends quiet time outdoors observing birds, perhaps recording their experiences in their own nature journal that they don't share with others. Has a pet bird.
Naturalist: Enjoy lots of time outdoors looking for birds and learning their life cycles. Learns the names of birds, keeps a bird life list, learns the calls, and keeps a nature journal. Remembers easily the names of birds and their habits. Has a collection of bird's feathers, bones, and nests.
Existential: Learns about endangered species of birds. Spends time contemplating a bird's life cycle. Keeps a journal of their thoughts about birds and how they fit into the web of life on the earth.
You can see how if your child has a particular way of learning that fits him better than keeping a nature journal, you can provide a variety of experiences to tap into their natural learning style. If you feel the need to keep a journal of your outdoor experiences, go ahead and model how it is done for your child. Your children may catch on and want to keep one as well. I always try to give the option to complete a page in the nature journal but I rarely require it of my boys.
I listed some ideas for applying the seven/nine intelligences to a bird study but you can apply the principles to any nature study subject.
You are only limited by your imagination.
If you still are stuck on the idea that nature study needs to be followed up by a nature journal entry, I highly recommend that you find the book Last Child in the Woods at your local library and spend a few hours reading it to see how important any outdoor experiences are to our children. It will give you some valid reasons for putting effort into getting your children, as well as yourself, outdoors.