Outdoor Hour Challenge – Starling Bird Study
Of course, the week we had scheduled to observe and learn more about starlings…they have vanished from the neighborhood! They were constant visitors during the autumn months right outside my office window in the pistache trees that line the side of our house. I could hear them out there as they ate the bright red fruits from the tree. But even though the opportunity had passed see them in person, I have plenty of photos from my archives to use as the basis for our study.
I decided to try to determine where they go once they leave our neighborhood. I did some online research and found that most starlings stay right here in the continental U.S. during all seasons. But, I have been watching and they are definitely gone from our area. I think it has something to do with the food supply…which I note later below.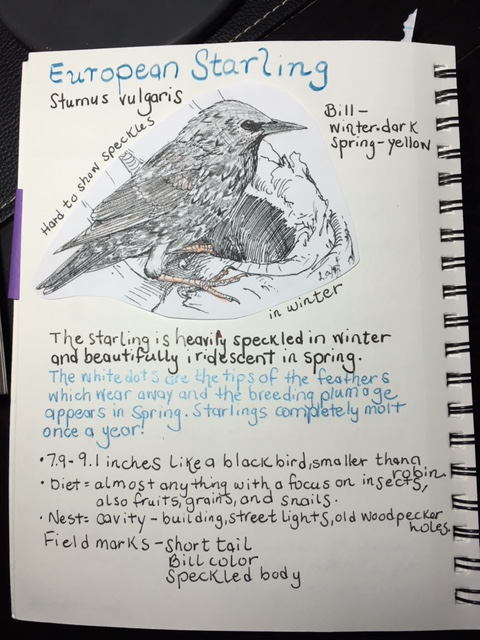 Journal Idea: Coloring Page from Cornell's Bird Coloring Book (page 28). I cut the blackline drawing out and used colored pencils to attempt to show the speckles but wasn't successful. It is really hard to get it right. Anyway, I decided to use the drawing anyway and focus on the recording good information on the page instead. This is actually quite an interesting bird.
Great Information is found in: Discover Nature Close to Home
(one of my Nature Book Project selections) – see pages 59-66. This is my affiliate link. I also used the AllAboutBirds website.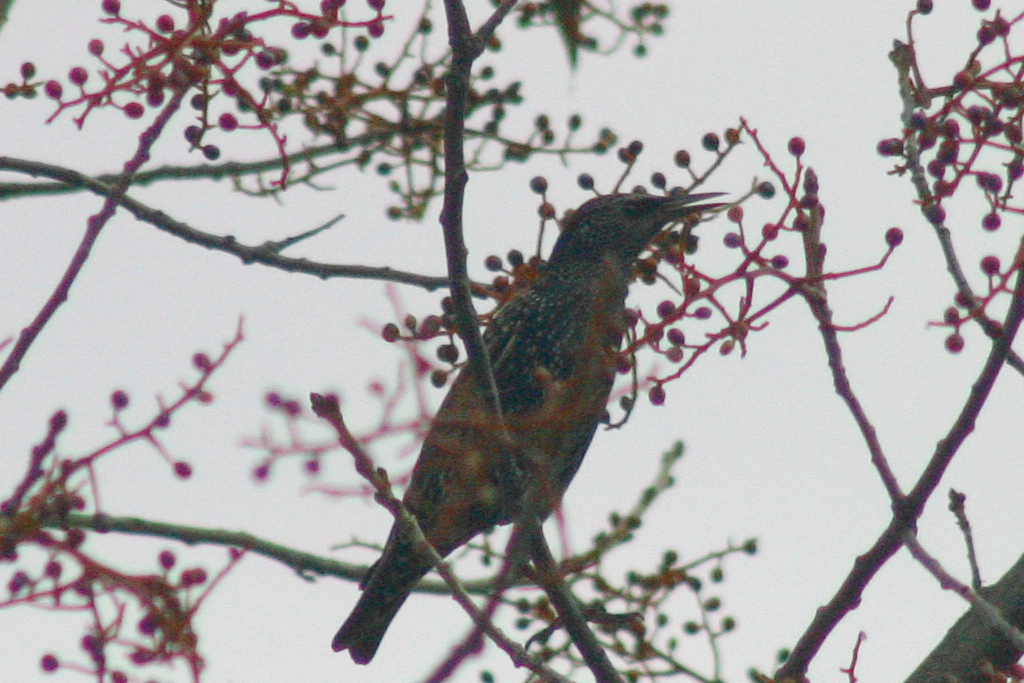 Here are two sort of blurry images of starlings I have in my archives. This one from November 2014 shows the speckled look to the bird during autumn and winter. The starlings seem to be around our house only as long as there are those fruits on the pistache tree. Now that the fruits are gone, so are the starlings. We will look forward to their appearance again when the season is right.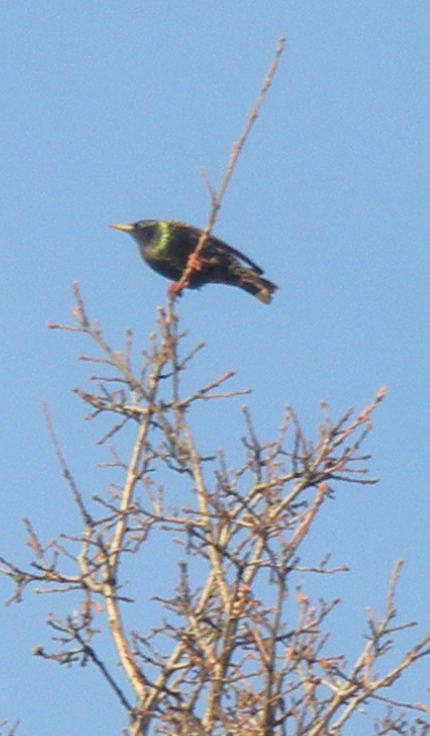 This is an image of a starling from 2011 in February. I also have a really bad video of this bird from that day (it was just too far away for a good one). There were two of them along with some robins in the trees across from our house. They were eating something off the tree….not sure what. Anyway, this photo shows the iridescent color of the starling at certain times of year. So pretty!
Have you had a chance to look for some birds this month? Don't forget that the Great Backyard Bird Count is coming up February 12-15, 2016! Mark you calendars!