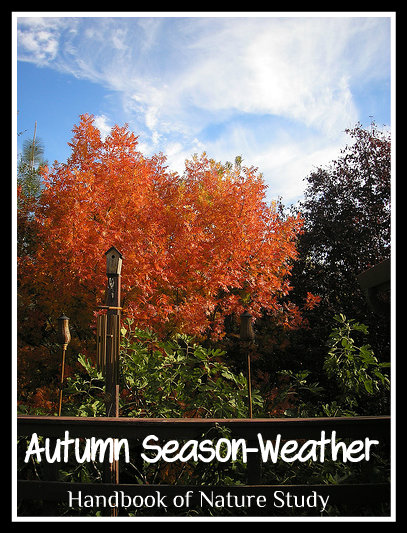 Outdoor Hour Challenge
Autumn Weather Observations 2017
From the Archives and from the Autumn ebook
If you've been following along with the Autumn Series of Outdoor Hour Challenges, you have been using comparisons to learn more about the topics. This week is no exception. Here are some of the ideas for using comparisons to learn about your seasonal weather.
Compare a sunny day and a rainy day by looking at the temperature, clouds, and wind speed or direction.
Compare weather on the same day by making observations both in the morning and then later in the afternoon or evening.
Compare your autumn landscape to what you remember about the summer or winter or spring.
Make sure to click over to the original challenge for more observation ideas. If you have the Autumn ebook, you will find several notebooking pages to use for this challenge.
Even if you just take 15 minutes to go outside and check the weather and have a breath of fresh air, you can feel successful with this week's Outdoor Hour Challenge.
Use the discount code NATURE5 to receive $5 off an Ultimate Naturalist Membership!