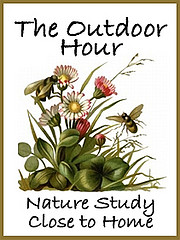 This is a very full carnival! Lots of new faces along with our carnival veterans….lovely to see how everyone is jumping in with the newsletter challenges but remaining flexible to follow interest and opportunities. I am overwhelmed with all the wonderful nature study that you have allowed time for in your busy lives…you will be blessed with children who are happier and healthier.
I am announcing two things before I share the carnival entries.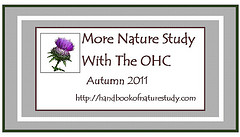 1. My new More Nature Study With The Outdoor Hour Challenge ebook will be ready for purchase on September 5, 2011. This ebook includes ten nature study challenges focusing on topics you may find this autumn season. In addition to the usual challenges, follow-up suggestions, and notebook pages, I have included "Advanced Follow-Up" activities and "Upper Level" notebook pages to take each challenge a little further for advanced or older students. Please checkout the sample HERE. All of the ten ebook challenges will be posted on the Handbook of Nature Study blog over the course of the autumn season starting Friday, September 9, 2011. More information to come.
I have also included a special discount link in the September 2011 Newsletter. Make sure to read the newsletter and find the link there to use for your discounted price of $6.95 for the month of September.
2. Starting with the October issue of the Handbook of Nature Study Newsletter, the newsletter link will only be available to those that subscribe to my blog. Please make sure to subscribe to the Handbook of Nature Study so you do not miss the October 2011 and future issues of the Newsletter.
Subscribe to Handbook of Nature Study by Email
Now for the carnival!
August Newsletter Topics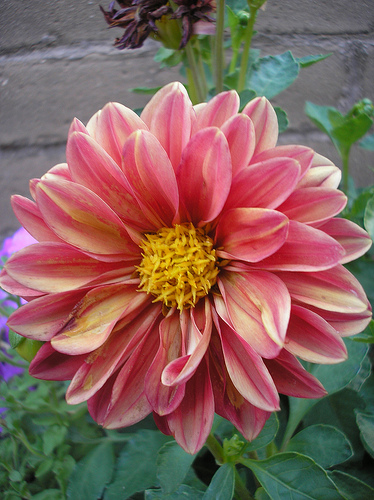 Dragonflies
Amy at Hope is the Word shares their entry: Pond Study – Cows and Dragonflies. She captured a beautiful dragonfly and their study ended with some very well-done journal pages. Their family shares another entry from their pond study with lots of great experiences to write about: Turtles, Geese, and Herons! She also shares why their nature study time is the highlight of their week. Awesome.
Phyllis writes about Nature Study of Water Habitats which shows their multifaceted nature study featuring many water creatures.This entry will inspire you to do some research about your local water habitat.
Don't miss reading Erin's entry for their Dragonfly Study.  She has some awesome images for you to enjoy!
Nicole (Journey to Excellence) seized the newsletter topic and they have started an ongoing pond study. Here in Pond Study #1 she shares their observations and journal entries using the suggestion from the August Newsletter. How about her follow-up entry? Here is Pond Study #2.
Kirsty joins the carnival with their family's Dragonflies Entry. They all did journal entries and share their outdoor time with carnival readers. They also submitted their pond dipping activity. I loved seeing their list of pond creatures they were able to observe with this project. Great job!
Leslie and her daughter had a chance to study some dragonflies at a local pond. You can read their entry here: Outdoor Hour Challenge – Dragonflies!
Jamie spent the day with her family on the river canoeing (not exactly a pond habitat but still on the water). They took the time encourage some water habitat nature study….their entry Canoeing the Chestatee shows a list of the things they observed  on their trip. Jamie has even started journaling about her experiences…great example Jamie. Would you like to read her daughter's blog entry, you can read her view of the day HERE.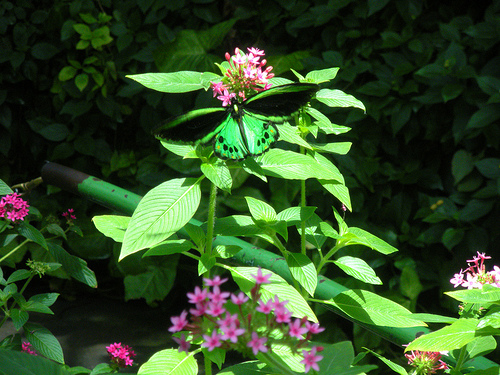 Frogs
Tricia shares their very unexpected nature study with Fabulous Find of the Frog Kind. Wonderful example for all of us to keep our eyes open and then let our schedule be flexible. Thanks for sharing! I am going to share another of their entries that shows more of their backyard tadpole habitat along with some other great nature study: Summer Nature Walks and Discoveries.
Jamie and her daughter are trying to start a year of nature study and they visited a near-by pond. They share their entry Pond Critters with carnival readers.
Ducks
Nicole from One Hook Wonder shares their duck observations at a near-by lake. They combined some family time, a bike ride, and a little nature study. Perfect!
Cattails
Nicole and her family did a great cattail investigation as part of the OHC this month. They not only observed and recorded their cattail study but they found other things to learn about as well. Read their entry: OHC – Cattails.
 
Tricia's family had a day with their Creation Club at the pond. Guess what? They found cattails! Make sure to check out their wonderful pond study: Lily Pad Pond.
Jennifer joins the carnival with her entry: The Pond Outdoor Hour Study.  She shares their very successful pond nature study even with a toddler along for the ride. So glad they jumped in and gave it a try.
Amy from Hope is the Word writes about their second trip to the pond to view some cattails. Read all about it in her entry Pond Study: Cattails.  Don't miss their very well done nature journals.She enjoyed her study so much that she wrote a recap entry here: Pond Flora and Fauna.
Kim shares their entry, Experiments in Flight: Lift, Thrust, and Drag. Their family did direct observations of their backyard hummingbirds and then learned more in the more formal science study. Great job!
The Schoolhouse On The Prairie is just starting out with the challenges…they share Outdoor Hour Challenge #1. I'm sure she would love to have you leave her an encouraging comment.
Amber is joining the carnival with Outdoor Hour Challenge #2….using their words.  Make sure to make Amber feel at home….let her know you read her entry. 🙂
Janet has submitted a great post on their Milkweed Adventures which also includes some other insect study as well. This is perfect as a warm up to next month's up-coming challenge for milkweed (stay tuned for that one).
Phyllis writes about their millipede and has some great images of this big guy in their submission to the carnival: Nature Study-North American Millipede. Phyllis also shares their water lily study…complete with pastel artwork to put the finishing touches on a already great study: The Water Lily and Lotus. How about one more from this family? Check out their Queen Anne's Lace study using the Handbook of Nature Study. Great job on all of these studies!
I have read about sunflower houses before and have always wanted to grow one. Amanda and her boys have one this year, complete with vining morning glories. Check out their entry on their blog: Our Sunflower House.  They also submit a very encouraging entry sharing their summer nature study in their own backyard: Gourd-eous.
Kristen shares their Leaf-cutter Bees using the Handbook of Nature Study. What a great example showing how to take advantage of the opportunities that come along in your own backyard. Their family also had a chance to study their Beetles and Cicadas..another great desert nature study. A trip to the ocean beach provided another opportunity to introduce some nature study objects for her young family: A Little Nature Study on Vacation.Thanks Kristen.
Julie is jumping into the Carnival this time with Outdoor Hour Challenge #1. She shares their walk on the coast of San Diego. Here comes Outdoor Hour Challenge #2 as well…great job with this one too. On to Outdoor Hour Challenge #3….they are most definitely on a roll. Welcome Julie!
Nicole (One Hook Wonder) has written and submitted their Outdoor Hour Challenge Squirrels entry showing how they have enjoyed observing a squirrel visitor. Fun!
Kim shares her entry from her blog, A Child's Garden, in this carnival entry: Little Brown Birds.  What a wonderful entry showing how to pull so many resources together to tie your nature study up with other areas of learning. They also encountered a Hummingbird (Sphinx) moth which she writes about in another wonderful entry. Thanks Kim.
Amanda is back from her maternity/summer break to share her latest nature study with carnival readers….their family enjoyed observing, listening, and learning about crickets in this entry: A Cricket Cage.
That wraps up this edition of the Outdoor Hour Challenge Blog Carnival. Make sure to check out the September Newsletter for a fresh batch of topics and ideas for your nature study. You can submit entries to the next carnival HERE.
August Newsletter Giveaway
After generating a random number, it was determined that Tricia (Hodgepodge Mom) is going to receive the August Newsletter Giveaway prize of the Dover Backyard Nature Coloring Book. Congratulations Tricia! Send me an email with your mailing address and I will get that mailed out to you ASAP.