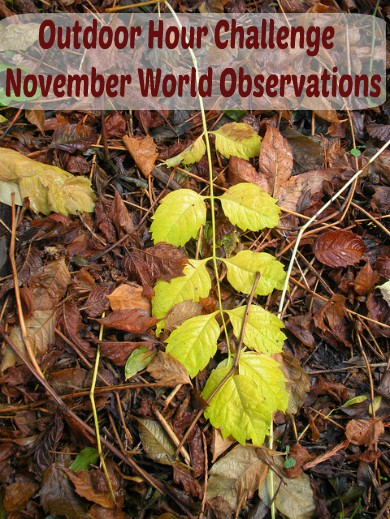 Outdoor Hour Challenge
November World Observations 2017
From the Archives and the Autumn 2010 ebook
Before the whole month of November slips away, let's make time to observe what nature is doing at this time of year. Start off by completing the reading of pages 1 and 2 in the Handbook of Nature Study as a refresher. Take a few minutes to think about how keeping a regular nature study period each week has benefited your family. Ask your children what they have learned so far this autumn season about the birds, insects, and plants in your neighborhood. This may give you encouragement to keep participating in the Outdoor Hour Challenge as the weather turns colder and wetter.
Use the ideas in this challenge to get outside and find something of interest to note about your November World. Complete the notebook page in the ebook, from the linked challenge, or create a page in your own blank journal.
November is such a month of change and transition…don't miss getting outside to view it for yourselves!
Use the discount code NATURE5 to receive $5 off an Ultimate Naturalist Membership!