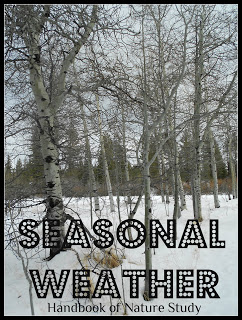 Outdoor Hour Challenge:
This week spend your outdoor time enjoying the daily weather. Keep track of your weather for a week, recording the temperature, rainfall, etc. You can use any of the free printables on my Freebies Page. Look there for the seasonal weather pages and the weather chart.
You can also use any of the Seasonal Weather Challenges from the past that are appropriate for your time of the year:
Printable Notebook Page: 
During your seasonal weather observations, take a photo of something that shows your current weather conditions. Better yet, let your children take the images and then print them out for a personalized nature journal entry. This can be done in each season and recorded in your nature journal's seasonal section.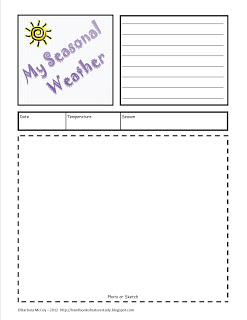 Printable Notebook Page:My Seasonal Weather.

Getting Started Suggestion:
If you already own the Getting Started ebook, complete Outdoor Hour Challenge #10.  I realize that this is a cold time of year (or hot for you Southern Hemisphere folks)  for many of you but there are ways to make a "picnic" happen even if you just drive in the car, park under a tree, and enjoy some sandwiches and hot cocoa. Get creative! If you have a picnic, make sure to take a photo to include in your nature journal. I will challenge myself to taking a picnic in the next few weeks with my family and I will post our experiences here on the blog.