Part of my nature study goals this year was to learn about ten new birds and their calls. I think I was a little ambitious and ten *new* birds is a lot to tackle. I am up to three birds….not sure how I got off on my count but I only have three official birds so far:
Pine Siskin
Carduelis pinus
This entry is all about the Pine Siskins which we spotted way back in February during the Great Backyard Bird Count. I created a nature notebook page for the Pine Siskin at that time but never shared it with you. I used the coloring page from the Cornell Feeder Bird Coloring Book (free to download and save on your computer for future use). This is a bird that does not stay year–round in our yard. I had to look carefully to spot this bird because it is very much like the finches we have everyday at the feeders. It looks like a finch with yellow wing bars and a little yellow on its rump.
The call of the Pine Siskin sounds similar to the canaries I have heard. Here is the page on All About Birds with the sounds of the Pine Siskin. It is a sweet little bird and I am anxious to see it once the winter comes. Looking at the migration map, it looks like it moves far north for the summer.
Still working on my nature study goals for 2013…learning ten new birds and their calls during the year.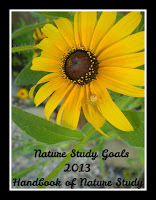 Amazon.com Widgets
I am an Amazon.com affiliate and I recommend books and other resources that I love and use in our family.