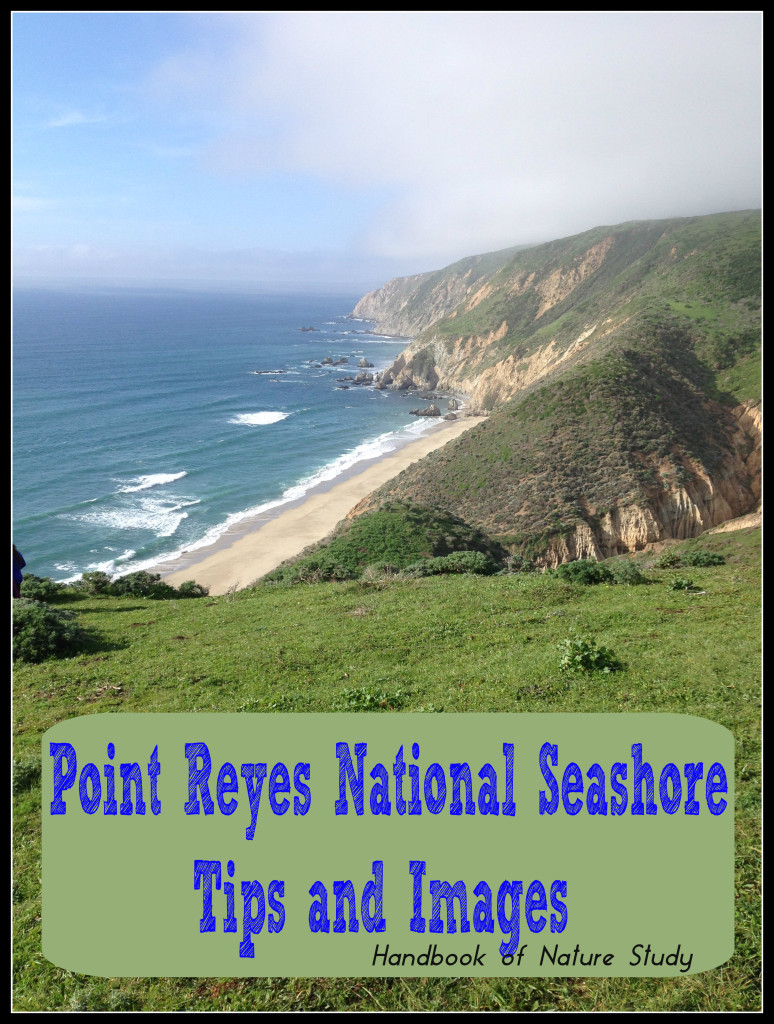 This month I am sharing some ideas and tips from Point Reyes National Seashore. I know I usually share about a national park but the opportunity to visit a national seashore came up and we grabbed it. Here is a list of other national seashores and lakeshores.
This was my second time visiting Point Reyes but the first time was only a brief part day visit with my daughter. On this trip we arrived on a Friday and left on Sunday morning, giving us plenty of time to visit several areas of this rather large park. First stop, as usual, was the visitor center.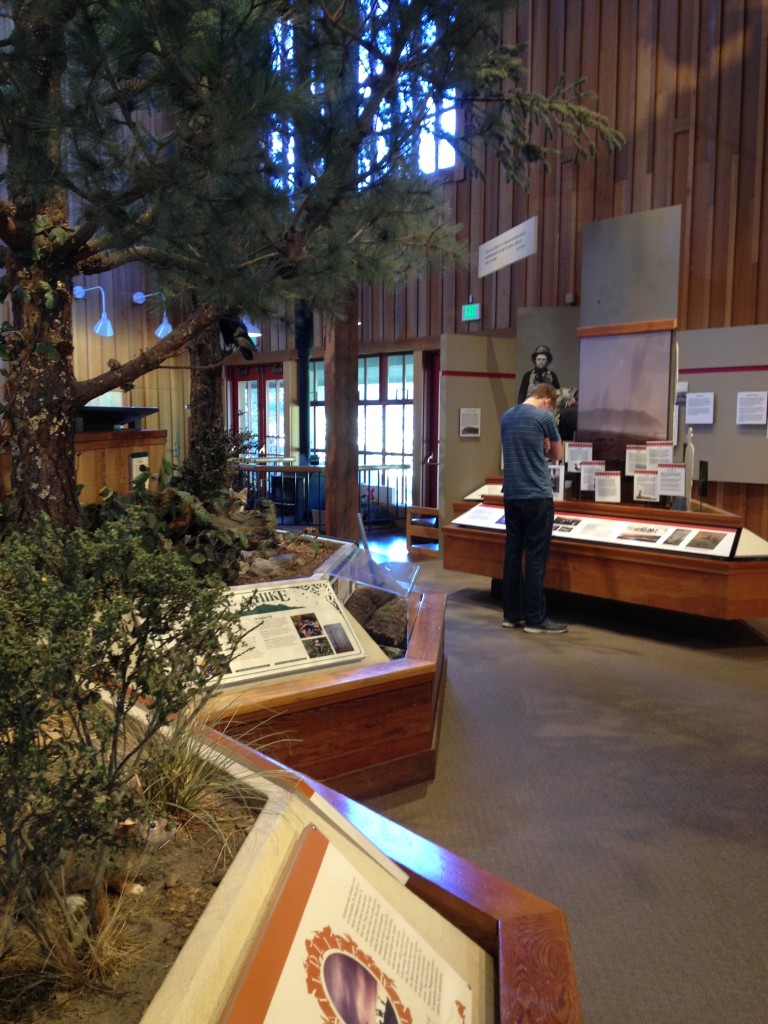 I loved this park's visitor center at Bear Valley! There are so many things to enjoy and we took time to read about the natural surroundings as well as the history of this area during our visit. There were also several of the park's trailheads located at the center's parking lot area so we took advantage of this and hiked the short and easy loop of the Earthquake Trail.
There is a complete hiking guide linked here for your convenience: Point Reyes Hiking Guide.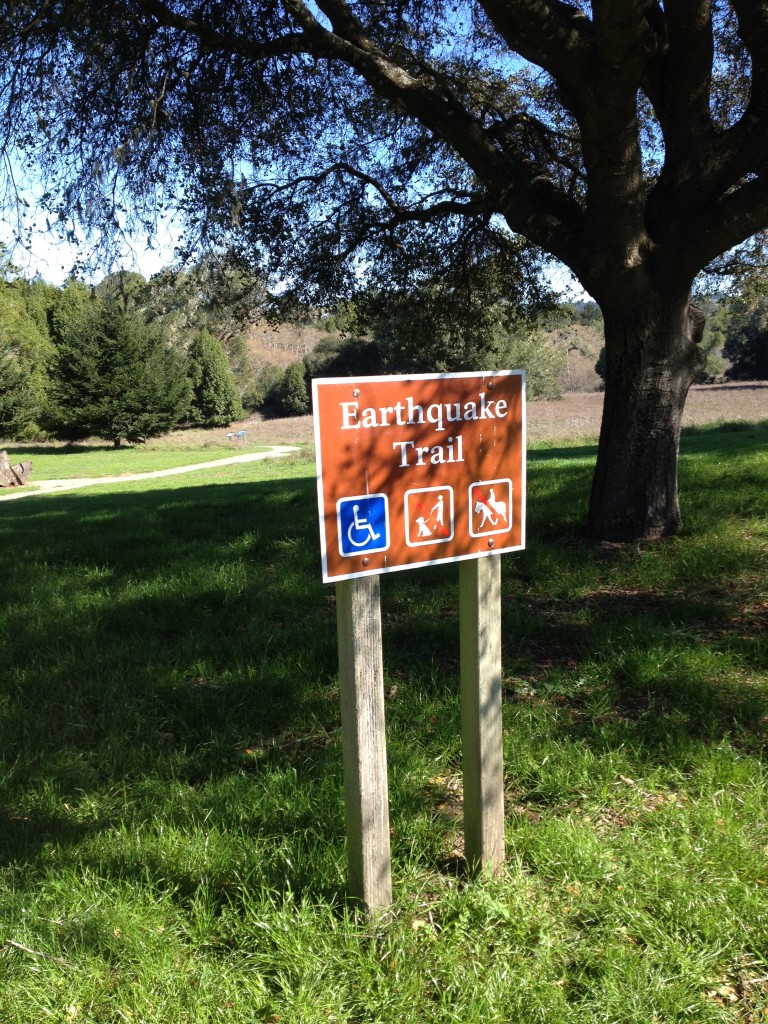 This was a great way to learn more about the earthquake of 1906 that hit the area and devastated San Francisco. This is a short loop trail that skirts the San Andreas Fault, lined with signage that help young people (and adults) understand more about the geology of an earthquake.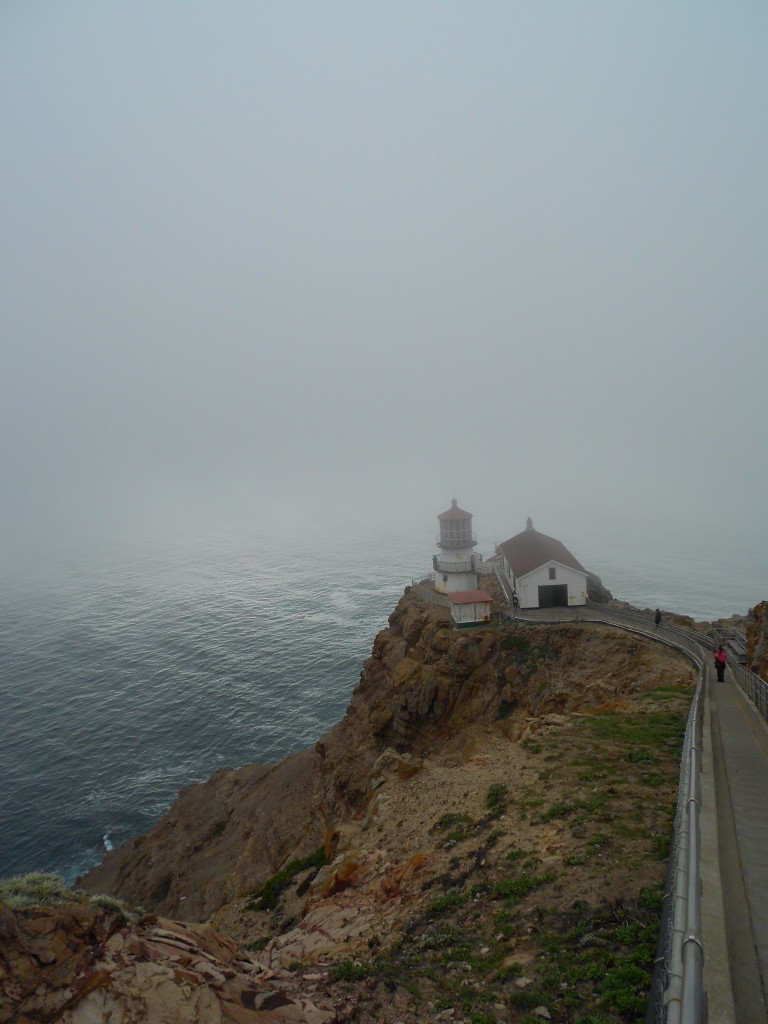 After that walk, we got back in the car and drove the long way out to the lighthouse (about 45 minutes). The drive is part of the experience as you go along a narrow winding road that travels through many of the history cattle ranches of this part of the park. It was surprising at first to think we were so close to the big city and yet it seemed as if we were in a different world. There are several beaches and picnic spots along the way so if you have your lunch, you can eat at the sand! Before heading out to the lighthouse, check to make sure the stairs and visitor center are open. Right now they are only open Fridays to Mondays, but check the official website before you visit for updated information.
As a side note: The little town of Point Reyes Station (right on Hwy 1) is not far from the Bear Valley Visitor Center. It is a charming place that has a small grocery, deli, organic produce stand, and a local small cheese factory. All of these places have things to pick up to eat that will delight your taste buds. I highly recommend the Cowgirl Creamery and their Mt. Tam cheese for your picnic basket!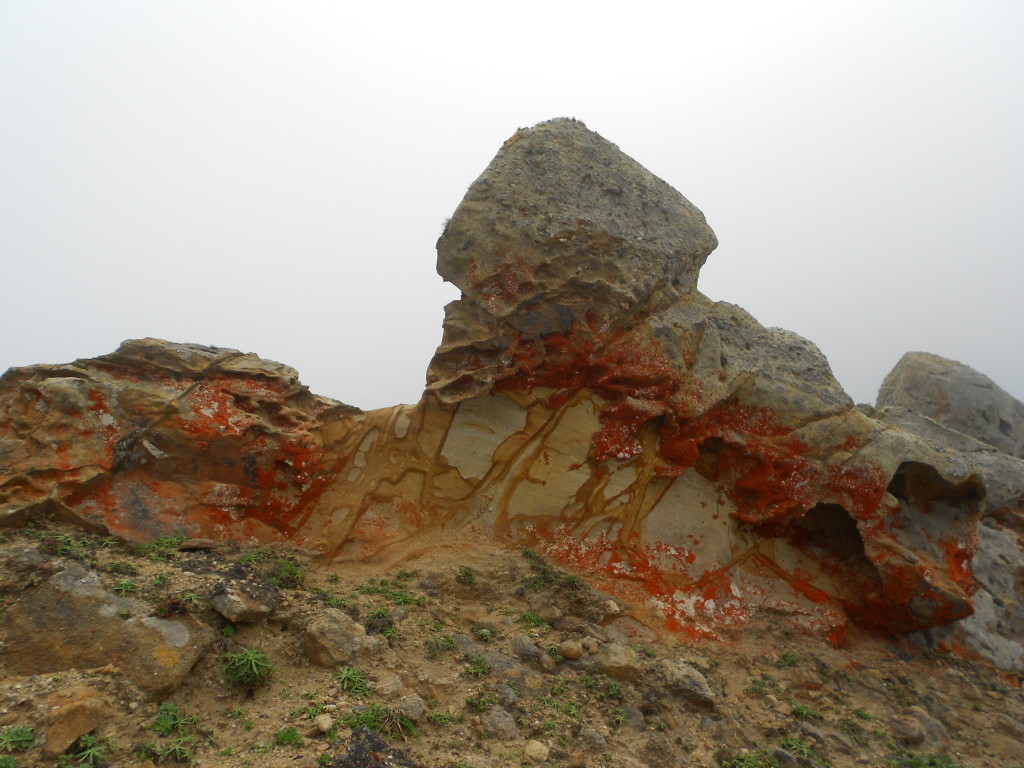 It is a hike down to the lighthouse and both times I have been here it has been fairly crowded in the parking lot but we managed to get a spot to park. Also, both times it was cool and foggy which adds to the experience in my opinion. Make sure to bring along a sweatshirt even if up at the visitor center it is warm and sunny. The rocks along the way are covered in magnificently colored lichen like this amazing orange lichen.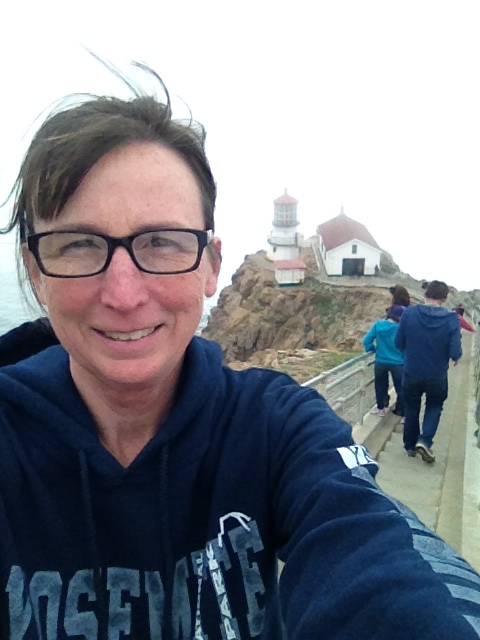 The fun part of the hike down to the lighthouse is the 300+ steps at the bottom. Fun going down but not as much fun going up. Don't worry…there are several landings where there are benches to sit if you get winded and need to take a break.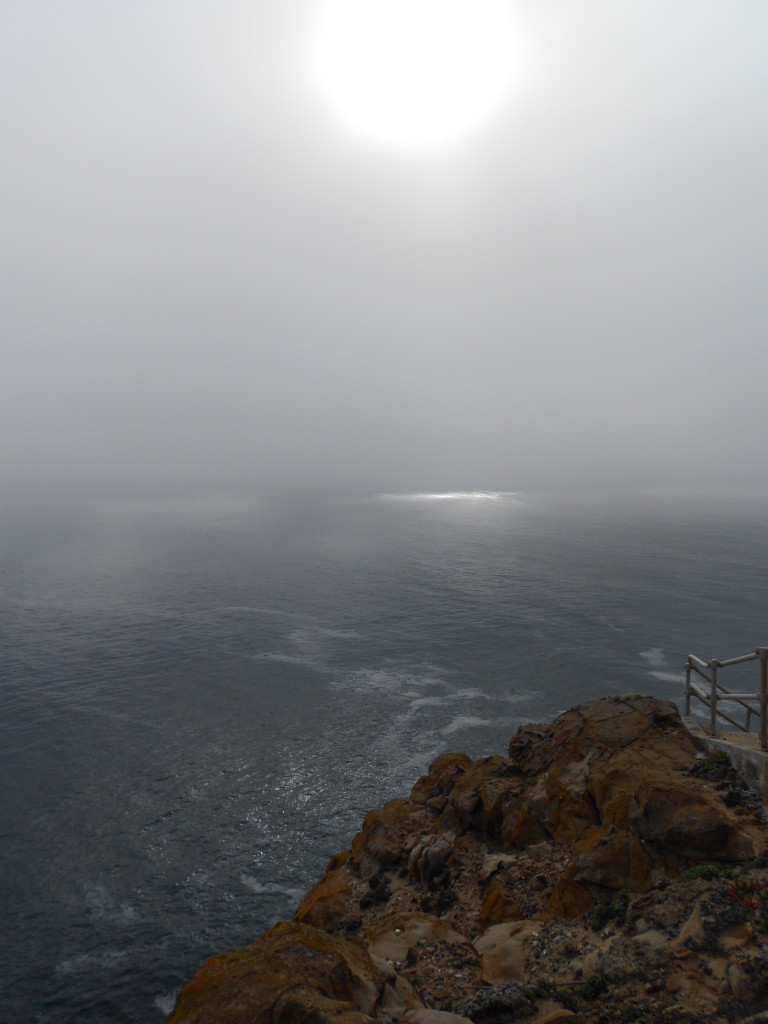 It was whale watching time of time year at Point Reyes so we stood for a long time and several of us thought we saw a whale breaching in the distance but it never came close enough for us to really tell. Maybe it was hopeful thinking but it is a popular activity during certain times of year to look for whales migrating on this part of the coast.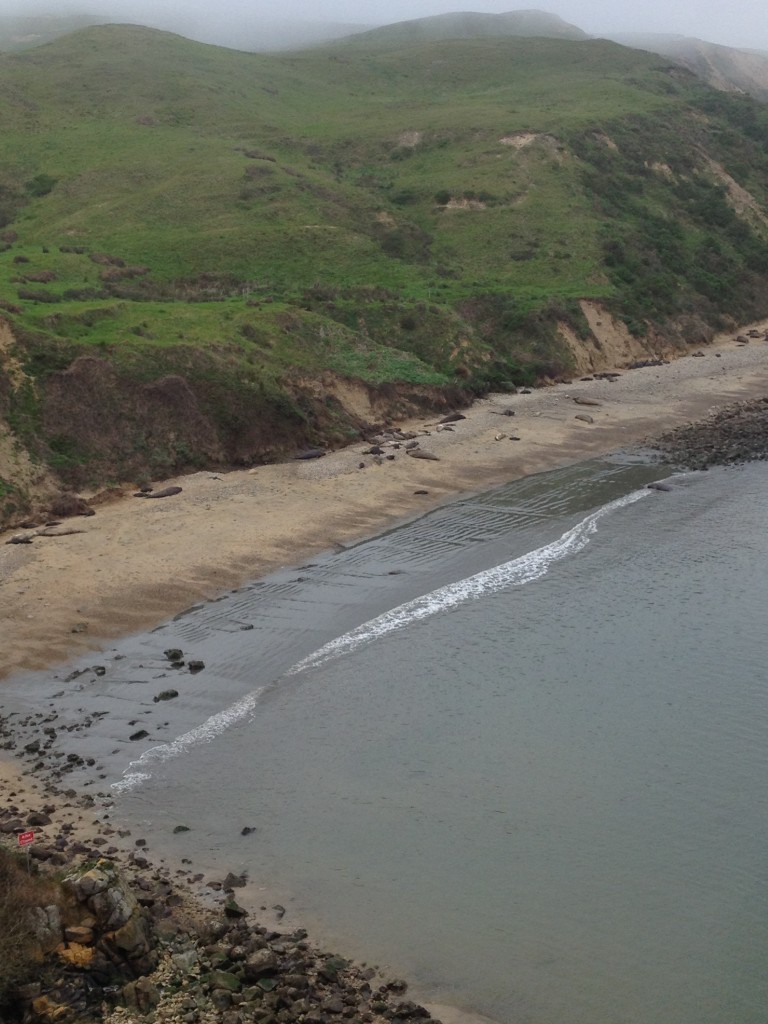 Our next stop was at Chimney Rock and viewing the elephant seals that are up on the beach at this time. We really enjoyed seeing and HEARING the elephant seals. They actually make some pretty funny sounds. They are such clumsy creatures on land but in the water they are graceful and fast! This is a must see if you are in the park during their beach visit (check at the visitor center before going over to Chimney Rock). The day we were there we could park in the parking lot but there are times that you are required to take the shuttle bus from Drake's Beach so check on this arrangement at the visitor center too.
Here is a video that has some of the many sounds they make…excuse the visual quality…I had it zoomed in: Point Reyes Elephant Seals.
As we drove back to our campsite, the fog rolled in over the road. It was quite beautiful! There was a family of deer crossing the road in front of us and I captured this one to show you.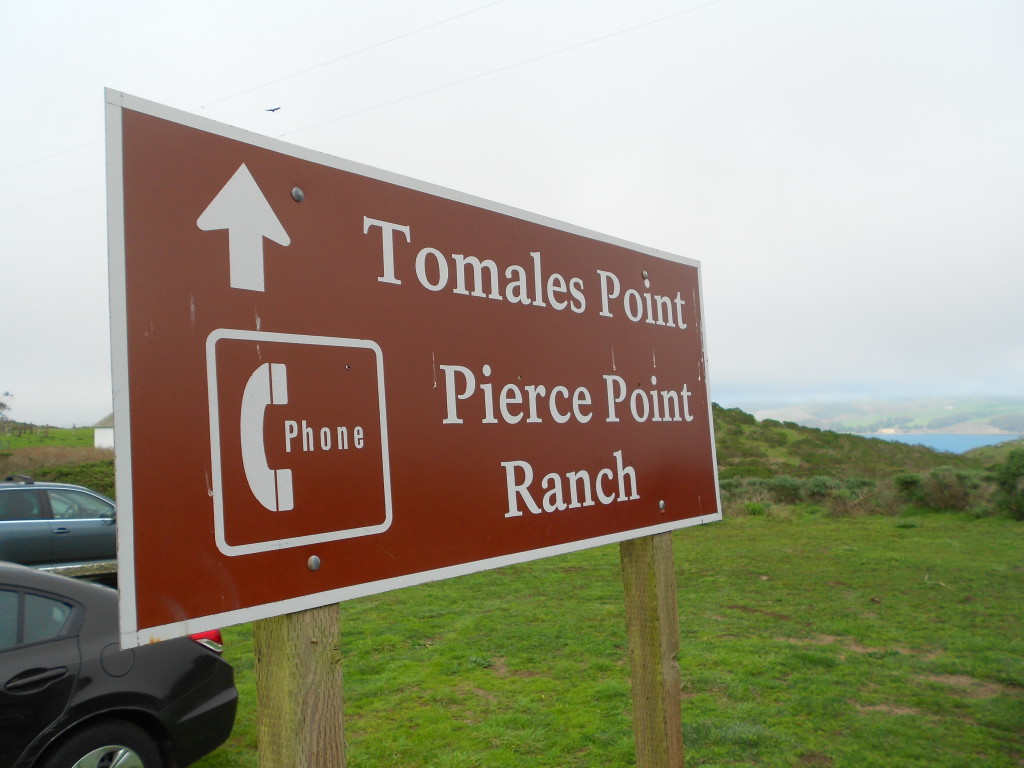 The second day of our visit we drove out to Tomales Point, a long drive along a narrow country road (about 35 minutes from the Bear Valley Visitor Center). It was beautiful but bumpy and with lots of curves. There were a couple of beaches that could be accessed along the road with restrooms so you could make this a day long event if you packed another lunch basket. We opted to hike part of the way out to the point and then turn around and head back. We did not make it the whole entire 9.5 mile round trip because we weren't prepared with water and food (shame on me!).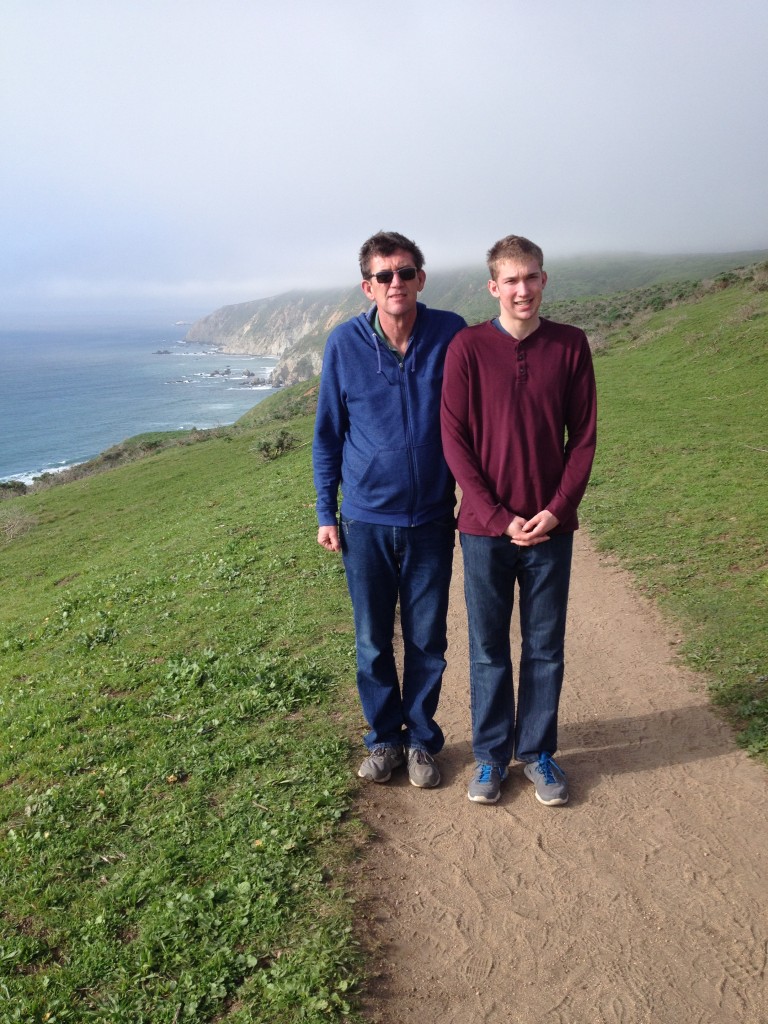 The trail goes along a bluff overlooking the ocean. I can imagine that during the springtime this place is full of wildflowers. We hiked enough of this trail to know that someday we would like to come back and do the whole thing and allow enough time to enjoy the day.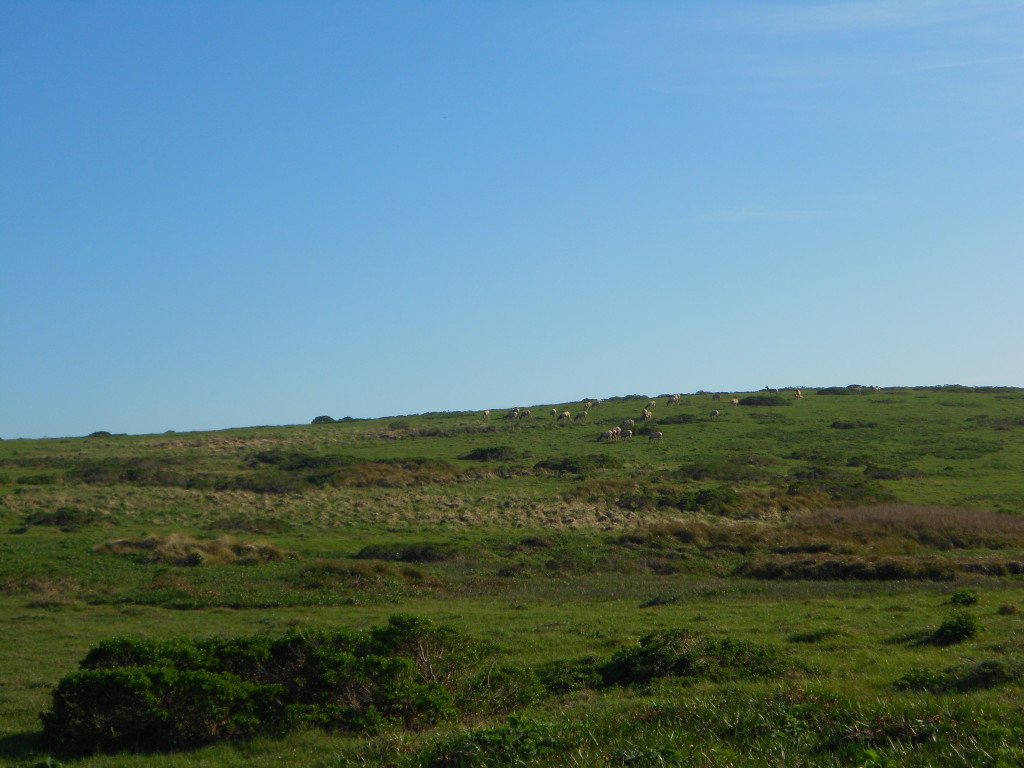 We also were interested in seeing the herd of Tule elk that resides at Point Reyes, more specifically at Tomales Point. We were able to spy part of the herd from the road. We used our binoculars to get a closer glimpse at these beautiful mammals.
Point Reyes National Seashore is such a diverse and wonderful place to visit. I would highly recommend it to my fellow Californains and to anyone who is going to have some time in the San Francisco Bay Area. It is a perfect compliment to a visit to Muir Woods National Monument which I will be sharing in an up-coming month!
Other Tips:
We stayed at Olema Campground which is very near to the Bear Valley Visitor Center. Because we were there in February, we had a whole loop of the campground to ourselves. I imagine that in high season when this place is full of campers and RVers that it is not as quiet and peaceful. I still think it is a very nice alternative to getting a hotel. There are several little hotels and inns in the area (Stinson Beach, Point Reyes Station). Here is a link for nearby campgrounds.
Distance from San Francisco is approximately 34 miles, from Napa it is about 45 miles, and from Yosemite National Park it is just about 200 miles.
There is no park entrance fee.
There are no restaurants or grocery stores in the park.
There is no gas station at the park.
You can read more of my national park tips in these entries: