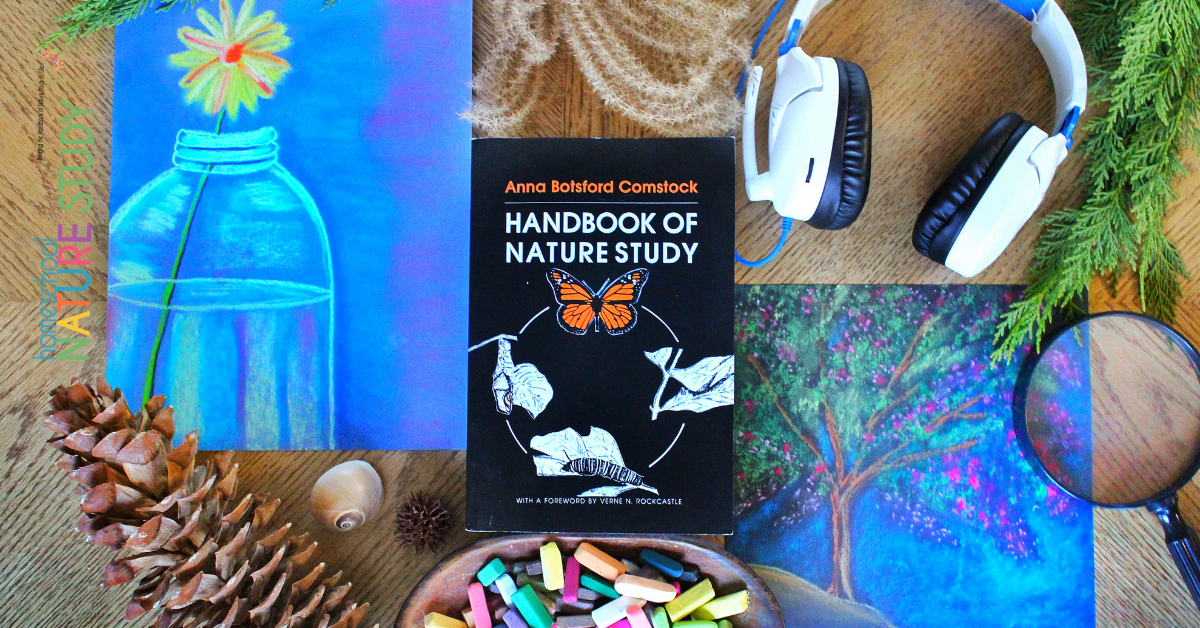 This spring homeschool nature study curriculum contains all the nature study Outdoor Hour Challenges, custom notebook pages for nature study as well as three months' worth of art and music appreciation.
The Spring Homeschool Nature Study for Members Includes Nature Study Lesson Plans:
10 Outdoor Hour Challenges – 6 completely new nature study lesson plans – Outdoor Hour Challenges and 4 continuing studies for your spring homeschool (Seasonal Tree, Weather, Cattail, and Bird). All the Outdoor Hour Challenges in this nature study curriculum are based on the Handbook of Nature Study and include page numbers and suggested learning observations.
10 Outdoor Hour Challenge notebook pages and nature journal suggestions.
3 months' worth of art and music appreciation- 3 composers and 3 artists with links, prints to view, coordinating projects, a coloring page, and notebook pages. Also included in two of the months are additional ideas for studying several instruments in the orchestra along with your listening time.
Ideas for nature study field trips other than your normal Outdoor Hour Challenge backyard adventures.
Links for further enrichment for each Outdoor Hour Challenge, artist study, and composer study.
Complete list of resources and instructions to get started with this nature study curriculum.
50 pages
Topics Include: Year-Long Tree Study, Spring Weather, Spring Bird, Dandelions, Spring Cattail, Apple Tree, Cats, Snakes, Earthworms, and Ants.
Updated January 2022.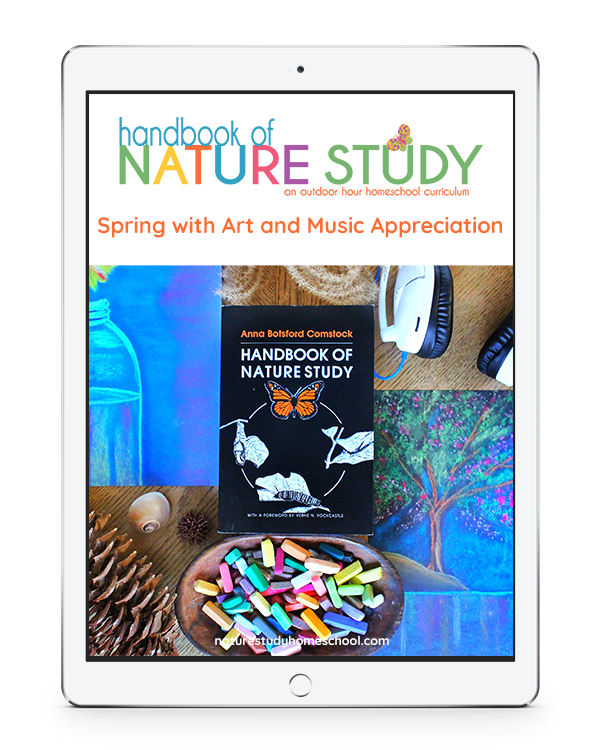 Nature Study Outdoor Hour Challenge Homeschool Curriculum Included
You will have a complete plan at your fingertips for your spring nature study, art appreciation, and music study. You will need to have the Handbook of Nature Study in order to complete the nature study challenges. All of the art prints are included in the ebook and there are links to viewing them online as well.
Art and Music Appreciation Spring Homeschool Curriculum Included
This time the three featured composers and their music are offered on one CD: Classical Music Start-Up Kit Volume Two. You can choose to purchase this CD for convenience or use the online links to listen to the music suggested in the music appreciation plans. I have aimed to keep these challenges and homeschool activities as simple as possible with very few additional resources needed.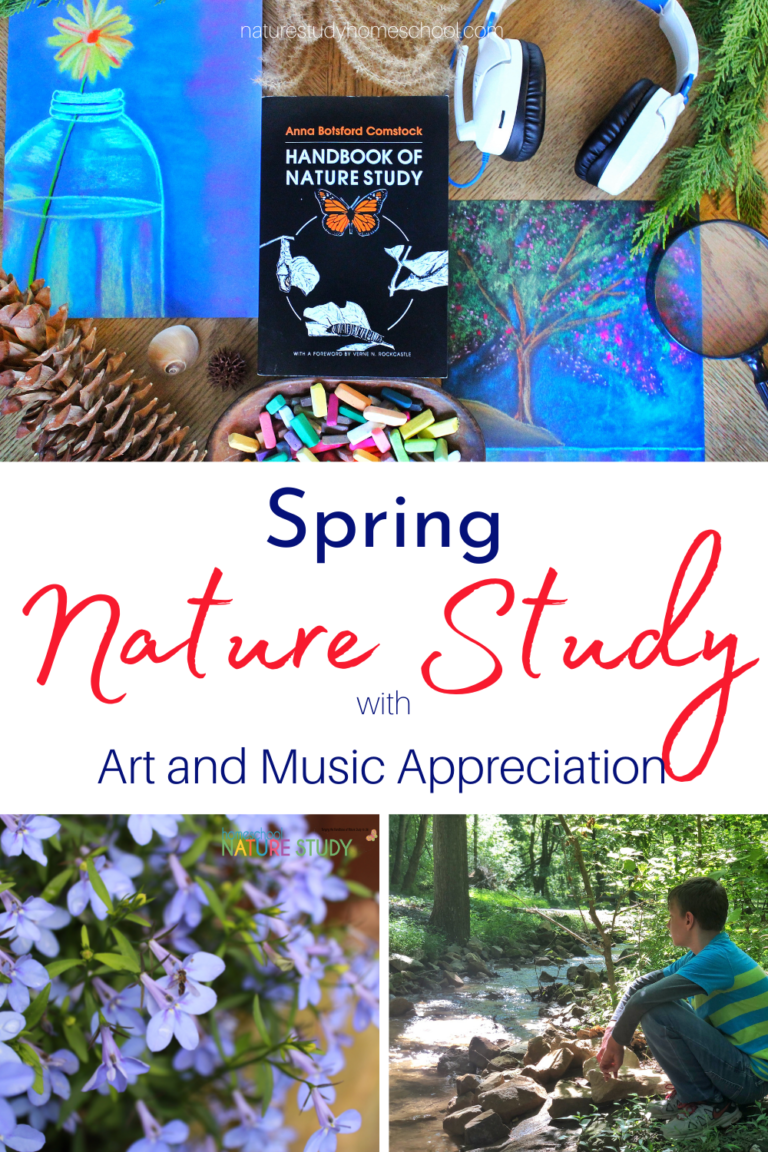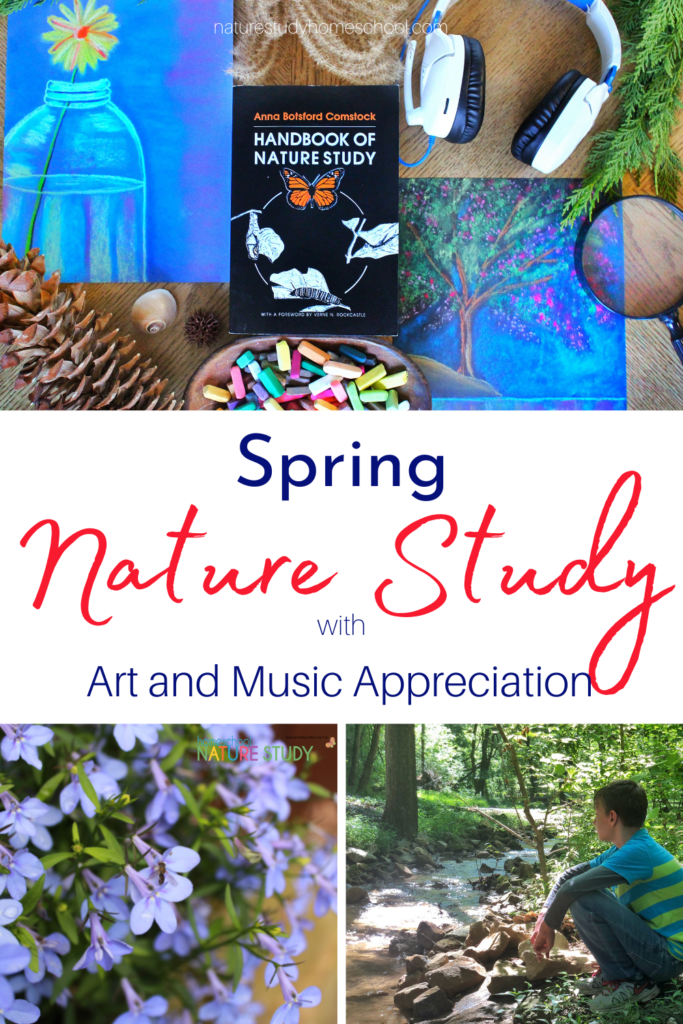 Join Homeschool Nature Study Membership for Homeschool Resources and Support Year Round!
Spring Homeschool Nature with Art and Music Appreciation is available in membership, along with access to 26+ Outdoor Hour Challenge Homeschool Curriculum and courses, weekly Outdoor Hour Challenges, a monthly nature calendar with daily nature study prompts and more!
Enjoy nature study, art appreciation and music studies all in one plan for your spring homeschool!