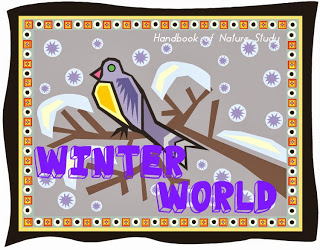 Outdoor Hour Challenge
World of Winter and Winter Colors– January 2018
From the Archives and the Winter Wednesday ebook
Use the ideas and suggestions in the challenge linked above to make some winter color observations with your children. If you have access to the Winter Wednesday ebook, you'll have a notebook page to complete after your outdoor time.
Additional Ideas from the ebook:
If you have snow, bring a few cupfuls inside and let it melt. Use the water to watercolor a winter scene for your nature journal.
For older children, think of some similes to write in your nature journal that relate to winter. For instance: The snow was like crystals in the sunshine. Here is a pdf to get you started: Snow Similes.
Join us for the Winter Wednesday series of challenges here every FRIDAY. You can find them under the winter tab on the blog or if you have an Ultimate Naturalist Library membership, you can find the ebook there for downloading.