Blackberry vines grew all around my resting spot yesterday on my hike. I decided to really observe them and then draw them for my nature journal.
Here are some leaves that I chose to draw.
After I started drawing, I realized just how many thorns there are on a blackberry vine. There are thorns on the vine and on the back of the leaf.


Here is a close-up of the thorns on the back of the blackberry leaf. If you click on the photo and make it larger you will see something very interesting. Did you click? Did you see the little insects that I believe are aphids? How cool is that?
"The scientific names given to the parts of plants have been the stumbling block to many teachers, and yet this part of plant study should be easily accomplished. First of all, the teacher should have in mind clearly the names of the parts which she wishes to teach; the illustrations here given are for her convenience."
Handbook of Nature Study page 456
In the Handbook of Nature Study, you will find a nice diagram of the leaf parts on page 457. On the blackberry leaf it is easy to find all the parts and now I can name them with any leaf.
Here is my nature journal entry for this plant.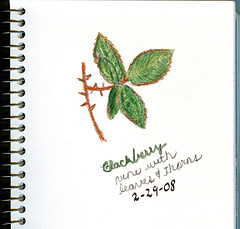 It was a great hike and I will be sharing more of what we saw as the days go by.