This week's brand new challenge is to learn more about the tarantula! It's one mighty big spider that you may never encounter in person, but it is worth knowing a little about its features and habitat. There are plenty of complementary nature study ideas presented in the ebook challenge, so take a look at ways to include a few in your weekly nature study time.
Alternative nature study ideas include: spider webs, nighttime flashlight walk, field trip to a nature center, or researching the tarantula hawk.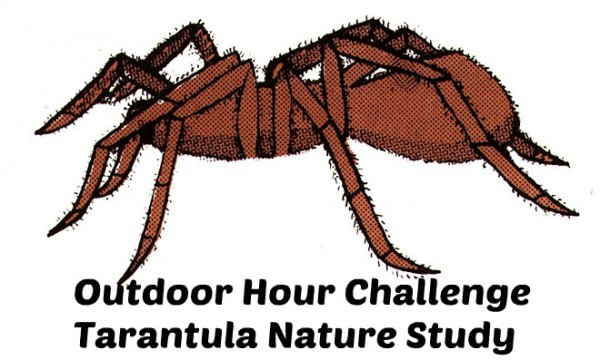 Use these links to learn a little about the tarantula:
If you have an insect field guide, look up the tarantula to learn some facts for identifying this hairy spider. Use this link to learn more about the desert tarantula: Animal Diversity Web.
I love this YouTube video from Brave Wilderness that features the desert tarantula. He has such an appreciation for the beauty of this huge spider that I was able to watch the whole thing even though I have a little bit of arachnophobia.  Giant Tarantula Shows Its Fangs.
See the Creepy things ebook for more tarantula nature study ideas and printables!
Please note that I will not be posting the complete challenge here on the blog, but you will find the detailed challenge in the Creepy Things ebook that's available both in the Ultimate Naturalist and Journey level memberships. Sign into your account and download the ebook for the details, more links, more videos, and notebook pages.
Would you like to see a sample challenge from the Creepy Things ebook? Here is a link to the complete banana slug nature study challenge for you to download: Creepy Things ebook sample-Banana Slugs.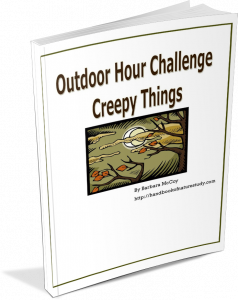 If you don't have a membership yet, you can click the graphic above and join today for immediate access to the 26 ebooks and so much more! Remember that all levels, even the Discovery level membership, include access to all of the archived newsletters!
Topics in this ebook include:
Banana slug
Tarantula
Black widow
Scorpion
Leech
Muskrat
Sphinx moth
Cicada
Millipede
Poison oak