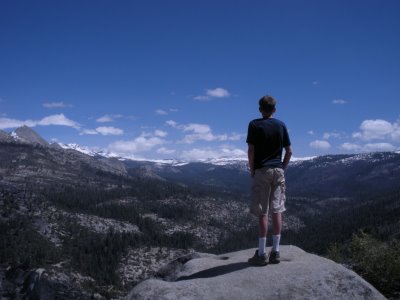 We had a family trip planned for the last few days to Yosemite National Park. A wildfire in Santa Barbara came along and changed our plans. Instead of the four of us going, three of us headed to Yosemite and one went to the coast to fight fire. This is the way fire season goes in our house….be flexible and make the most of it.
Yosemite at this time of year is all about the waterfalls. Big waterfalls. It seems as if the walls sprout water. Bridalveil, Yosemite, Ribbon, Staircase, Vernal, Nevada, and Illillouette are all going strong! The sound of water is everywhere and it gurgles and bubbles along just about every hiking trail.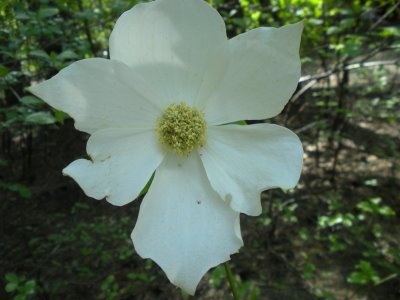 Another outstanding feature of spring in Yosemite is the blooming of the dogwood. It fills the forest with its beautiful white blooms.
We had a lot of adventures in three days. One morning we got up early and jumped on our bikes and were off to watch the sunrise over Half Dome.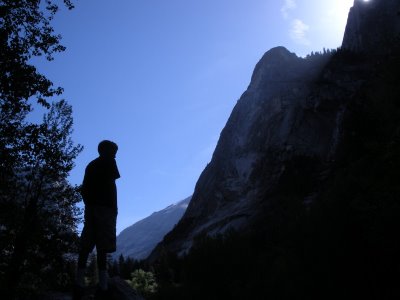 It was a beautiful experience and if you could hear the soundtrack in the background of this photo….you would hear birdsong and water running high in the creek from Mirror Lake down to the river.
Although getting up early wasn't necessarily their favorite idea, the boys were great once we got off on our adventure. It helped that there were quite a few other people up on the trail already as well. Most of them had big camera outfits with tripods but since we were on bikes and I don't own any fancy camera equipment, I was happy just to be there and capture a few good photos with my point and shoot.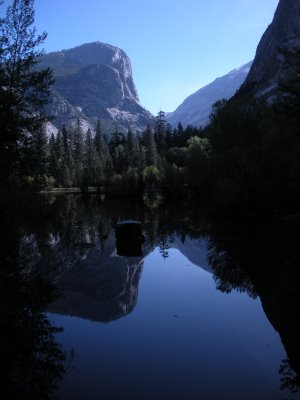 Here is a photo of Mirror Lake….it's not hard to figure out how they came up with the name. 🙂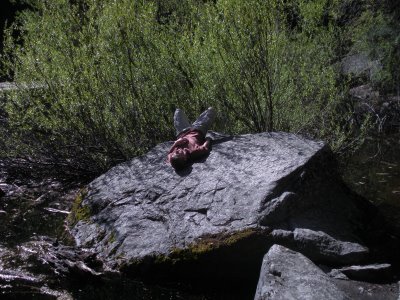 This is not your traditional birdwatching pose but it works. We also did some water observations as we sat here early in the morning. We saw some sort of larval insect in the water wiggling around and there were mosquitoes and some other winged creatures as well.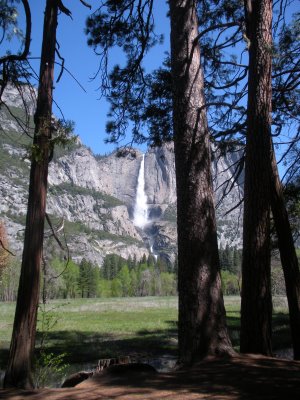 Later that morning our bike ride took us by this view. I think I took about a hundred photos of Yosemite Falls on this trip, from every angle possible. The sound of it is just incredible as it thunders over the rocks.
Oh, we did see two bear cubs at two separate locations…no mama bear but we figured she was probably close by. We just keep on going about our business and the cubs would scamper off into the woods.

Another day found us hiking in the Tuolumne Grove of giant sequoias. I have given up trying to get an entire sequoia into a photo. This is a great hike if you have an afternoon to spend under the big trees. I am working on a Squidoo lens describing some easy day hikes for families. This hike will be in it for sure.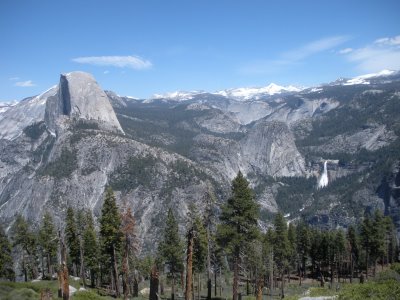 Our last big hike of the trip was on the Panorama Trail. The road to Glacier Point was open which was a surprise so we took advantage of the afternoon to hike down towards Illilouette Falls. The view of Half Dome and Nevada Falls from this trail is breathtaking. We decided to sit on a downed tree and just take in the splendor of the moment. The photo above was our view.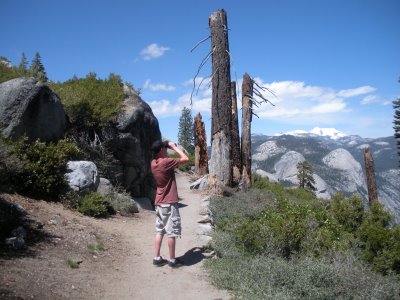 We also did a little birding as we hiked on this gorgeous afternoon. There was a bird singing a beautiful song as we hiked. We spotted him and we think he was a Hermit Thrush.
Okay, so I have spent a lot of time out in the wilderness over the years but this hike gave me something to ponder over. We heard a sound. Not quite sure how to describe it. At first it sounded like drums….sort of like tribal drums…..thump, thump, thump. But not quite like a drum….it was more of a vibration. The boys thought it sounded more like when you blow air over the top of a bottle and it makes that vibrating sort of sound. We went through a list of animals it could have been but nothing seemed right. We thought about wind blowing in or over something but it was not quite what we heard either. It was not a steady sound but would come and go but always in a series of three….thrummm, thrumm, thrumm. We heard it on the same section of trail both going out and then coming back. It was sort of eerie.
EDIT TO ADD: Shannon suggested a grouse and I did a little research. Turns out there are several kinds of grouse in Yosemite. I listened to the call on All About Birds and it is very similar to what we heard. Here is a link:
Dusky Grouse
Doing a little more research it turns out that it probably was a Sooty grouse. The Blue grouse was split into two species: dusky and sooty. I found a list of Yosemite birds and it lists the Sooty grouse. No way to know for sure without having seen it but it sure sounds like what we heard on our hike. 🙂
The habitat is right on. Here is what WhatBird says, "Preferred habitats include burned areas, montane forests, slashes, and subalpine forest clearings." We were in a burned area with lots of downed trees and it was a subalpine habitat. Bingo!
So many adventures, so little blog space. 🙂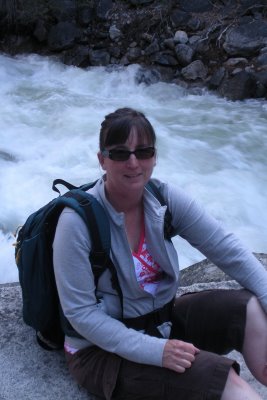 I may be home from Yosemite but it is a place that never leaves my heart.