Our attempt at a nasturtium flower study fell short again this year.
Don't you love nasturtiums? They are such a happy flower and they remind me of my grandma. Her garden seemed to just sprout them in all the corners and I always have thought they were easy to grow and care for.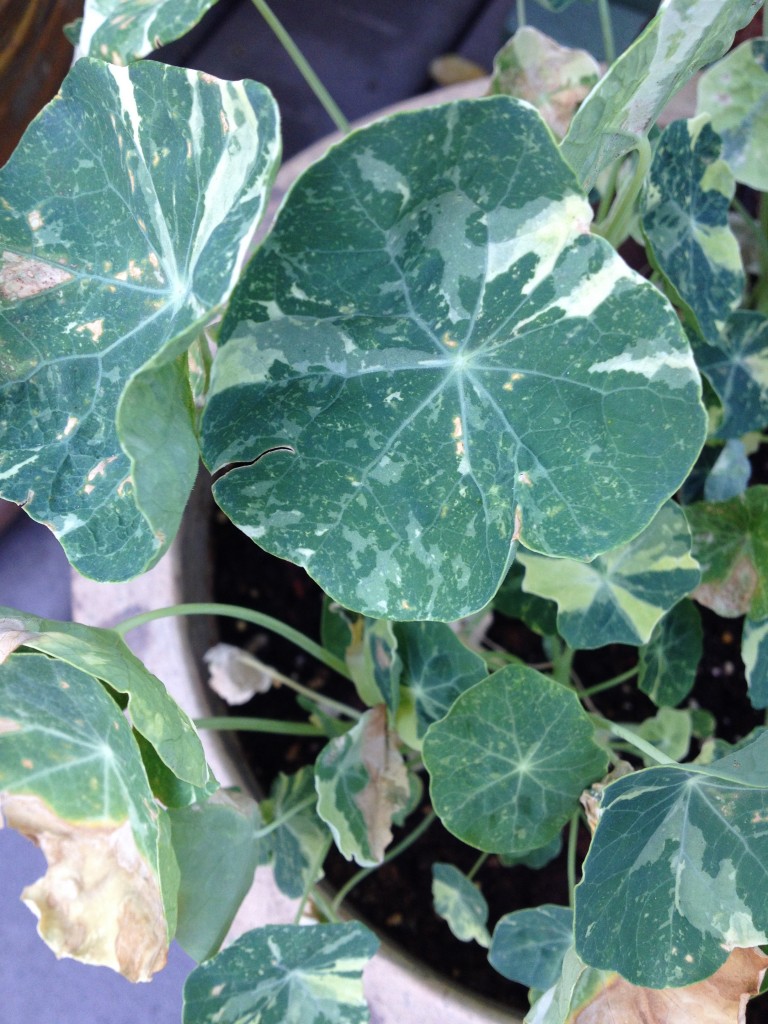 I have not had much success in growing my own nasturtiums. I have tried a few times and this year I received nasturtium seeds  (Little Firebirds) from Renee's Garden. I read the back of the package and it said they would be great in a container so I planted them in a fairly large pot on my back deck.  My seeds quickly sprouted and the leaves that formed were so pretty and lily pad shaped just like the package said. But, over time, the leaves started to turn brown which I thought was from lack of water so I stepped up my watering.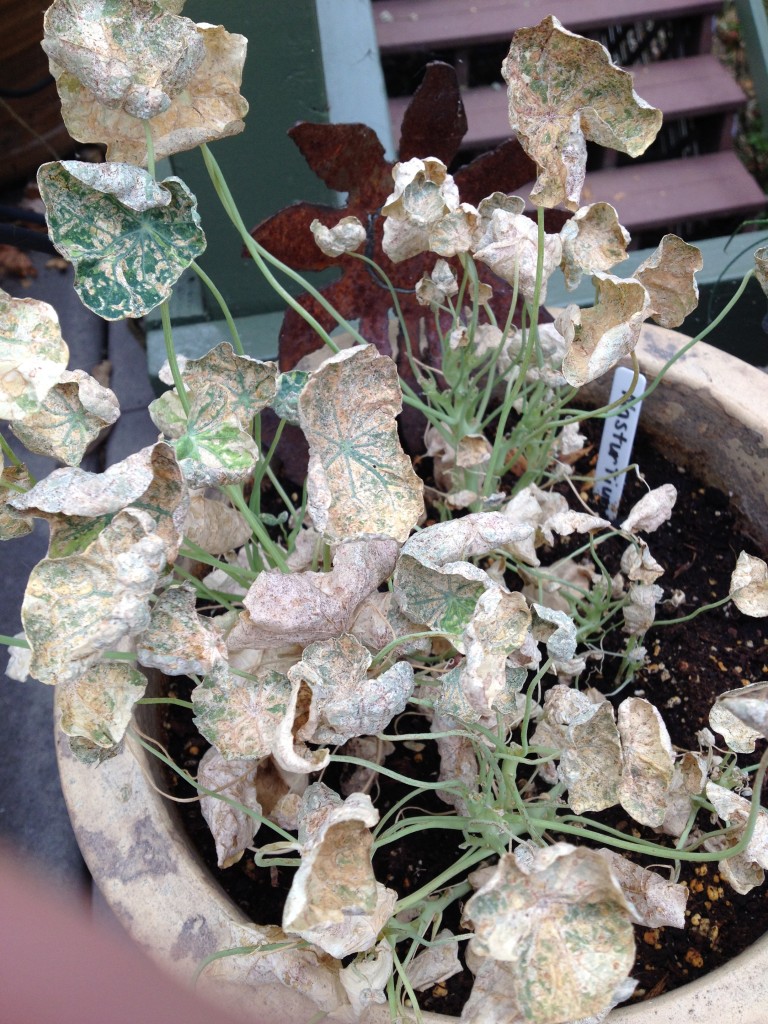 Things grew worse instead of better and now all I have is a pot of crispy leaves, no flowers.
Not sure what happened there…over-watering?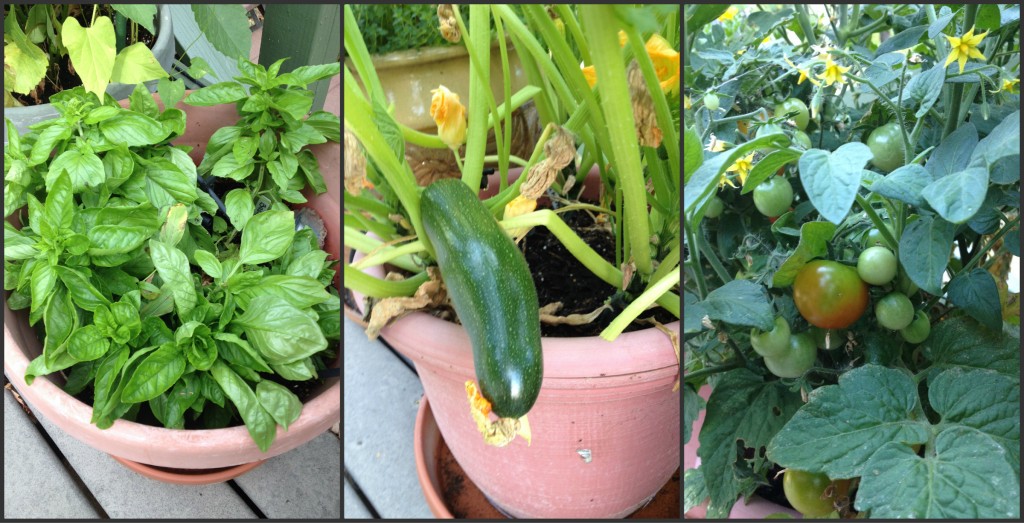 The rest of the garden is going strong and I am reaping some rewards in the form of zucchini, cherry tomatoes, and basil.
The zucchini is Astia from Renee's Garden and the seed package says it will grow compact plants and yield an abundance of tender zucchini. I have picked about eight zucchinis so far and I think my dog or some other critter has eaten a few too. I am really liking this variety but I left too many plants in my pot…..next year one plant per pot.
The tomatoes are Litt'l bites Cherry from Renee's Garden.  The package says that this plant is perfect from pots and baskets and I can tell you that I have had huge success with this veggie. The problem is that some critter comes at night and eats anything almost ripe. I have put up a cage and netting around it to protect the fruits for us to eat!
The basil is Italian Cameo from Renee's Garden. I love, love, love this variety and it is easy to pick a bunch really fast. I harvest some every few days and it just fills right back in for the next time.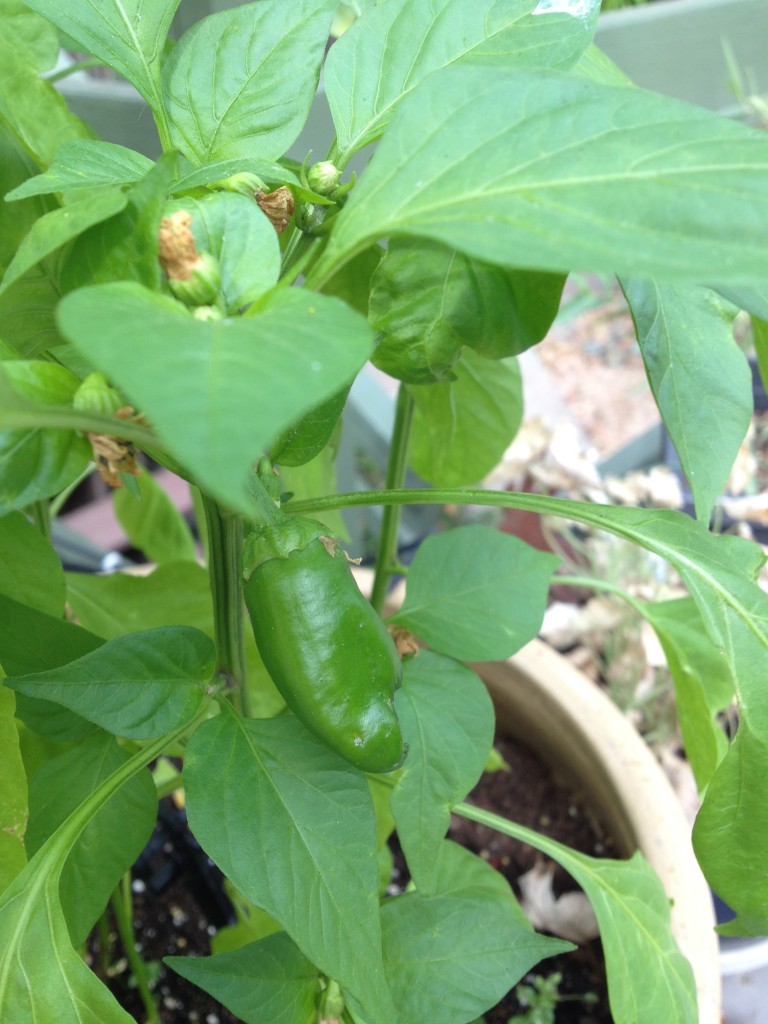 The peppers are growing every day in our hot summer afternoons.  These are Baby Belle Peppers from Renee's Garden. They are a mini snack or salad pepper which they say I can pick either green or wait for them to get red before harvesting. I think I will try doing it both ways and see which I like better. I am having success with the plants in a pot on my back deck.
So there is a short update on the garden in pots! I so enjoy getting out there every morning to survey the progress and water, trim, pick, and taste something. I have decided I don't need a big garden to get that "garden fix" that I need in the summer. Lesson learned!
One last new thing on the deck…a second hummingbird feeder! I placed a new feeder along with some red plants to attract a few more hummers to my yard. They love both the red geranium and the red petunias….great tip for those of you trying to establish a new hummingbird feeder. Use the natural colors to get them interested in visiting your feeder and then they will become regulars.
Summer fills my days with gardening and bird watching….and cloud watching. We are still in our drought here in California and every time there are clouds we hope for rain but so far….nothing!