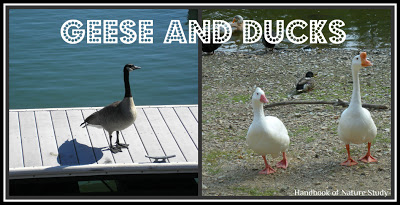 Autumn Series #2
Bird Study: The Goose
"And there is not a more interesting sight anywhere in the autumn landscape than the wedge-shaped flock of these long-necked birds with their leader at the front apex." Handbook of Nature Study, page 133
Inside Preparation Work:
1. Read pages 130-135 in the Handbook of Nature Study (Lesson 34). Take special note of the fact that the northern migration of wild geese takes place in April and May, and the southern journey is from October to December. (Check this website for a map of where Canada Geese live in North America.)
2. Listen to the sound of Canada Geese and Snow Geese. Many times we will hear a goose before we see it flying overhead. Use your sense of hearing to help you identify a goose when the opportunity arises.
Comparison Ideas:
Compare a Goose to a Duck
What do ducks eat and what do geese eat? (Hint: Where do they look for food?)
Compare the duck's and the goose's beak, the length of their legs, and the shape of their necks.
Compare the color of their feathers, beak, eyes, and feet.
Do they both swim in the same way? How about flying?
Are there some feathers on the ground to observe and compare?
What does each bird sound like?
Are they friendly, shy, or aggressive?
Outdoor Hour Time:
Take the opportunity during this challenge to find a local duck pond and check to see if there are any geese visiting at this time. You also might try a local farm that may have geese and ducks for you to observe. Use your Outdoor Hour time to observe geese and/or ducks with the suggestions from the Handbook of Nature Study as well as those suggested above. Help your child to find words to compare the goose to some other bird they already know as far as shape, size, and habits.
If you do not have any geese or ducks to observe, you can observe any of your backyard birds and make some comparisons. This activity is one that can be done with any bird at any time. Work on your observation skills a little each week to sharpen your child's awareness of their own surroundings.
Follow-Up Activity:
Take a few minutes to talk briefly about what you saw during your Outdoor Hour time. If you observed geese and/or ducks, use the gentle reminder questions in the list above to stimulate a little conversation. Your child can also record their observations in their own blank nature journal or use the notebook page from the ebook for convenience. You may wish to pull up the website listed in the preparation work to view more photos of geese to make sketching a little easier. In the Autumn 2010 ebook, there is a printable notebook page for a goose and another more general page for an autumn bird study of any bird.
If you did not observe a goose or duck, you can still complete a nature journal page or notebook page for any bird you did observe. Use your field guide or AllAboutBirds.org to glean more information if desired.
Note: This nature study challenge can be found in the Autumn 2010 ebook.
If you would like to own this ebook, it is part of the Ultimate Naturalist Library for members. You can find more details on how to get your own membership here: Join Us!