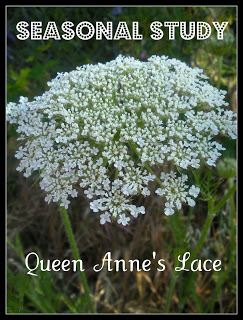 Autumn Series #6
Queen Anne's Lace Year-Long Study
Autumn Observations
"The object of this lesson should be to show the pupils how this weed survives the winter and how it is able to grow where it is not wanted. The weed is very common along most country roadsides, and in many pastures and meadows. It blossoms very late in the autumn, and is available for lessons often as late as November." Handbook of Nature Study, page 544
Inside Preparation Work:
Read pages 542-545 in the Handbook of Nature Study (Lesson 148). If you started your year-long study of Queen Anne's Lace in the summer, these pages will be a review, but read with an eye to looking for changes between this season and the last. Pick out a few points from the lesson to use in your outdoor time observations. One thing that can be pointed out before going outdoors is the difference between Queen Anne's Lace and Poison Hemlock.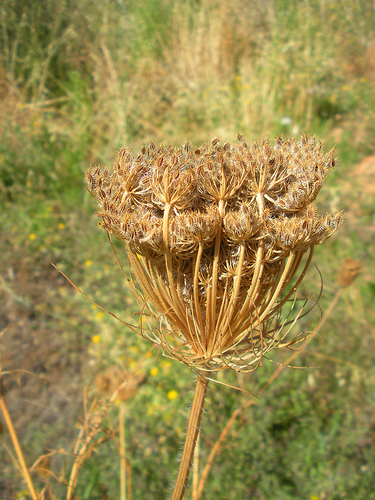 Compare Queen Anne's Lace and Another Weed in Your Yard
Where are the seeds located? How many seeds are there? What color and shape?
Look at the flower and/or seeds and decide how the seeds are dispersed. (wind, water, attachment, etc.)
Outdoor Hour Time:
Option 1: The challenge is to go back to your patch of Queen Anne's Lace and make some autumn observations. There should be some dramatic changes from your last study. This plant is also called a Bird's Nest or Wild Carrot and you might ask your children why they think this plant has so many names. Use the suggestions above to compare the Queen Anne's Lace with another weed that you observe. Observe closely with a hand lens the seeds since they will be the most predominant feature of the plant at this time.
Option 2: Since I know there will be some families that do not have Queen Anne's Lace to observe, you can substitute outdoor time in your own backyard instead. Find a different plant to observe if you can, any weed that is still present in your backyard will be a good subject for study. Use the suggestions above to compare any two weeds you find. Remember the most important aspect of any challenge is to find something of interest to your child…even weeds can be interesting if you take the time to look closely.
In Addition to Options 1 and 2:
Collect a few autumn weeds to bring inside to observe. Look at the leaves, the dried flowers (if any), and any seeds or pods. Make note of the colors and textures.
Collect a variety of seeds from weeds in your yard or neighborhood, perhaps placing each different kind of seed in a separate plastic sandwich bag. Sketch a few of the seeds in your journal and label the drawing with the plant's name (if you know it), the date, the location you collected the seed from, and how you think the seed is dispersed.
Follow-Up Activity:
If you didn't have the opportunity to talk about Queen Anne's Lace or weeds during your outdoor time, take a few minutes to discuss your discoveries. Complete the Queen Anne's Lace notebook page or the other autumn weed study page in the ebook or make an entry in your own blank journal. If you haven't done so already, complete a Venn Diagram comparing two plants you observed during your outdoor time. Display your weeds in a vase.
Note: This nature study challenge can be found in the Autumn 2010 ebook.
If you would like to own this ebook, it is part of the Ultimate Naturalist Library for members. You can find more details on how to get your own membership here: Join Us!
Save