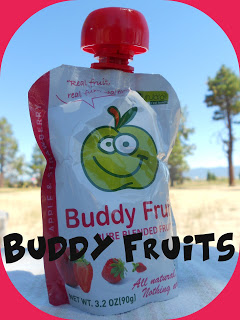 Healthy eating while on the go can be a challenge. Packing fruit in your backpack can be messy and dried fruits can become tiresome. Buddy Fruits products have helped our family keep a healthy and whole food diet as we have traveled this summer. I received a variety of Buddy Fruits to review back in June and we finished those and purchased some more, taking them everywhere as we hiked, biked, and kayaked our way through the summer months.
I was attracted to Buddy Fruits because they are 100% natural and do not contain added sugar. They seemed an easy way to fit in a serving of fruit at times when it was not convenient to carry pieces of fruit along on our adventures.
We received three different products to test-Fruit Bites, Blended Fruit, and Blended Fruit and Milk Smoothies.
Buddy Fruits Pure Fruit Bites-
Only Fruit Nothing Else (no dairy):
This was our favorite product and each resealable pouch of fruit bites is one serving of fruit. We shared these with some young friends at a recent gathering and here are some of their thoughts.
"Raspberry! Awesome! I am not sharing these!"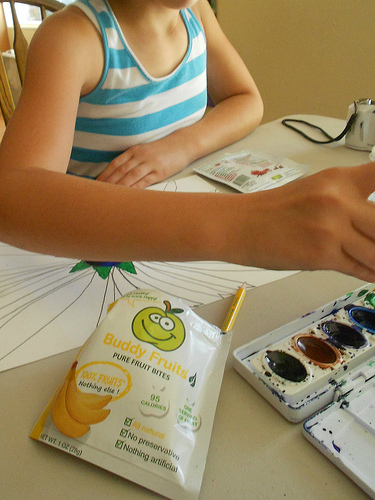 Enjoying some Buddy Fruit Bites while creating some art!
"These are better than gummies…can I have some more?" 
The kids loved them! The adults found the texture a little softer than expected and most thought they were very sweet. Personally I thought the pomegranate and acai flavor was the best, the raspberry tasted like jam, and the orange was refreshing. They worked well packed in our daypacks for hikes, giving us a burst of flavor as we enjoyed the great outdoors.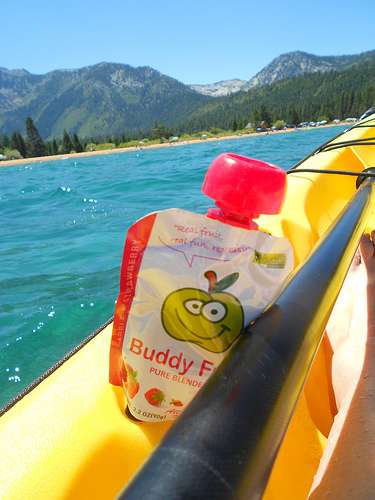 Buddy Fruit Pure Blended Fruit on Our Kayak Trip
Buddy Fruits-Pure Blended Fruit (no dairy or gluten):
These pouches of blended fruits were a hit with the teen crowd. I don't know if it was more the novelty of squeezing fruit out of a pouch or the flavors but they gobbled these down. Everyone thought the texture was like thick applesauce which made it easy to grab these and squeeze out a serving of fruit.
The pouches have a screw cap so if you want to save a bit for later it is convenient and there is no mess. Also when you eat these on the trail, there is no need for a knife or spoon and there are no sticky peels or seeds to pack out.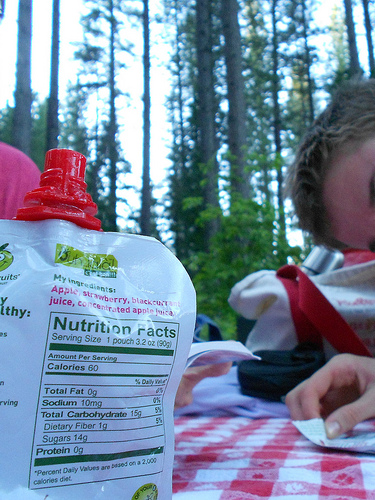 Check out the recloseable top and the pure healthy ingredients.
They are 100% pure fruit with no added sugar. They are gluten and dairy free. Worth noting are the flavors and ingredients of Buddy Fruits-Pure Blended Fruit available:
Apple and Multi-Fruit: Apple, banana, passion fruit juice, mango, strawberry, concentrated apple juice.
Apple and Strawberry: Apple, strawberry, blackcurrant juice, concentrated apple juice.
Mango Passion and Banana: Mango, apple, banana, passion fruit juice.
Apple Banana: Apple, banana, concentrated apple juice, lemon juice.
Apple Cinnamon: Apple, concentrated apple juice, cinnamon.
Delicious! We all had to try a bit of each one just to decide on a favorite.
Buddy Fruits –Blended Fruit and Milk Smoothie (no gluten):
Smoothies in a pouch seemed like a convenient way to take them on the road as we traveled but most of us agreed that they needed to be really cold in order to enjoy them. I ended up only packing them when we were taking an ice chest and my teens thought they were delicious as part of our picnic meals. They all agreed that the peach flavored smoothie was the best and tasted like a smoothie we would make at home.
We shared these with some younger children and they thought they were great and it was a novelty for them to have their own little smoothie pouch with a recloseable screw top. The moms agreed that having the ability to offer a few sips and then seal it up for later was ingenious.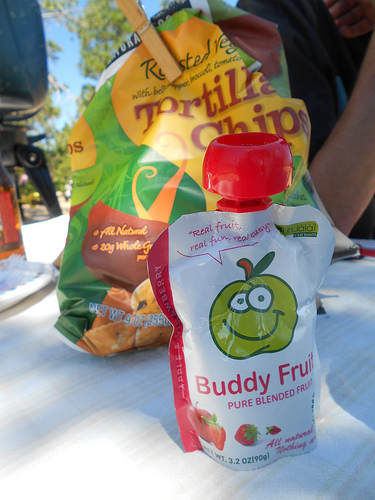 Buddy Fruits became a regular part of our picnic menu.
If your family finds it important to use natural products with pure ingredients and have the convenience of taking fruit along with you, Buddy Fruits are the answer. They are packaged in such an appealing way that your reluctant fruit eaters might just decide they like fruit. It is fun to squeeze the packages and the flavors are bold and delicious. We found that our local grocery store sells Buddy Fruit products so we have continued to take these along with us even after our review products were gone. I think that tells you how much we liked this product. (You can go to their website and enter your location to find the nearest retailer for Buddy Fruits products.)
The Buddy Fruits website is a wealth of information on each of the products and flavors. I encourage you to pop over and read more about these delicious, healthy, and fun products that will make offering fruit on the go a snap.
Please note that I received these products for free in exchange for a fair and honest review here on my blog. I received no other compensation from Buddy Fruits.