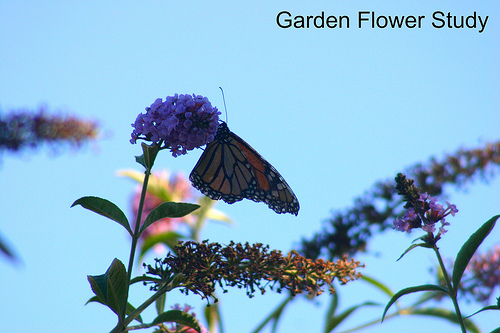 I don't know about you but ever since we really learned about Fibonacci numbers in nature we have been on the lookout for the patterns and swirls. They seem to be everywhere once your eyes learn to focus on this interesting design in creation. The More Nature Study Book #4 Summer Sizzle challenge for garden flowers shares lots of ideas for getting to know about the Fibonacci sequence and the aster family.
Our Garden Flowers Study using the Handbook of Nature Study led us to discover some different kinds of asters that we have right in our own yard. The clue is the shape and arrangement of the flower petals.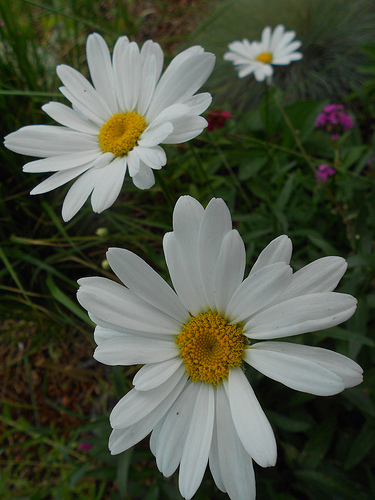 The challenge was actually to study White daisies, Black-eyed Susans, and Asters. We went beyond and tried to find all the flowers in the aster family that we have in our garden. We found quite a few.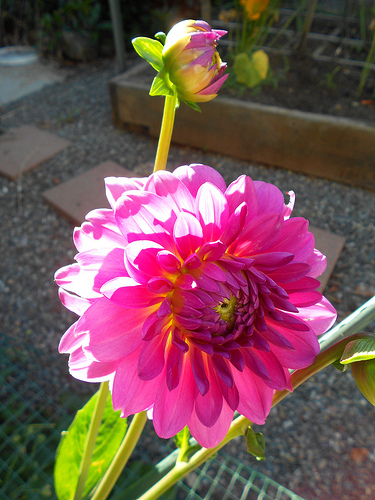 There are the dahlias. This surprised me that it was in the aster family. My son grows dahlias in his garden box for me and this year they are all shades of pink. I would like to add a few more colors next year.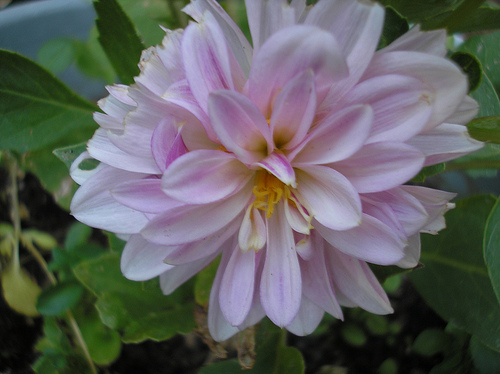 We do have dahlias growing in pots on the back deck. We planted these from seeds that we purchased from Rene's Garden. The package calls them Watercolor Silks
and they live up to their name.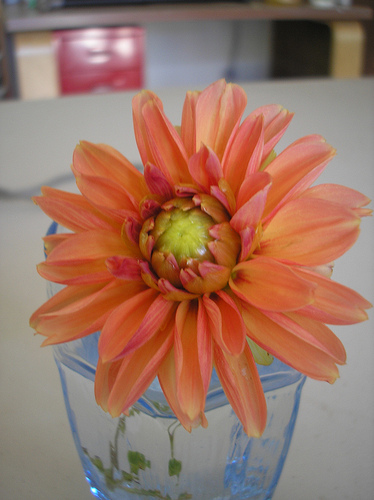 I bring them in and let them fully open up inside on the kitchen table.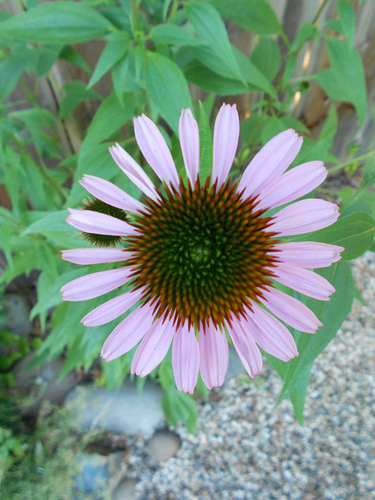 We have lots of Echinacea in our cutting garden. We looked this flower up and it is in the aster family! Can you count the petals?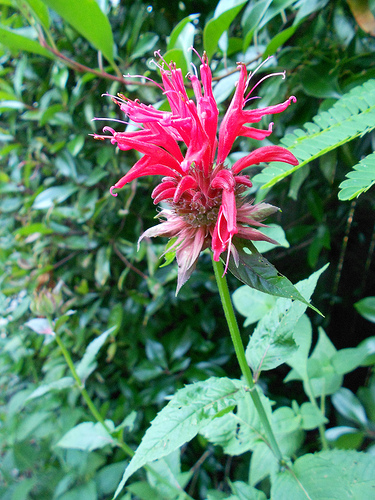 We were not sure about the Bee Balm so we looked it up on Wikipedia…no, it is not in the aster family. Knowing what makes an aster an aster, we should have known better. Sometimes it adds to the learning experience to NOT find what you are looking for because it makes you stop and take note of the different attributes of a flower like petal arrangement and the way the flower grows.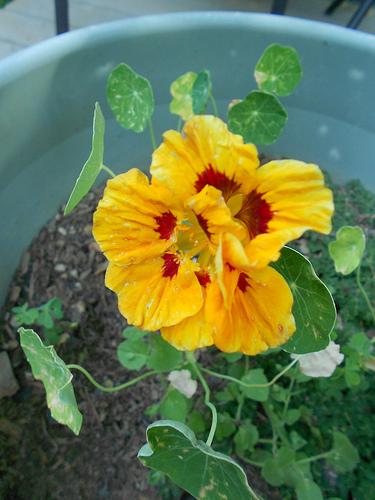 The nasturtium is also not a member of the aster family. I would love to have a whole bed of nasturtiums. I settled for four scrawny plants this year. There is a study in the Handbook of Nature Study for the nasturtium and I think our family will be following up this aster study with that one in the near future…just for fun and to record this flower in our nature journals.
Other Miscellaneous Garden Adventures from the Past Month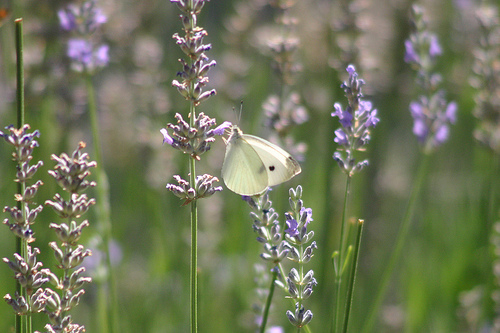 We have lots of Cabbage White butterflies in our garden everyday. I really love this link: Cabbage White. I learned so much by taking the time to look up this butterfly even though it was technically garden flower week. I love it when nature study subjects come to us and we slow down enough to learn a few facts. This is what makes our nature study so rich and satisfying. I think it is such a joy to know about the common everyday things in my garden. There is so much to learn.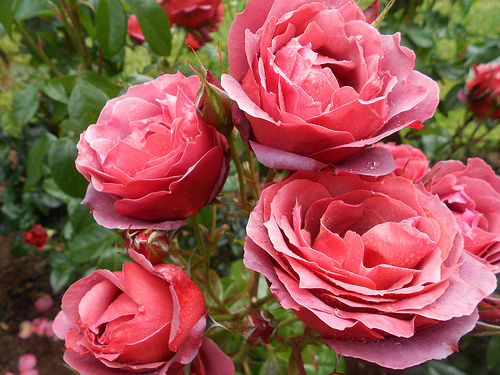 We visited a beautiful rose garden when we were on our Oregon trip last month. Shores Acres has a garden that is so magical that you don't know where to look and you are afraid you are going to miss something. The rose above is my absolute new favorite…it is called Hot Cocoa
. It had a slight chocolate fragrance and the color was reminiscent of cocoa.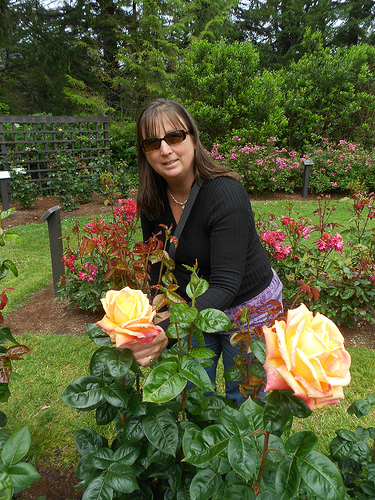 A rare sighting of me on the blog but I want you to know how much I enjoyed this rose garden. My son obliged me by taking a few photos of me as we wandered around and tried to find our favorites.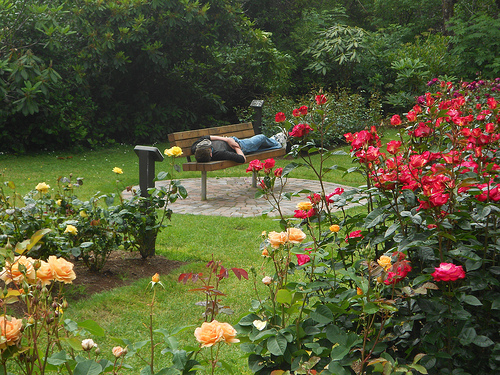 My other son decided that the bench was just too inviting and he rested awhile in the rose garden…what a great way to spend a few minutes while you wait for your mom who decided she wanted to read very sign.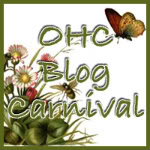 So have you completed your garden flower study for the summer yet using the Handbook of Nature Study? I would love to see your garden entries in the Outdoor Hour Challenge Blog Carnival…you have until the end of the month to post your entry and send in your links.
Jami's Tuesday Garden Party meme is open from Tuesday to Thursday so there is still time for you to jump in and participate!