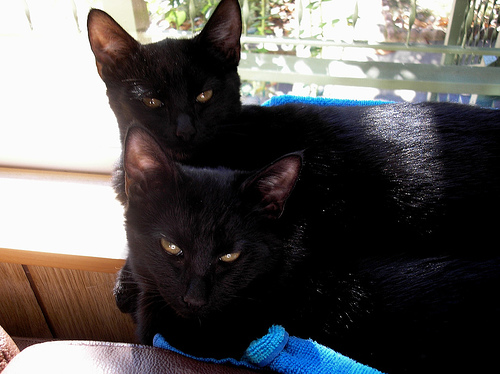 These are our cats Cocoa and Espresso who in 2006 came to live with us. Yes, we can tell them apart…you look at their ears and one has white hair inside and the other does not. They also have very different personalities and habits so once you get to know them you really don't even need to look at their ears to identify them.
It seems like we have a never-ending cat study at our house. We have two beautiful Bombay cats (we are sure that they are mixed with something else as well) that love to socialize with us during our homeschooling day. We can't help but to see these gals up close on a regular basis.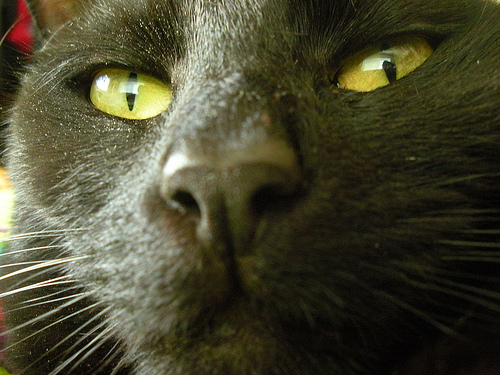 We did do a little more research on the Bombay cat breed and we discovered that we have English Bombays and not American Bombays. It was obvious when we took a look at the differences. We know that they are mixed with something else because they have some longer fur and some white hair in a spot on their chest but they are most definitely related to the Bombay breed.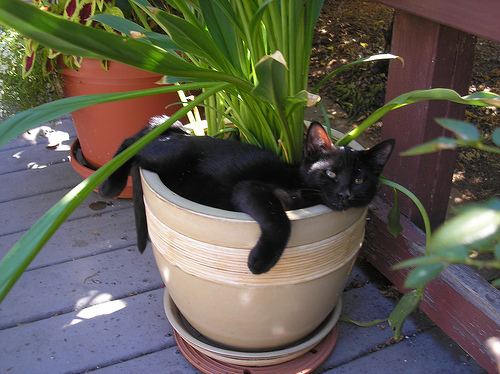 Our cats are remarkable sleepers. They spend most of their days sleeping in various parts of the house. As the photo above shows, they have always been able to find a comfortable place to sleep.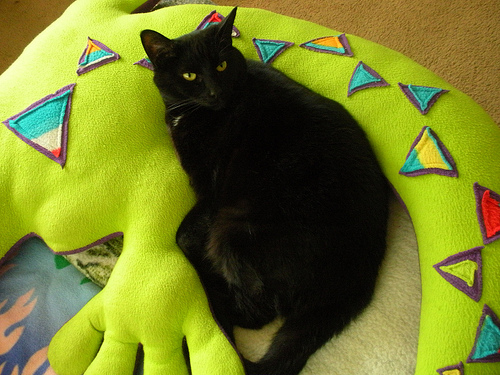 Cocoa loves to sleep on Mr. A's bed curled up in his big fleece gecko.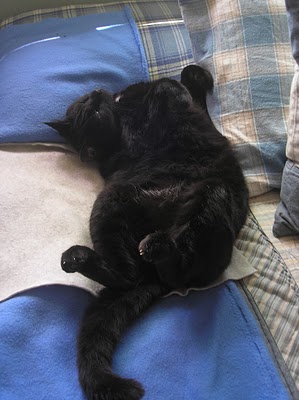 Here she is sleeping on my bed. I put out a piece of fleece fabric for her to sleep on or else she will curl up on my pillow. She will sleep on her back like this for long periods of time. I think it is very strange.
Espresso is more of a "sleep where it is convenient gal". She sleeps on kitchen chairs, curled up in a box, or laying on the back deck in the sun.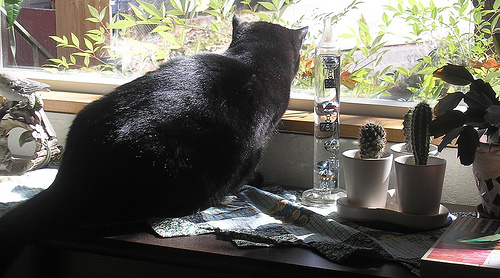 They are both big time hunters and they will watch from the inside of the window as the birds sit in the feeders. Their tails will be swishing, ears alert, eyes wide, making cat sounds as they watch.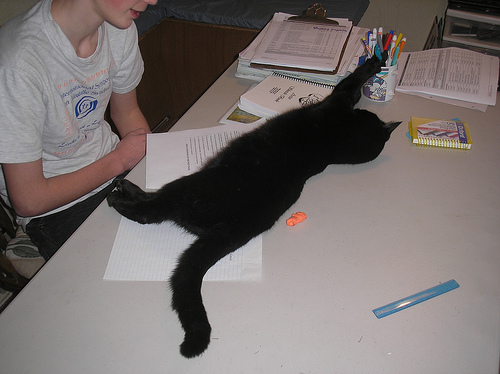 They also like to frequent the school table and sit on papers, binders, or textbooks. No matter that we might be actually trying to work…they make themselves at home.
Our lives are full of the entertaining things that cats do and especially since we are home all the time do we enjoy having them around to keep us company and warm. We recently found one hiding in a paper bag and we left the bag out for a few days and it became the favored sleeping spot for both cats.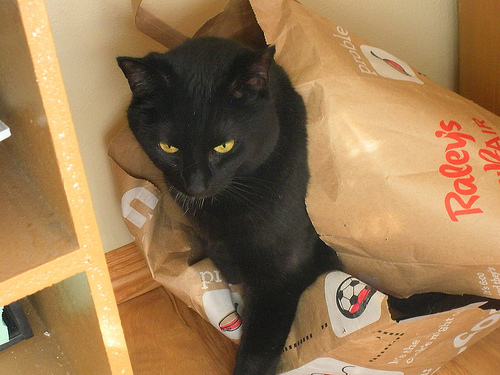 My husband does not consider himself a cat lover but these two feline girls have captured his heart. They will even jump into his lap for a good scratch under the chin and then they reward him with a lap full of purring, furry, sleeping cat. Cats are smart.
This was a fun challenge and my boys and I decided we could write about our cats every week, telling a new tale of their sweetness.
Instead, next time I will posting about our snake studies…..not quite such a lovable entry.