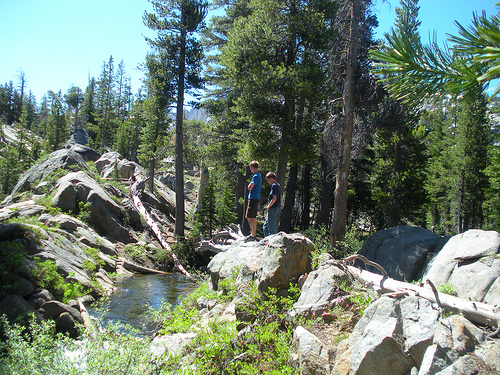 As a follow-up to my post on summer hiking and finding places that are an hour from your home, I wanted to give some tips to finding places to go close to your home. My local area is unique but so is yours and perhaps you need some help finding those interesting places that will inspire you to take a few hikes with your family. Arm yourself with some information.
I did some research on Amazon and found that if you type in some particular words you can find some great ideas for books for your family just about anywhere you live.
Type in the search box on Amazon.com:
Easy Day Hikes _______ (with your state instead of the blank)
Best Day Hikes ________ (with your state instead of the blank)
Day Hike ____________(with your closest National Park instead of the blank)
Fodor's __________(with your state or region of the the US like Southwest or Northwest)
Moon Handbooks ____________(with your state, region, or national park instead of the blank)
Hiking ___________(with your state, region, or national park…this one will get you a lot more choices and can be overwhelming)
Another tip that I will pass on is to go to Barnes and Noble and look for their travel guide section. Browse and pick out a guide book to your own state and/or local area. Be like a tourist and read the guide book to discover more about your own locality. I actually keep the California Fodor's book in the pocket of the door in my car. I refer to it when we are looking for local attractions for day trips and to know times and prices of places we are interested in visiting.
Of course, you can just look things up on the internet, although when I am out and about it is reassuring to have a map and some directions in my pack as a back up. I do lots of research online, but I feel better having a book describing the hikes when we head out the door. At the very least, we carry a map of the area where we are hiking. I could write a whole post about bad maps and books and trail markers but I will save that for another time. 🙂
You can look up your state in this index of national forests:
http://www.fs.fed.us/recreation/map/state_list.shtml
Using a Google search you can also type "national forest ______", replacing the blank with your state.
I sincerely hope these tips help you find some interesting places to go with your family.