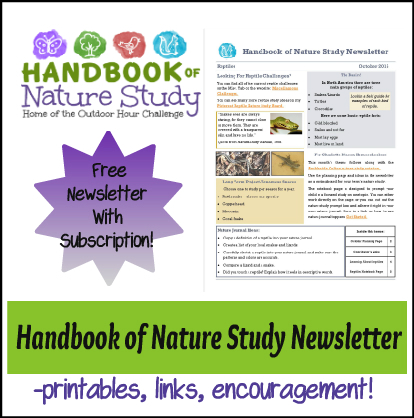 Handbook of Nature Study Newsletter
October 2015 – Reptiles
When I was preparing ideas for this newsletter, my husband and I were up in the mountains on a camping trip. One afternoon on a hike, we happened to encounter a snake on the trail. Well, apparently I almost stepped right on him without noticing. My husband saw him and shouted a warning to me. I screamed and jumped up and promptly ran further along the trail. Then, I calmed down, gathered my wits and went back to see the snake…a mountain garter snake. He had stopped just off the side, near a log. His amazing coloring blends in and provides such protection in the rugged habitat. We snapped a few images and decided to leave him in peace, probably searching for his next meal.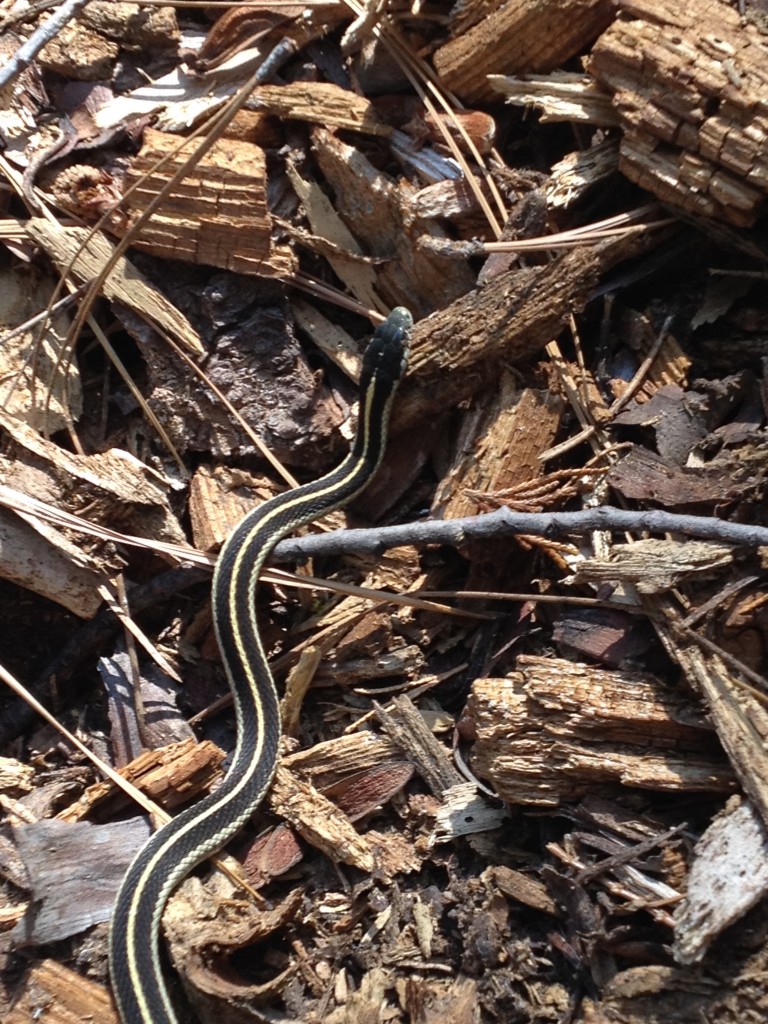 As always, my initial reaction to a snake encounter is fear but then it turns to admiration upon closer inspection.
Please read the following explanation outlining how to get this month's newsletter.
The newsletter link is not in this email but will come separately. There may be a delay in your receiving the email so please don't email me until the second day of the month if you haven't received the link on the first. For some reason, some email providers take longer to receive the newsletter email.
If you don't receive the separate email with the download link, you probably aren't subscribed to the blog yet. This will take less than a minute to do if you follow the steps below.
If you are a subscriber and you haven't received your newsletter email yet, check your SPAM inbox. Some subscribers have found the email buried in SPAM inbox.
If you need to subscribe:
You will need to go to the Handbook of Nature Study, look to the top right corner for the box to type in your preferred email address, and then confirm the email that comes to your email inbox.
Once you subscribe, you will receive a thank you email from me with the download link.
This month's newsletter link will be available only during the month of October so be sure to download it before 10/31/15.
Remember! All of the archived and current newsletters are available as part of the Ultimate Naturalist Library…every level!
Contents of this edition of the newsletter include:
Reptile nature study tips and resources

in the form of links to the Handbook of Nature Study website, contributor's links, and Pinterest. This month's featured contributors are Heather Woodie from Blog She Wrote and Alex from Life on a Canadian Island.

October Nature Study Planning Page printable

– don't miss the little extras I have added this month like nature photo ideas, field trip ideas, and a special 15 minute challenge for parents.
I have written an article entitled,

Learning About Local Reptiles,

where I encourage you to learn more about reptiles using your own personal style.

Reptile Study Notebook Page

– This page includes a prompt at the top to help your family go more deeply into a leaf study this month or in the months to come. It can also be used as a nature journal topper if you want to cut and paste the prompt into your own nature journal.
Members: You may also wish to download the April 2013 Newsletter from the archives. You will find additional articles, printables, and links to support your tree nature study. Note: All levels of membership here on the Handbook of Nature Study include all back issues of the newsletter.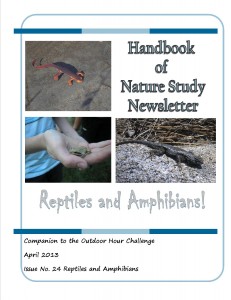 Please note that Ultimate Naturalist and Journey level members have access to members only printables each month in addition to the newsletter printables. You will need to log into your account and then go to the "Other Releases" section. There is a reptile related notebook page that has been created to go along with this month's newsletter theme. Look for it in the printables section of your membership.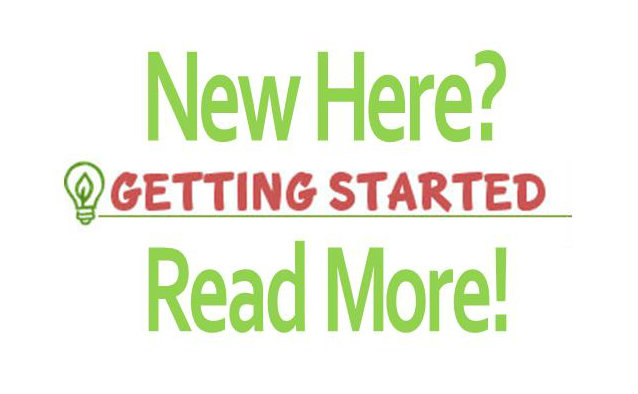 Need help getting started with your nature study using the Handbook of Nature Study? Check out the fresh "Getting Started" page here on the website!