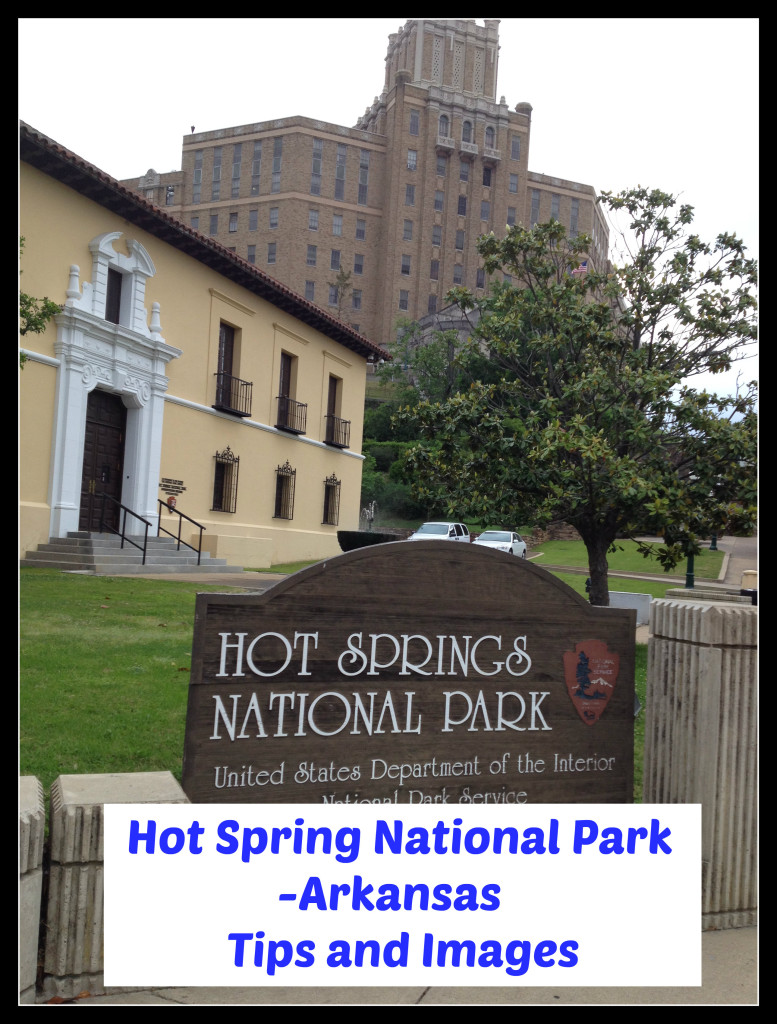 Hot Springs National Park in Arkansas is a park like no other that I have visited before. This national park is not gated by an entrance station and has no real parking within its borders.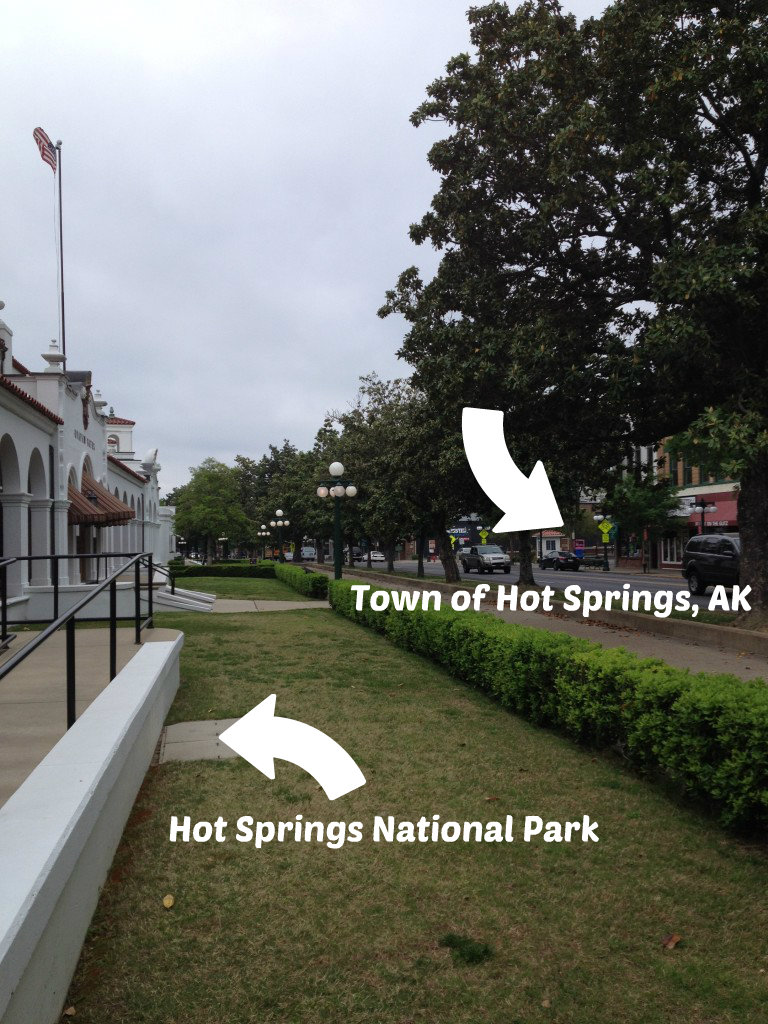 Instead, this national park is right in the middle of a town! Hot Springs National Park is not far from Little Rock so when we were traveling through on our cross country trip last April, we made a visit to this interesting place.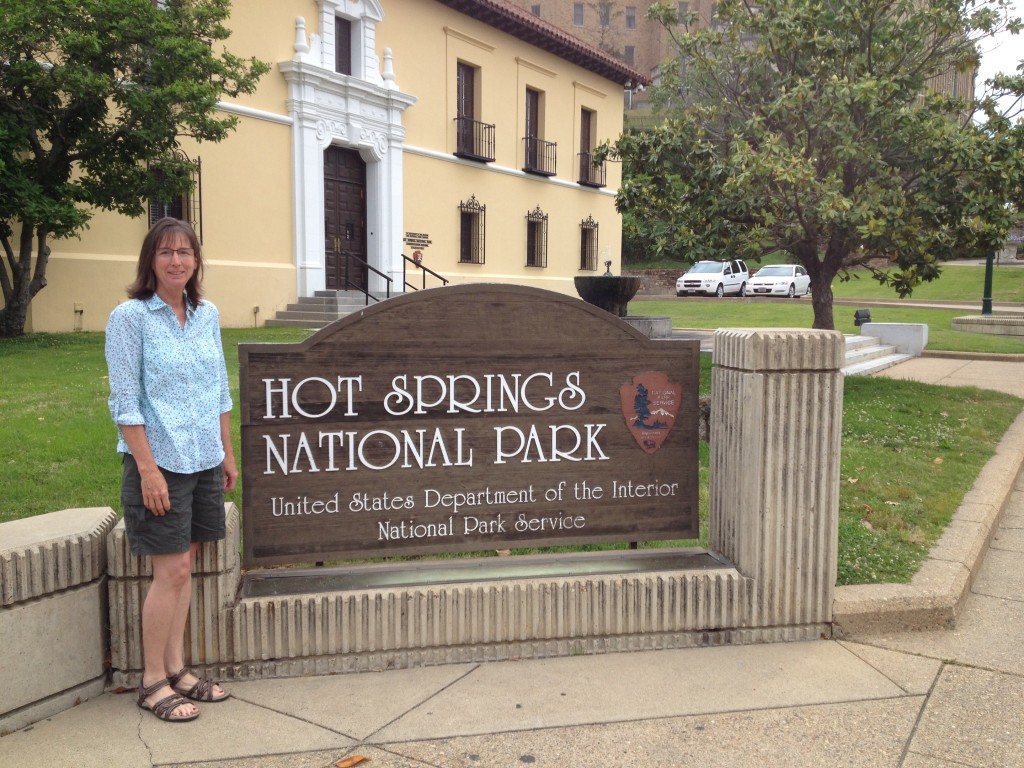 My daughter and I arrived early in the morning when there was still plenty of on street parking and the temperatures were cool. The national park is one side of the street and the town is on the other.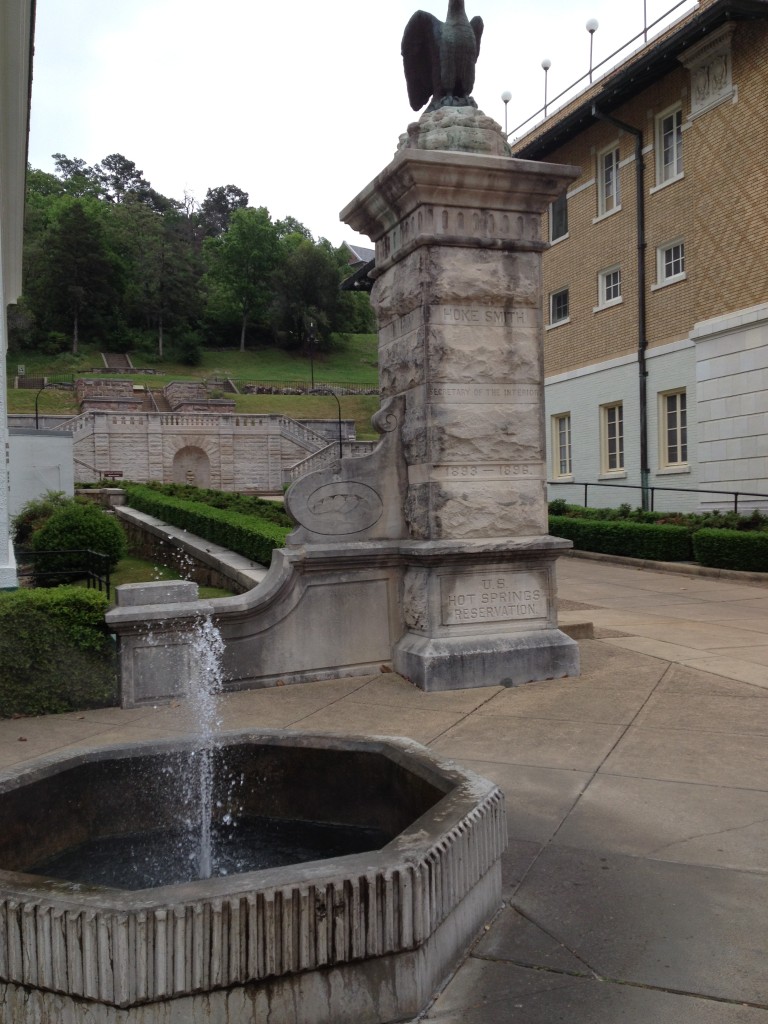 We were too early to tour the Fordyce Bath House (where the Visitor's Center is located) so we took a stroll along the Promenade just behind the row of bathhouses. In this image you can see the stairway up to the various terraces where the pathways are located.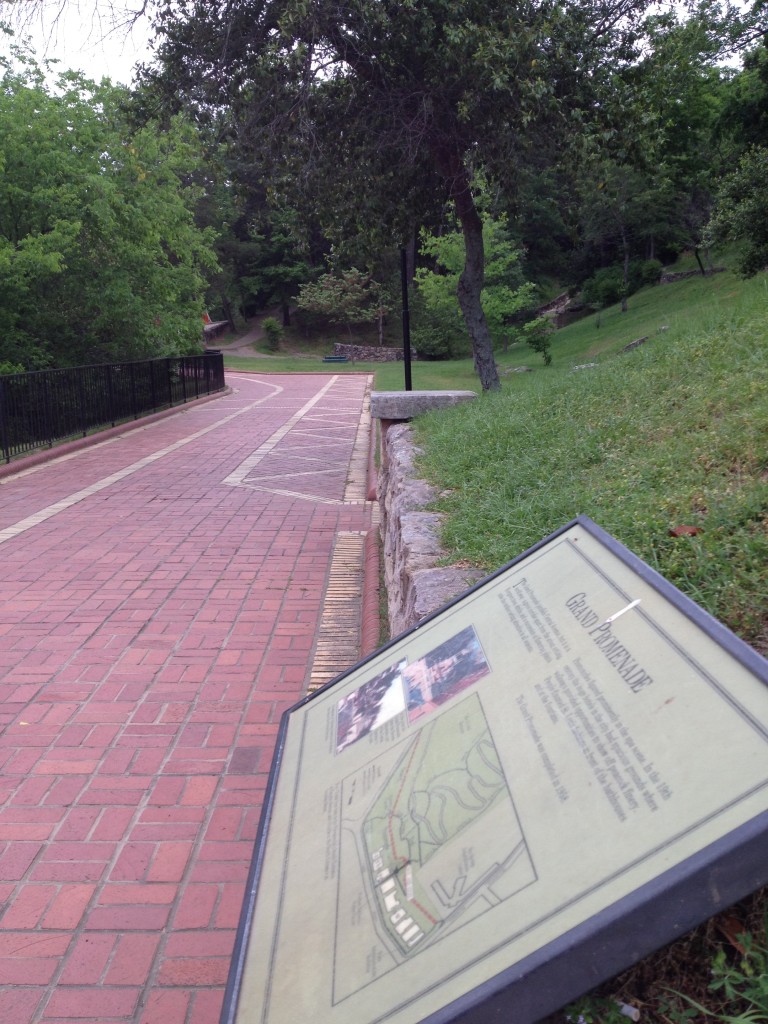 It was a pleasant walk in a green and wooded area where we heard lots of birdsong.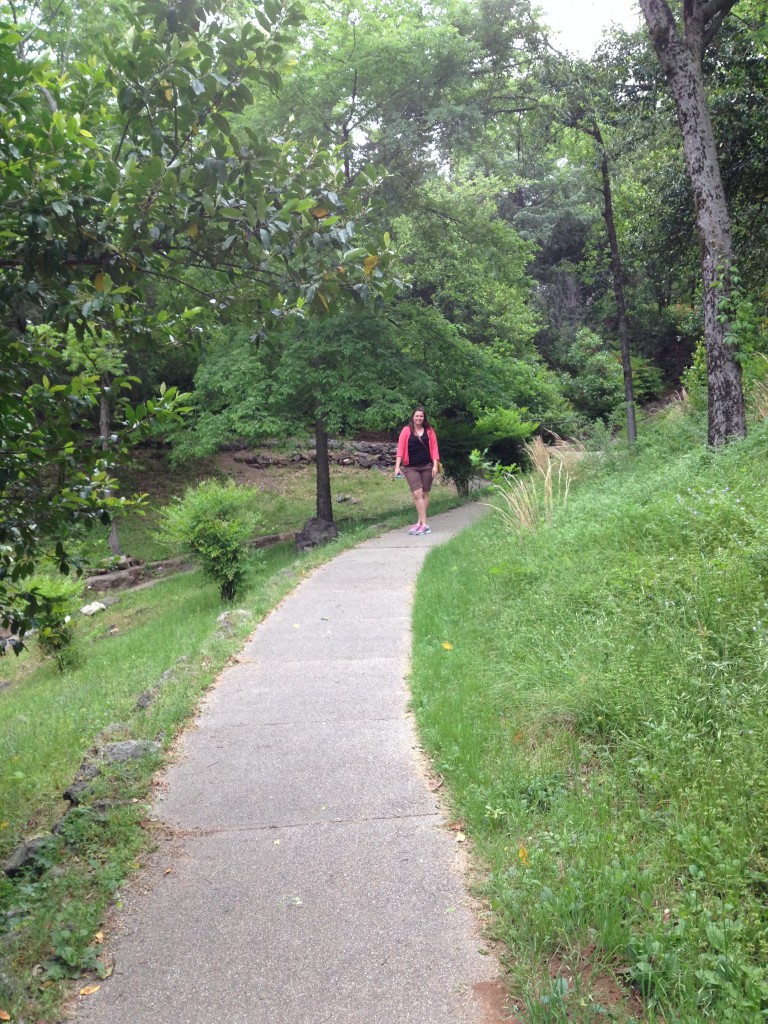 There were several paths (more on hiking in the park) to take and if you have enough time you can hike to the top of the mountain behind the bathhouses to the Hot Springs Mountain Tower. We were on a time schedule so we didn't do that hike this time but we would have liked to do so and would highly recommend it to other families.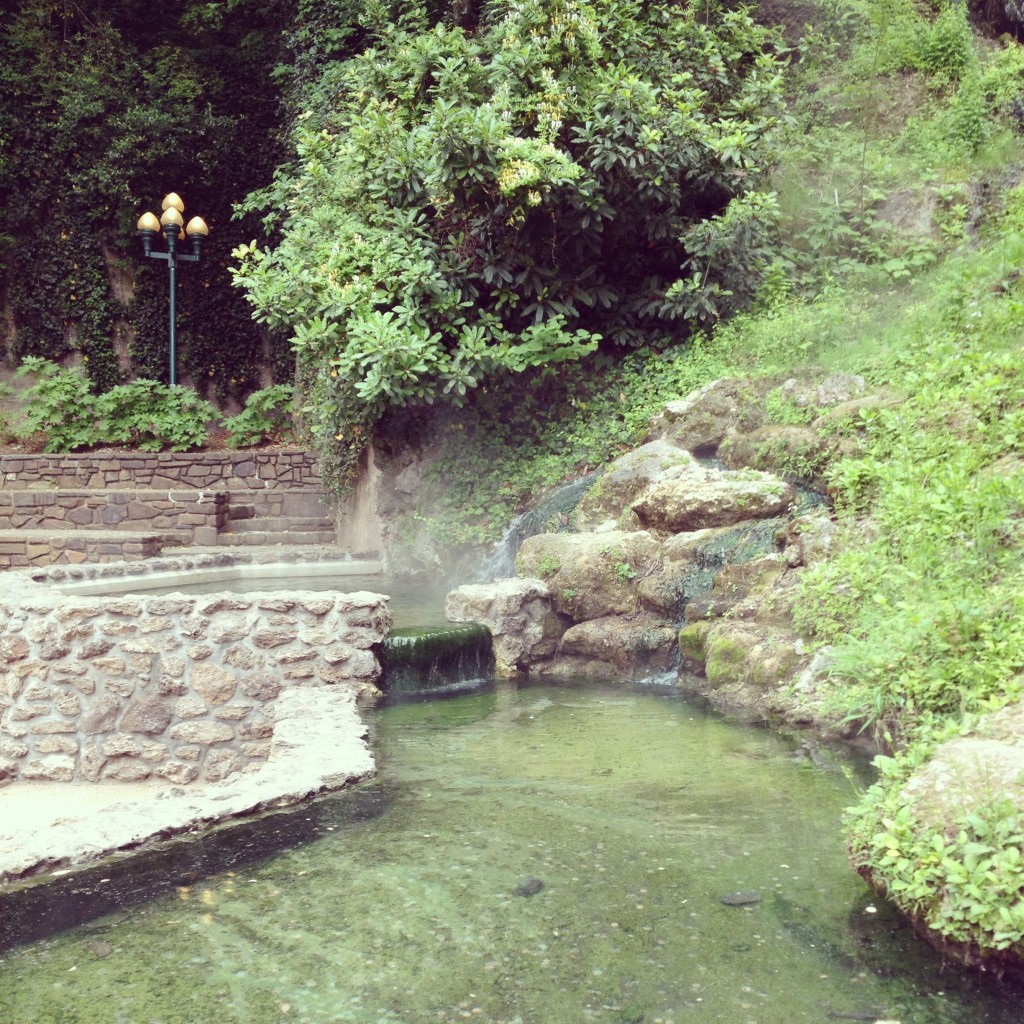 These hot springs are different than those we have seen in the past. The waters are heated by pressure and friction (you can read more here). They do not have any sulfuric smell at all and you can find both hot and cold springs within the park.
There are places you can bring your own containers to fill up water from the hot springs to take home. I purchased a water bottle and filled it up as a gift for my son in New York. In times past, people were given prescriptions for hot springs water to cure all sorts of ailments.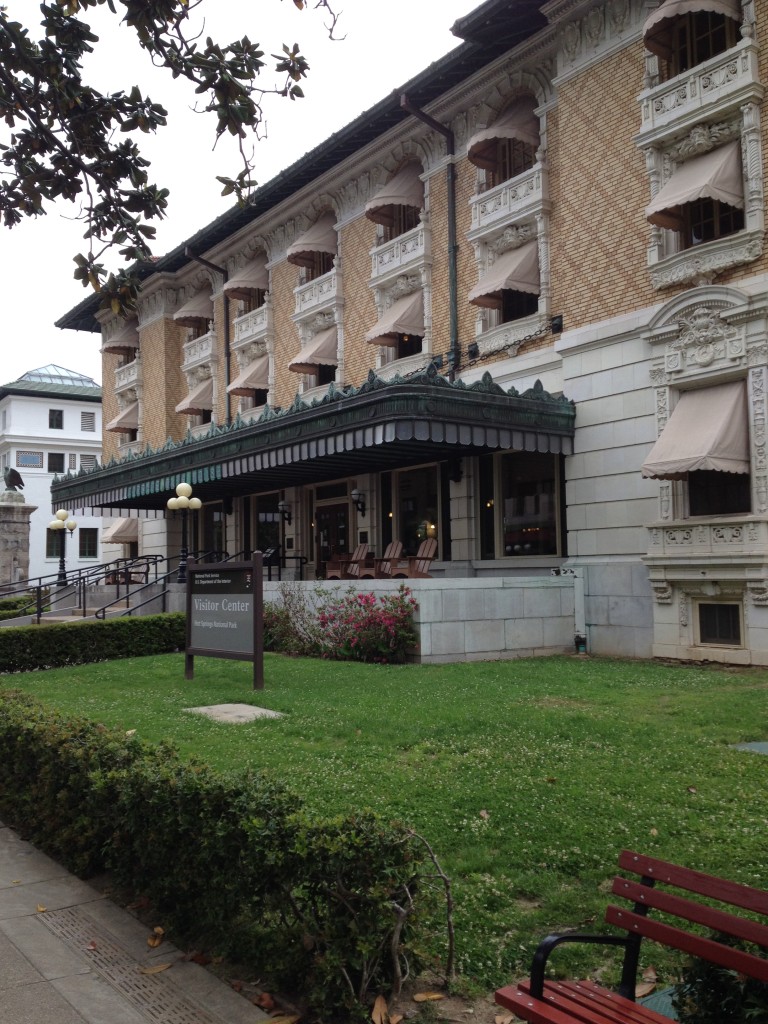 Today you can still have the traditional hot springs bath experience at the Buckstaff Bathhouse. We watched the movie in the visitor's center that showed just what you do when you take a hot springs bath…super interesting and very involved.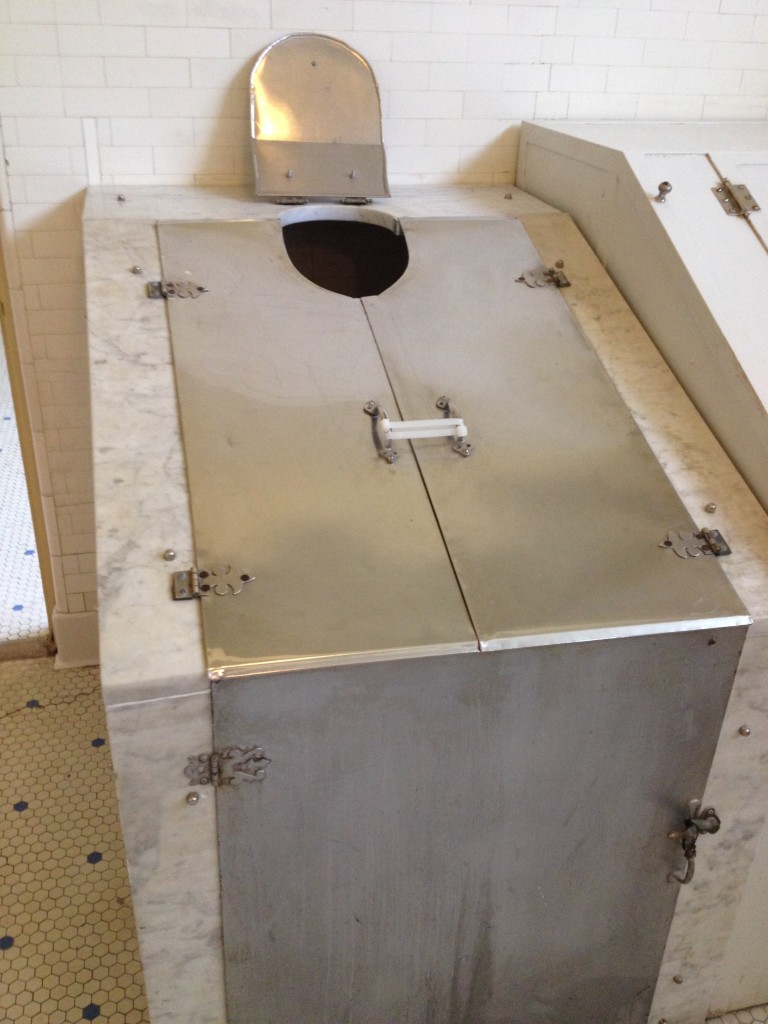 We were interested in these steam baths…not sure I would like to actually get in one but still rather interesting (only your head sticks out).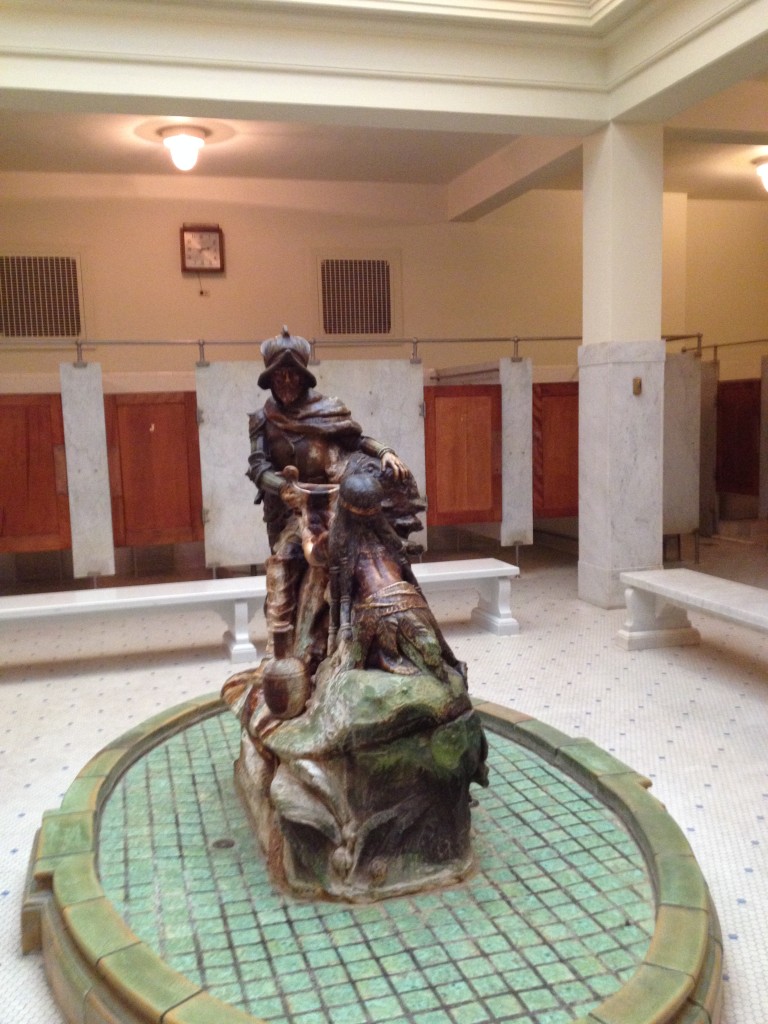 This is one of the bath house rooms where the men would sit after their bath.

In their hey day, these bath houses were quite stylish and reminded me of the gilded age. There were many stained glass windows and ceilings throughout and very ornate furniture and decorations.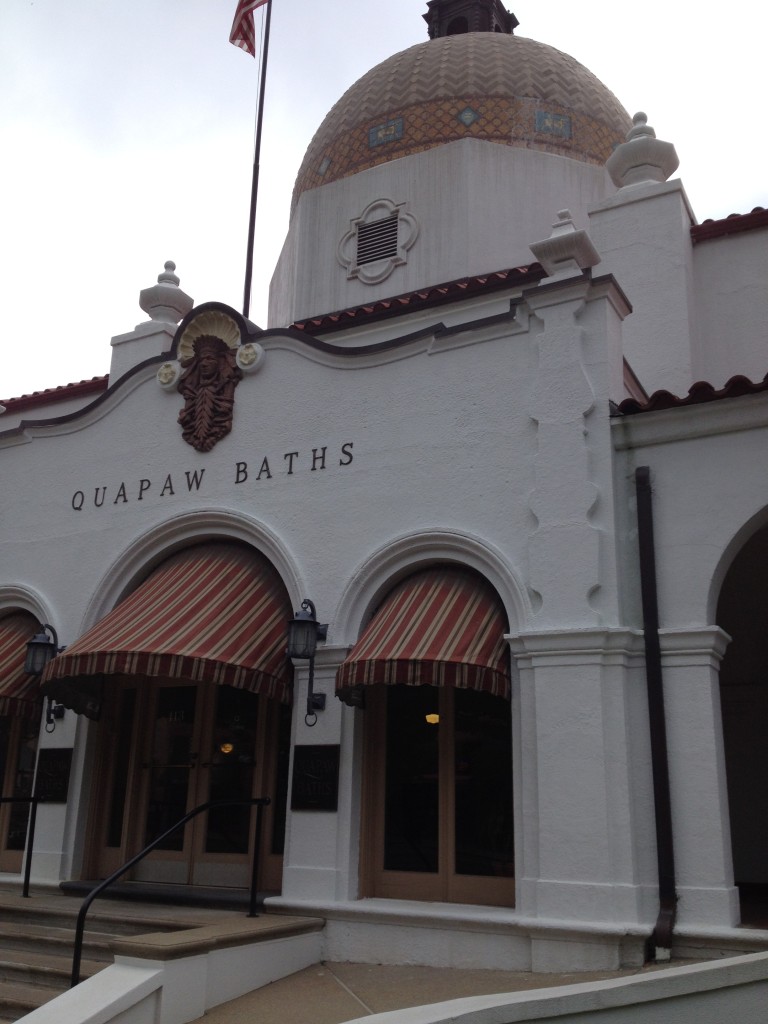 You can also have a more modern hot springs experience at the Quapaw Baths and Spa right in the middle of the national park.
This was a wonderful half day trip for us and if you want to add in the bath house experience or hike to the tower, you could easily spend a whole day exploring the national park. I would love to also take time to investigate the surrounding areas of Arkansas. Arkansas was a surprising place for both my daughter and I. It was so much prettier than we had imagined it to be and much greener. I can imagine it would get very humid in the summer time but in the spring it was lovely.
I highly recommend visiting this park with your family!

You can watch a video on YouTube for Hot Springs National Park.
Some Quick Notes About Hot Springs National Park
There is no charge to enter Hot Springs National Park
Lodging is available in Hot Springs, Arkansas and we enjoyed staying in Little Rock, Arkansas (about 50 miles away)
The campground looked really nice at Gulpha Gorge
There is a Jr. Ranger program!
You can get your National Parks Passport stamped at Bathhouse Row Emporium (a fantastic gift shop and book store!)
You can read more of my national park tips in these entries: