The summer crowds at Yosemite can bring traffic jams, noise, and confusion to an otherwise peaceful and quiet place. They come from all over the world this time of year to take in the beauty of Yosemite Falls, El Capitan, and the Merced River. The sign at the entrance station said, "Expect Two Hour Delays in The Valley". We decided to avoid the Valley for the morning and took the turn to Glacier Point Road.
Tip #1: Avoid Yosemite Valley and Yosemite Village if possible. Head to Glacier Point Road, Tioga Road, or Wawona.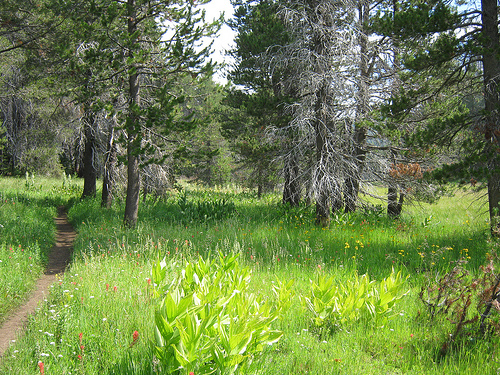 My favorite wildflower hike is off Glacier Point Road at McGurk Meadow. This is a fairly easy out and back hike which leads to a high meadow, marshy and filled with wildflowers in many places. The marshiness means that there are also lots of mosquitoes and butterflies. The flowers were a little past prime in the meadow but along the edges of the forest we found plenty of color and beauty to enjoy.
Tip #2: Get out of your car and hike a little off the main roads. We hiked less than a mile and were all alone in a beautiful setting.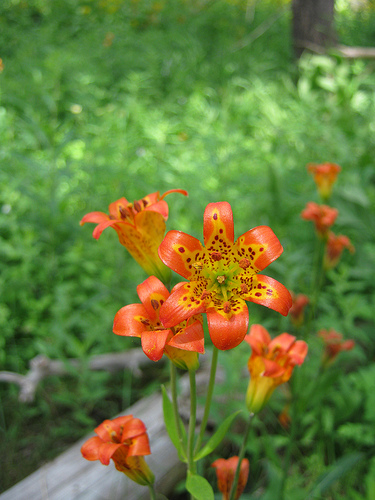 Alpine Lily at Yosemite National Park – We call them leopard lilies.
Like these leopard lilies that were blazing red in the dappled sunlight of the forest. The bees were buzzing along with the mosquitoes as we hiked through this section. I was hiking with a friend and she was a little nervous about encountering a bear on our hike. We decided to not hike quietly as we followed the trail deeper into the woods so we wouldn't startle a bear if we came across one.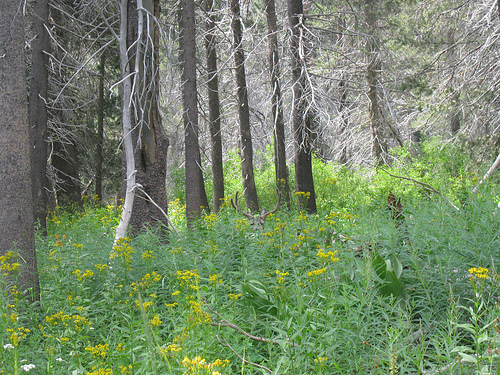 The California Mule Deer – Yosemite National Park
We were spooked by this buck as he leaped out onto the path past us and then over to a patch of wildflowers that he proceeded to munch as I tried to discreetly take a photo or two.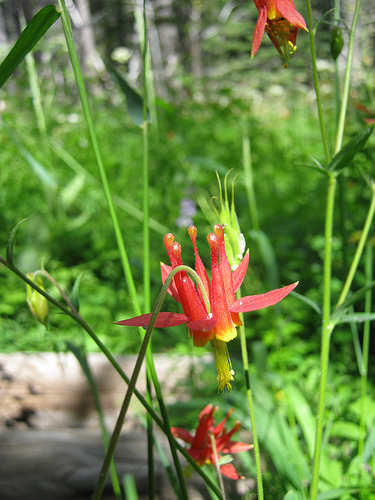 Crimson columbine – Yosemite National Park
Back to looking at wildflowers….we found lots of Crimson columbine in the marshy areas and we decided it is such a pretty creation.Our field guide tells us they are in the buttercup family. I have one in my nature journal already but I am tempted to sketch it again just so I can use my oranges and yellows.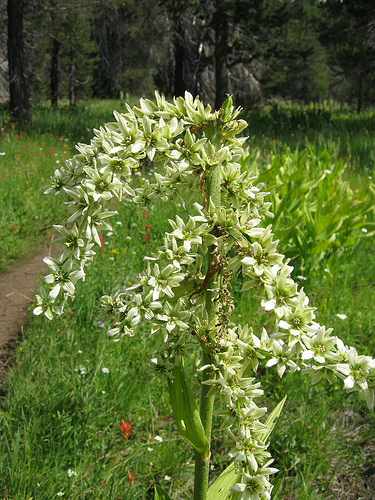 Corn Lily in Bloom – Yosemite National Park
The corn lilies were blooming all along the trail and it is hard not to overlook their beauty when we slow down to take a look at this common plant. These plants can be quite tall and when you see them in mass…it is gorgeous.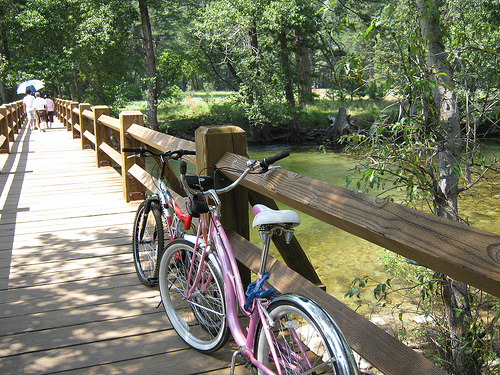 Sentinel Bridge with the Merced River and my beloved pink Roxie bike
Tip #3: If you must go into the Valley, take the walking trail or a bike path to get away from the crowds. 
After a quick PB sandwich lunch on the trail, a bottle of water, and a few more photos, we headed into the valley … braving the traffic. We had our bikes along and we wanted to find a place to park and take a slow ride around the bike path which loops around the majority of the valley. We made several stops at the river to cool our feet.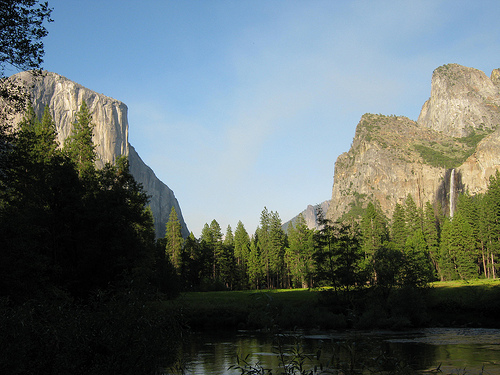 Yosemite Evening – El Capitan and Bridalveil Falls beyond the Merced River
Tip #4: Go early or stay late in the day and you will find the crowds disappear. The middle of the day is a great time to sit at the river and just let everyone else clamor for a spot on a hiking trail or a place on the road. 
We ended our day with dinner at the Ahwahnee Hotel (actually sitting outside at the cafe) and then we packed up the bikes and headed home. Above is one last image looking back at El Capitan and Bridalveil Falls in the setting sun. This is my favorite time of day in the Valley.
There are plenty more ideas for day hikes away from the crowds on my Squidoo page: Yosemite For Families. It is possible to enjoy a day at this national park even when there are throngs of visitors. We enjoyed a great summer day in this awesome and unique place.
I can't wait to go back again.