February Nature Study Plans – Outdoor Hour Challenge
I'm starting to get anxious for wildflower season! In honor of that enthusiasm, I've created a new set of notebook pages for you to use to enhance your plant family studies. If you have the Botany in a Day book (link at the end of this entry) on your bookshelf, pull it down and get ready to use it alongside these notebook pages for your nature journal.
There are two wildflower nature studies planned for late February, so I invite you to use those flowers to get started with your plant family studies. (Bloodroot is in the poppy plant family and hepatica is in the buttercup family.)
02/05/2021 – Flicker Bird Study
02/12/2021 – Scarlet Saucer Fungi Study
02/19/2021 – Bloodroot Nature Study
02/26/2021 – Hepatica Nature Study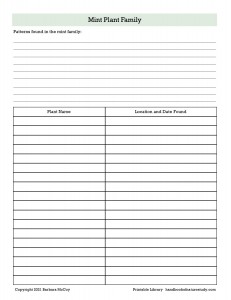 New Printables in the Members Library
Plant Family Notebook Page Set: This nine-page set includes pages for recording notes and lists of the more common plant families. You'll find pages for the mint, mustard, pea, lily, aster, mallow, rose, and parsley families. There is also a generic page for you to use with any of the other plant families you might study with your children.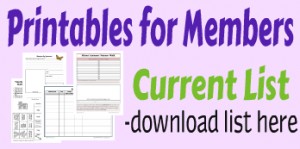 Click the graphic above to view the complete list of printables available as part of an Ultimate Naturalist Library membership.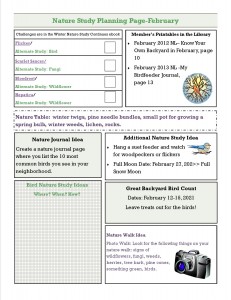 Members also have access to the Nature Planner pages in their library. Print out this month's page and use it to stimulate your weekly nature study time.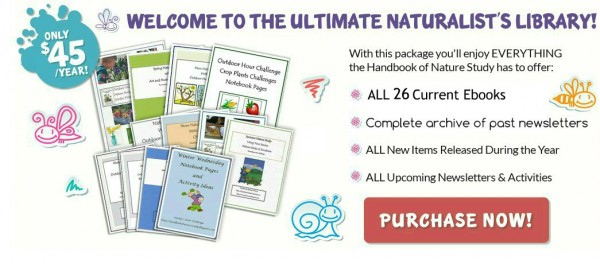 If you'd like to have access to the member's printables and the newsletter archive, I invite you to join with an Ultimate Naturalist Library membership. Your membership will be valid for one year and will include the benefits shown below.
This is my affiliate link to the Botany in a Day book that I highly recommend to go along with a study of wildflowers.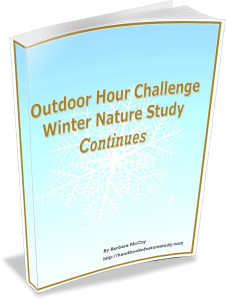 All of the Outdoor Hour Challenges this month are from the Winter Nature Study Continues ebook.