Nature Observer – January 2021
Here in Central Oregon, we've entered the season of pink sunrises and cold frosty mornings. There may be a new dusting of snow on the ground which will soon be marked with critter prints as they come out from cover to search around for their next meal. Living so near to a river, we see its story each day as we look out the window and venture out to walk along the riverbank.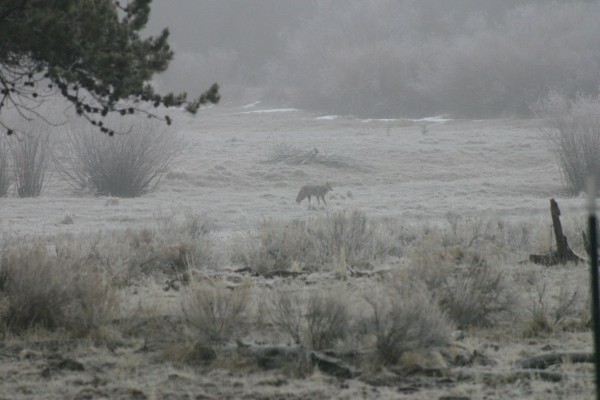 We've had plenty of foggy, misty mornings this month and sometimes it takes until noon for the fog to disappear, but we almost always have a bit of sunshine at some point each day. My husband and I try to take advantage of the sun's warming rays to get outside for a quick walk. I was able to get an image of a coyote trying to sneak along the river one foggy morning last week. He was on the hunt and would occasionally stop and stand as still as a statue before he rushed along some more and then eventually out of sight. We often see the coyote prints in the snow and mud, so we know they're out there roaming around but we rarely see them in the daytime.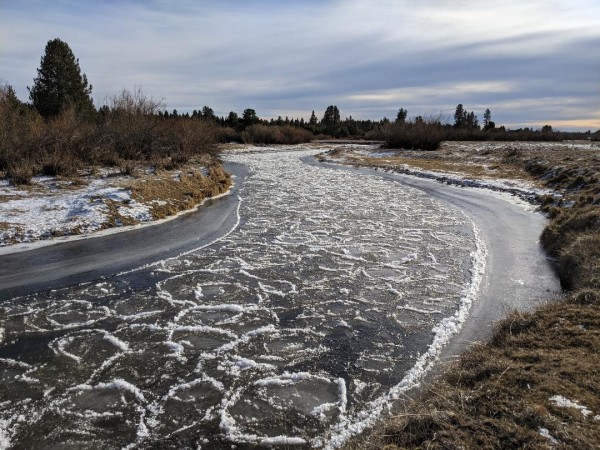 This January we've experienced a great thaw. A warm rain caused the snow and ice to almost disappear from the landscape; the melting snow making great pools of water where the ground is frozen underneath. We actually can see green grass and the violets are blooming in a few spots around our yard.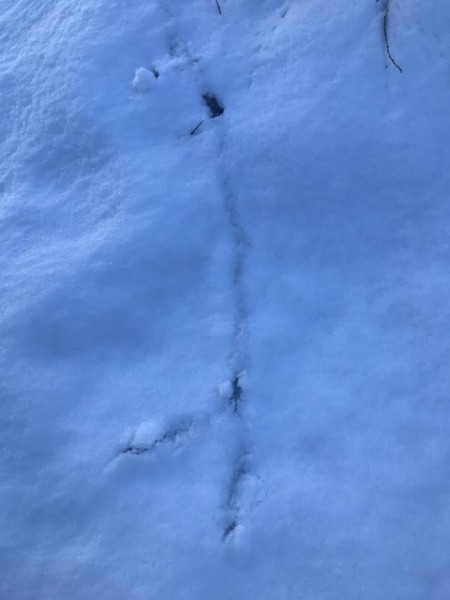 I think the most interesting aspect of the great thaw has been the revealing of the habits of the mice that live around our property. At first, we could see their trails underneath the snow, like tunnels that lead from their warm little homes under the earth that then lead out to where they can scurry under the birdfeeders to gather fallen seeds.
Now that the snow is all gone, you can see the paths among the vegetation. I wrote about this survival method a few years ago when I discovered that critters live and thrive in the "subnivean zone" during the cold winter months. They do not hibernate like other animals which fascinated me. They create a world underneath the snow where the snow acts as an insulator from freezing winds and temperatures.
You can read more here: Subnivean Zone.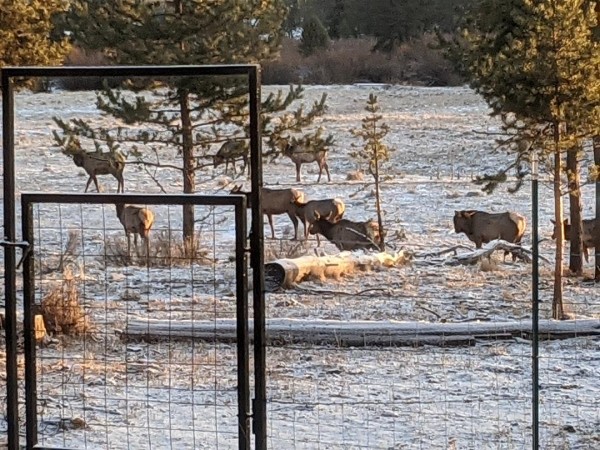 The most exciting story this month is that of the elk returning to our neighborhood. They are early morning visitors, so most mornings I open my blinds the minute I'm up and around. We put up our critter cam again to get some video of them as they walk majestically by in the early hours of the day.
We've had a much milder January than is normal, so we're bracing for the possibility of a wintery February. Time is moving along quickly and as always, we have plenty to occupy our thoughts as we venture out each day to notice the drama and excitement that happens right outside our door.
I invite you to join us this month for the Outdoor Hour Challenge as we work our way through the Winter Nature Study Continues ebook.

Please use the discount code NATURE5 to receive $5 off an Ultimate Naturalist membership.