I highly recommend that members read this post for important information.
Sitting in my office looking out the window, I see the very first signs of the autumn coming. One thing about where I live in Central Oregon, summer is very short. It barely feels like we're in the rhythm of summer and then the air turns crisp, the willows start to show color, the leaves rustling on the aspens have a different sound as they twirl in the afternoon breezes and the air just has that certain autumn feel to it if you pay close attention. It all rushes in too fast.
Unlike many of my readers, autumn is NOT my favorite season. I feel unsettled and restless.
With the turn of the calendar to September, I find myself thinking about what is to come as far as creating nature study ideas for the Outdoor Hour Challenge family of participants. 2020 has been a life changer for many of us and with those changes we sometimes see more clearly where we need to be on our personal journey. I've loved every minute of my work here on the Handbook of Nature Study, but I think change is in the air here as well. My thoughts are turning towards what comes next.
Don't panic! The next year here on the blog will go on as usual but behind the scenes there will be a slowing down of writing new materials. Not a true "retirement", but a slowing of the pace to allow room for exploring the next chapter in my life.
The Ultimate Naturalist Library
I feel like by the end of August 2021, I'll have enough materials, printables, and activities in the Ultimate Naturalist Library to provide a complete nature study curriculum to most families for many, many years. Just think, I've covered the complete Handbook of Nature Study several times through with the Outdoor Hour Challenge.
Way back in 2008 when I started this project, I could've never imagined how much we would accomplish here with the Outdoor Hour Challenge. In addition to using the contents of the Handbook of Nature Study, there are additional topics that were of interest to my family and to participants like regional wildflowers, herbs, more birds, and different habitats. We worked our way through all of the seasons by closely observing many subjects together. The Outdoor Hour Challenge has helped families all around the world to develop a relationship with their own habitat and subjects.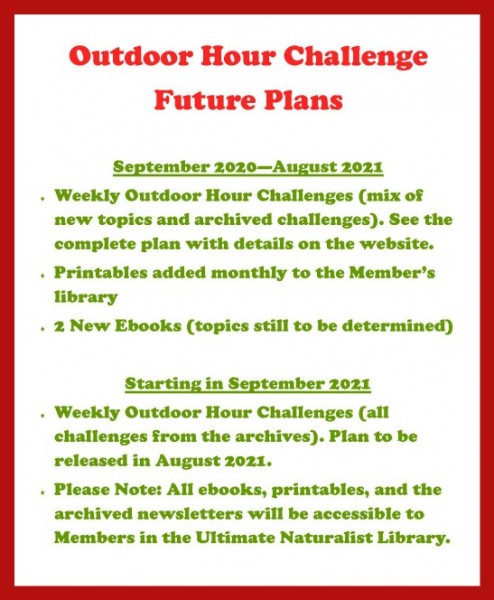 Changes to the Outdoor Hour Challenge
I plan on adding to the Ultimate Naturalist Library for the next year (September 2020-August 2021). After that, I will be keeping the website up and active with weekly challenges from the archives.
What do I plan on releasing during the year from September 2020 to August 2021? I'll be adding new printables to the library and eventually two new nature-related ebooks (topics to be determined).
Starting in September 2021, I will no longer be adding anything new to the library. Members will still have complete access to the library of Outdoor Hour Challenges and ebooks, newsletters, and printables for the foreseeable future. Your memberships will still be rich and full of all sorts of nature study ideas by gleaning from the library topics of interest to your family.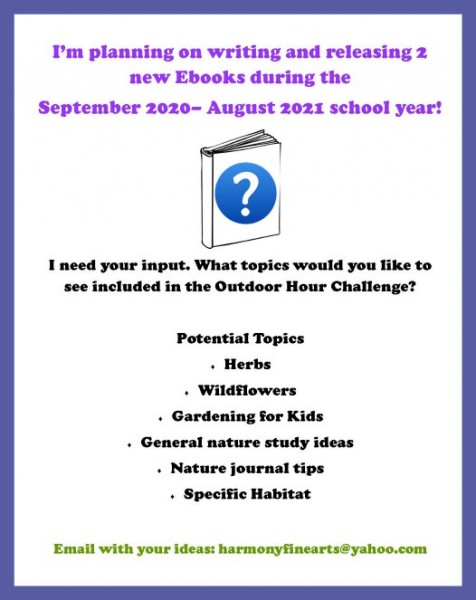 New Ebooks – Writing and Releasing in the 2020-2021 School Year
During the next year, I have time blocked out to write two final ebooks. I have so many ideas swirling around in my head but I thought it might be a good idea to ask you readers what topics you would like to cover with the Outdoor Hour Challenge.
>>>>>>>>Email me your thoughts! Harmonyfinearts@yahoo.com
Here are a few of the ideas I have and you can add additional ideas if you have them:
Herbs – additional herb challenges
Wildflowers – one last wildflower ebook
Gardening for Kids ebook
General nature study ebook with more "how to" ideas and printables
Nature Journal ebook with simple ideas and examples drawn from past examples
A particular habitat that we haven't already studied
Planning My Future
I'm not ready for a complete retirement from writing for the Outdoor Hour Challenge yet. It still feels relevant and valuable to keep sharing my love and passion for nature. But I want to take the time to see where the next path is going to lead me. I started off as a busy homeschooling mom of teenage boys who had a love for the outdoors. Now those boys are in their mid-twenties and I'm retired from homeschooling.  We'll be celebrating the first wedding of one of my four children. It's a time of change.
Thanks for taking time to read my thoughts and PLEASE email me with any questions or comments. Send me your ebook ideas and then keep on going with your family's nature study plan as we all work through the end of 2020 and face 2021, braced for what that will bring.
My email: harmonyfinearts@yahoo.com