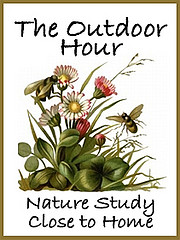 September was a rather busy month for all of us…either starting a new school year or really getting into the rhythm of a new year. I am so proud of the families that are adding nature study to their normal routine and those that are still faithfully spending time outdoors a little each week discovering things in their own backyard.
Without further ado, here is your carnival of Outdoor Hour Challenges for the month of September 2010.
Summer #11 Queen Anne's Lace
Allison from Barefoot in Suburbia shares their study of Queen Anne's Lace where they found some in their own backyard in various stages of bloom. She also shares photos from her children's garden.
Tricia shares their extended Queen Anne's Lace entry along with a wonderful tutorial for capturing its beauty with pastels.  They made some memories as part of this study as well.
Summer #12 Raccoons
Angie from Petra School writes about their summer study of raccoons around their lake house. As usual, their journals will make you smile.
Signs of Autumn Challenge
Phyllis from All Things Beautiful joins the carnival this month with their Last Day of Summer/First Day of Fall nature walk party. Excellent photos!
Angie shares their Signs of Autumn as part of the Fall Scavenger Hunt.  This is a great way to spend some time outdoors this season.
Tricia writes about their Signs of Autumn, sharing their finds in photos. 
Allison found lots to investigate in their own backyard. Read her entry Our Own Backyard. 
 
Lorus shares their signs of autumn from her blog Because of the Children. They were not expecting to find any signs of autumn since they are still experiencing warm weather but they ended up being quite successful! Thanks for sharing your day!
Autumn 2010 Series #1: Nature Journals
Edwena from Only One Life writes about their experiences with this challenge. I think she did a great job encouraging her children to get started with their nature journals.
Amy from Peru submits her encouraging post on nature journals from her blog Fisher Academy International. Thanks Amy.
Paula from Belgium shares her daughter's nature journals as part of this challenge. Her birds are wonderfully recorded safely in her journal. 
Tricia shares their results of this nature journal challenge and their nature journal pages….and of course the flying squirrel babies.
Angie from Petra School and her boys share their wonderful nature journal entry. I love all the ideas they included but most of all the zucchini warrior sculpture!
Autumn 2010 Series #2 Geese
Angie starts off our goose challenge with her entry showing their comparisons between the goose and the duck. This is an excellent example of how we can always learn something new about a common subject if we take the time.
Jennifer writes about their wonderful goose study on her blog The Fairy Mum. Their study is a great example of how thorough you can be if your children are willing and interested. Thanks so much for sharing your entry with the carnival! 
Tricia and her family did an in-depth study of geese this week, comparing them to ducks as part of the challenge. They also learned a lot about honking and quacking!
Amy at The Teachable Heart shares their first Autumn Challenge with carnival readers. If you have preschool age children, don't miss her great ideas for adapting this study!
Monica shares their autumn bird study on her blog Discover Their Gifts. You may be interested in seeing their well-done notebook pages. 
Melissa shares their Nature Study That Almost Wasn't that led up to their study of geese. She shares a great example of how to complete a Venn Diagram in connection with comparing geese and ducks. Thanks so much for sharing this with the carnival.
Michelle shares their autumn bird study Florida-style with some time observing and journaling The White Ibis. While they were outdoors, they had an unexpected subject come their way and you can read about their soft-sided turtle in this entry What is Lurking Beneath the Water. I love it when interesting things present themselves unexpectedly.
Paula from Belgium shares their goose nature study with carnival readers. She is using the Autumn Series in her part of the  world and adapting the study to fit her local environment. Thanks Paula!
Autumn 2010 Series #3 Horses
Michelle shares their families early study of horses with carnival readers. Check out their entry on her blog Life on My Planet.
Butterflies and Other Insects
Jennifer shares how their family studied a katydid up close. Check out her entry on The Fairy Mum.
Allison shares their butterfly entry on her blog Barefoot in Suburbia. Not only is this a great record of their study but it shares their personal story of how butterflies keep a memory alive. Thanks for sharing.
Phyllis shares another nature study from their family, this time the butterfly. Check out her entry on All Things Beautiful. 
Quinn from Inside The White Picket Fence shares some amazing photos of caterpillars and moths…up close! Don't miss their entry if you want to be in awe. While you are at it, check out their butterfly entry as well.
Garden Challenge, Mushrooms, and Bird Challenge
Shirley Ann is enjoying her spring garden in South Africa! She shares her Nature Hour: Garden Flowers with carnival readers.
Casey at Bumpin' Along the Road Less Traveled shares two entries as part of their on-going bird/chicken study: Wings (scroll down the entry) and Feathers (scroll down the entry).
Karen writes about their mushroom study on her blog Fruit of Her Hands.  Her entry, Autumn Treasures Part 2, has loads of great mushroom photos to view, a spore print activity, and some painting of mushrooms too.
Please consider submitting your Outdoor Hour Challenge entries to the next carnival. Deadline for submissions will be October 31, 2010 and all entries from October are eligible. Here is the link for submissions: LINK.
Thanks again,
Barb-Harmony Art Mom