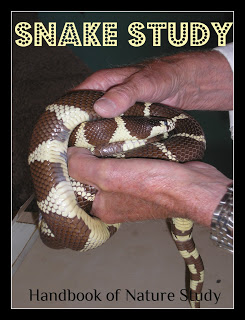 Outdoor Hour Challenge
Spring Series #8 Reptile Study-Snakes
"There are abroad in the land many erroneous beliefs concerning snakes. Most people believe that they are all venomous which is far from true. The rattlesnake still holds its own in rocky, mountainous places, and the moccasin haunts the bayous of the southern coast; however, in most localities, snakes are not only harmless but are beneficial to the farmer."
Handbook of Nature Study, page 193
Inside Preparation Time:
Snakes are a topic that most children are interested in learning more about. Read pages 193-194 in the Handbook of Nature Study. Make sure to highlight perhaps four or five points that you want to relate to your children before you observe a snake. Our local pet shop always has a few snakes available and they are eager to let us take a look and perhaps even hold one or two. Check around and see if you can find a local pet shop or a zoo that has a good reptile display as part of this Outdoor Hour Challenge.
Choose one or two snakes to learn about that you may find in your local area (Lessons 49-51)
Garter or Garden Snake pages 194-196 (This snake is the most widely distributed snake in North America.)
Milk Snake or Spotted Adder pages 197-198
Water Snake pages 198-199
Various snakes discussed with images pages 200-203
Outdoor Hour Time:
It is rare to observe snakes in the wild. This challenge is more about general knowledge and arming ourselves with some truths about a creature that perhaps we might encounter at some point in our lives.
You have two choices.
1. Take a field trip to a pet shop or zoo to observe a snake in real life. You may also know someone who has a pet snake that would be willing to let you observe their snake. Make sure to complete the inside preparation work before you go so you have some facts about snakes ready to share.
2. Talk about where a snake would live in your local area. You might need to do a little research for your particular state. Spend 15 minutes outdoors playing snake detective carefully looking for signs of snakes. You will be successful even if you just enjoy your backyard and observe anything that your child finds of interest. The most important thing is to get outdoors!
Follow-Up Activity:
Complete a notebook page for any or all of the snakes you researched during your preparation work or you observed up close. You can use the provided notebook page from the Spring Series ebook or a blank nature journal. You can look up your snake on the internet and use the image found there to draw your snake for your journal. Make sure to show the colors of your snake as best you can.
If you would like all the Spring Series Challenges in one place, I have an ebook gathered for you to purchase for your convenience. The ebook also contains art and music appreciation plans for the spring months as well as custom notebooking pages for each of the challenges. Please see this entry for more details: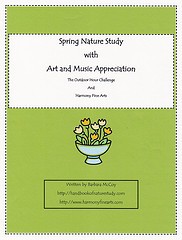 Spring Nature Study with Art and Music Appreciation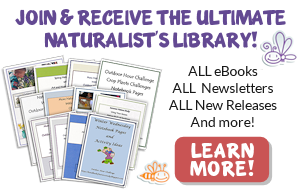 The Summer Nature Study ebook is included in the Ultimate Naturalist Library membership!