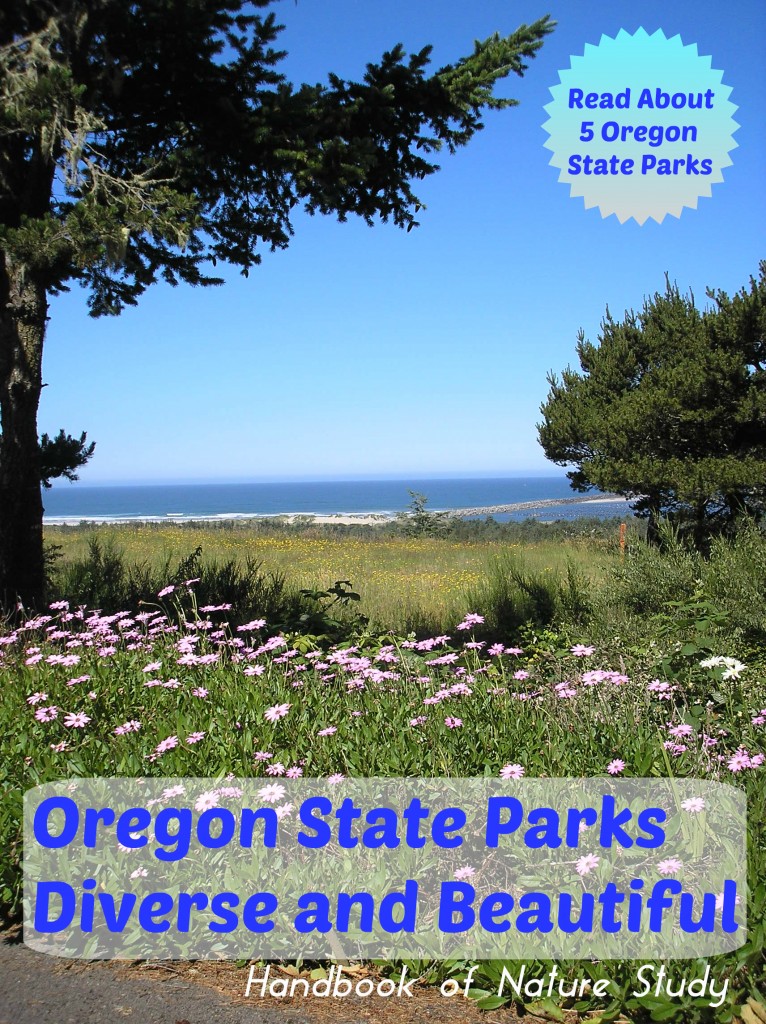 This past August we took an awesome loop driving trip in the state of Oregon. We have slowly been exploring this beautiful state from the view of our truck and camping trailer. There are so many awesome campgrounds in Oregon and it truly is a great way to spend time as a family. In the past, we have camped on the Oregon coast with our boys. They love the ocean and that was our focus. We are no branching out into Central Oregon and Southern Oregon. In this entry I will share five of our Oregon State Park experiences.

Parks Included in this Entry:
La Pine State Park (near Bend, Oregon)
Silver Falls State Park (near Salem, Oregon)
South Beach State Park (near Newport, Oregon) + a mention of Brian Booth State Park
Jessie M. Honeyman Memorial State Park (near Florence, Oregon)
Valley of the Rogue State Park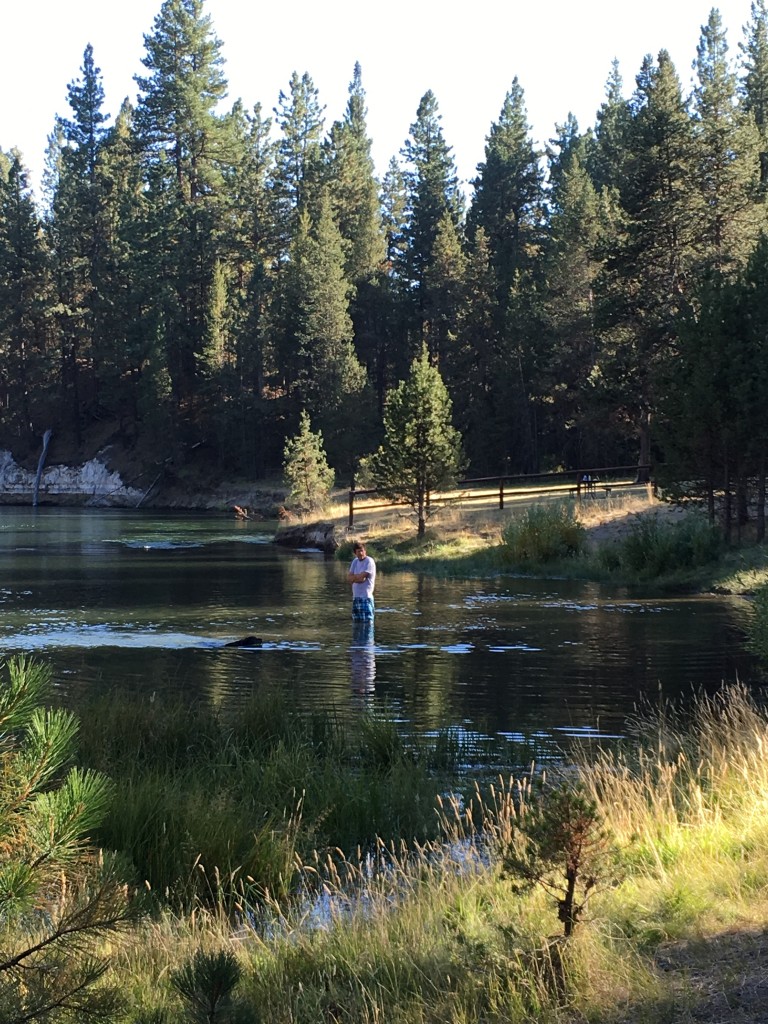 La Pine State Park:
This state park along Hwy 97 is situated along the Deschutes River. There is a day use area with a small sandy beach with picnic tables and a restroom. We waded in the water on a hot summer afternoon but it was cold! There were some rafters pulling their boats out here and they had floated along the swiftly moving water before ending their day at La Pine.
The campground is made up of three loops and was full the whole time we were here. The South Loop had full hookups and was packed to the gills with trailers, families, bikes, and quite a bit of noise. We were very happy we were on the North Loop where the sites were larger and farther apart (no hook ups). We enjoyed walking the trails within the park and along the river, especially in the evening. There are yurts here to rent if you don't have all the camping gear or want an easy vacation.
This area is full of interesting things to do like the Cascade Lakes Scenic Byway, the town of Sisters and Sunriver, the city of Bend, the High Desert Museum, and Newberry National Volcanic Monument.

Read more detailed information on their website: La Pine State Park, Oregon.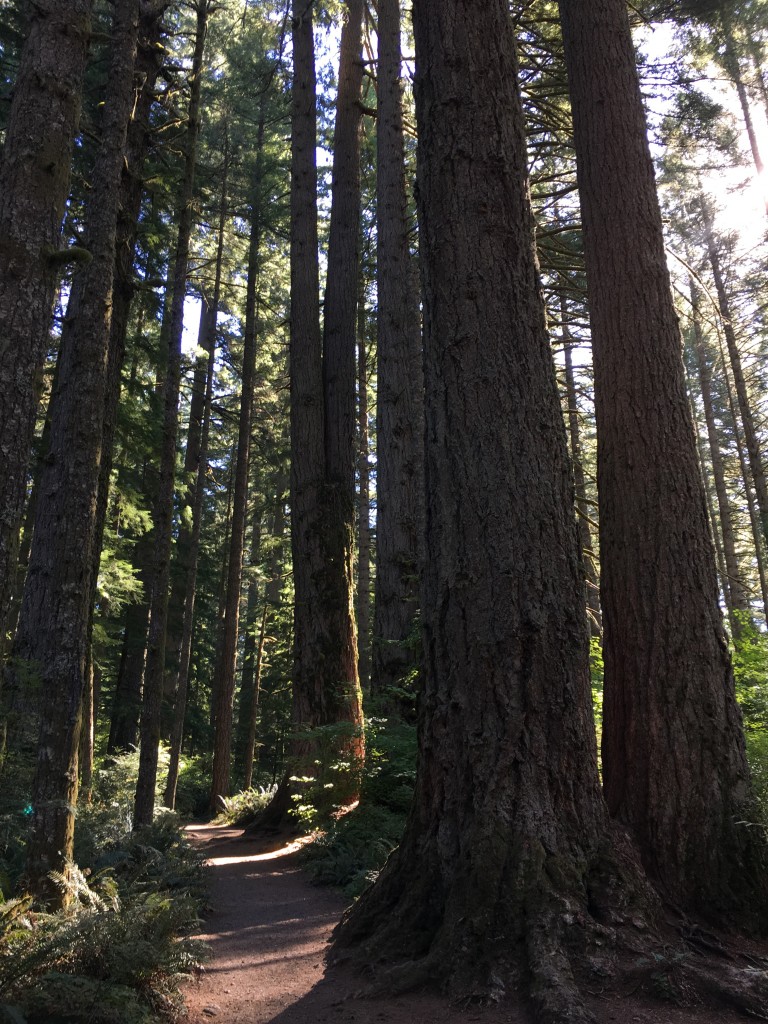 Silver Falls State Park
We read on the internet that Silver Falls State Park is the "crown jewel" of the Oregon Parks System. We hadn't heard of it before so we did some research on their website and decided that a park that has hiking to ten different waterfalls was somewhere we definitely wanted to visit. It is a very busy park and we could only get two nights at the campground in August. Tip: Plan accordingly and book your campsite as far in advance as possible. The park itself is very pretty and has many tall trees alongside the creek. I highly recommend the 7.2 mile Canyon Trail to view all of the waterfalls. The park also has lots of wildflowers even in August.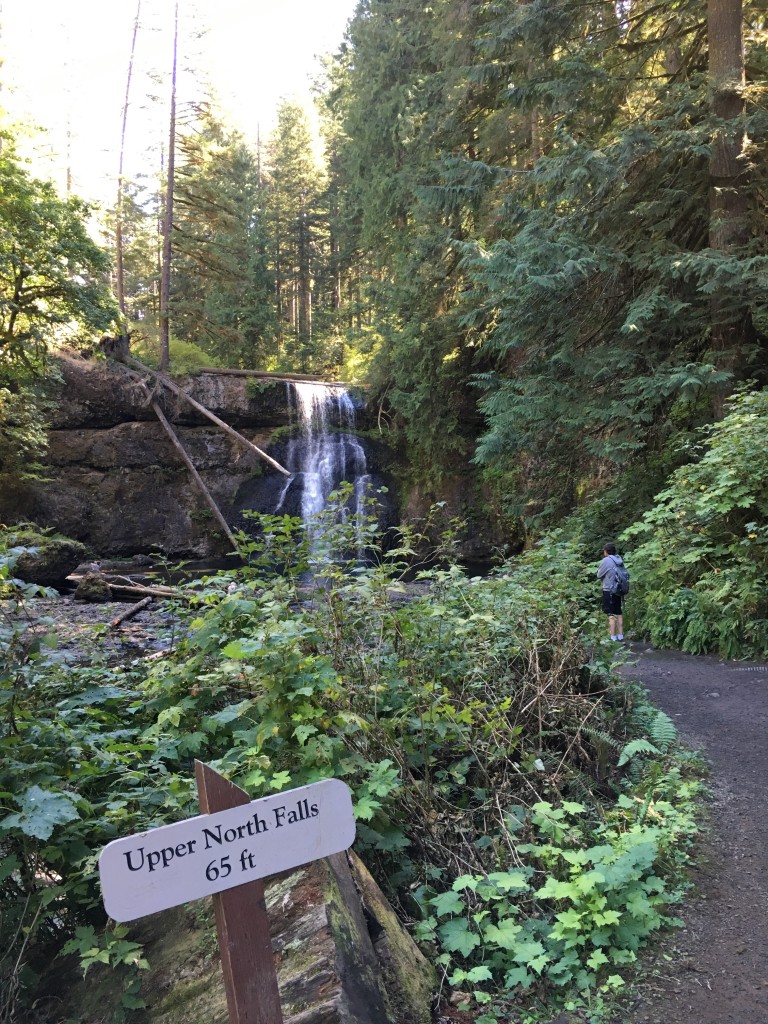 There was a small cafe in this park, an off leash pet area, nature trail with a bird blind, and lots of fresh air and magnificent trees and waterfalls. The month of August is probably not the best time to see the falls at their peak but still very pretty.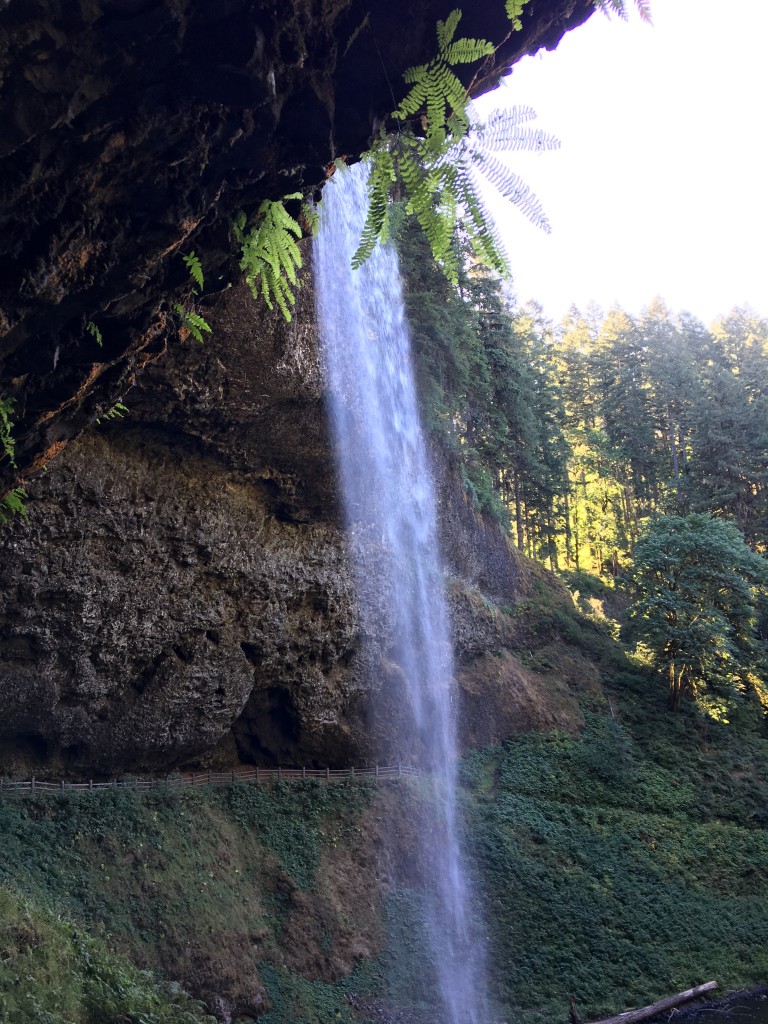 Read more detailed information on their website: Silver Falls State Park.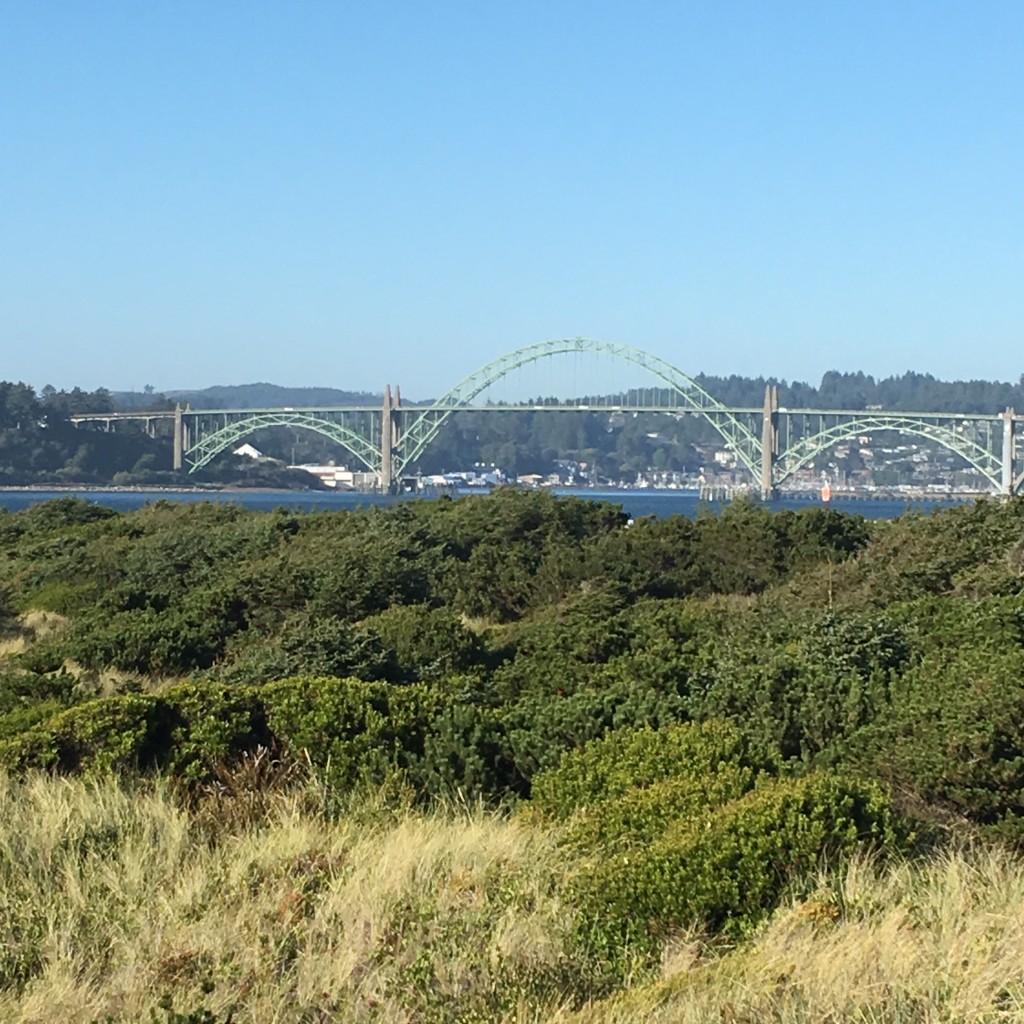 South Beach State Park
On the coastal part of our loop trip, we opted to cut across to Lincoln City and then down to Newport. We had stayed at South Beach State Park before and loved it. This time the place was packed and it is a huge campground but we didn't find it crowded or noisy. This is a pretty laid back atmosphere and with so much to do in the local area, we were happy to adventure out to see what outdoor fun we could find. I am not going to feature it in this entry but we took our kayaks for the day to Brian Booth State Park which is just south of Newport. It was the perfect sunny day to spend on the water at Beaver Creek and then out to the ocean in our kayak. I highly recommend it.
Newport is a wonderful spot to have as a home base for this part of the coast and South Beach State Park has walking and biking trails as well as beach and dune access. It is very convenient to town if you need picnic items or anything else. Oh, almost forgot! The Newport Aquarium is a favorite from our trip here a few years ago with our boys. Don't miss it!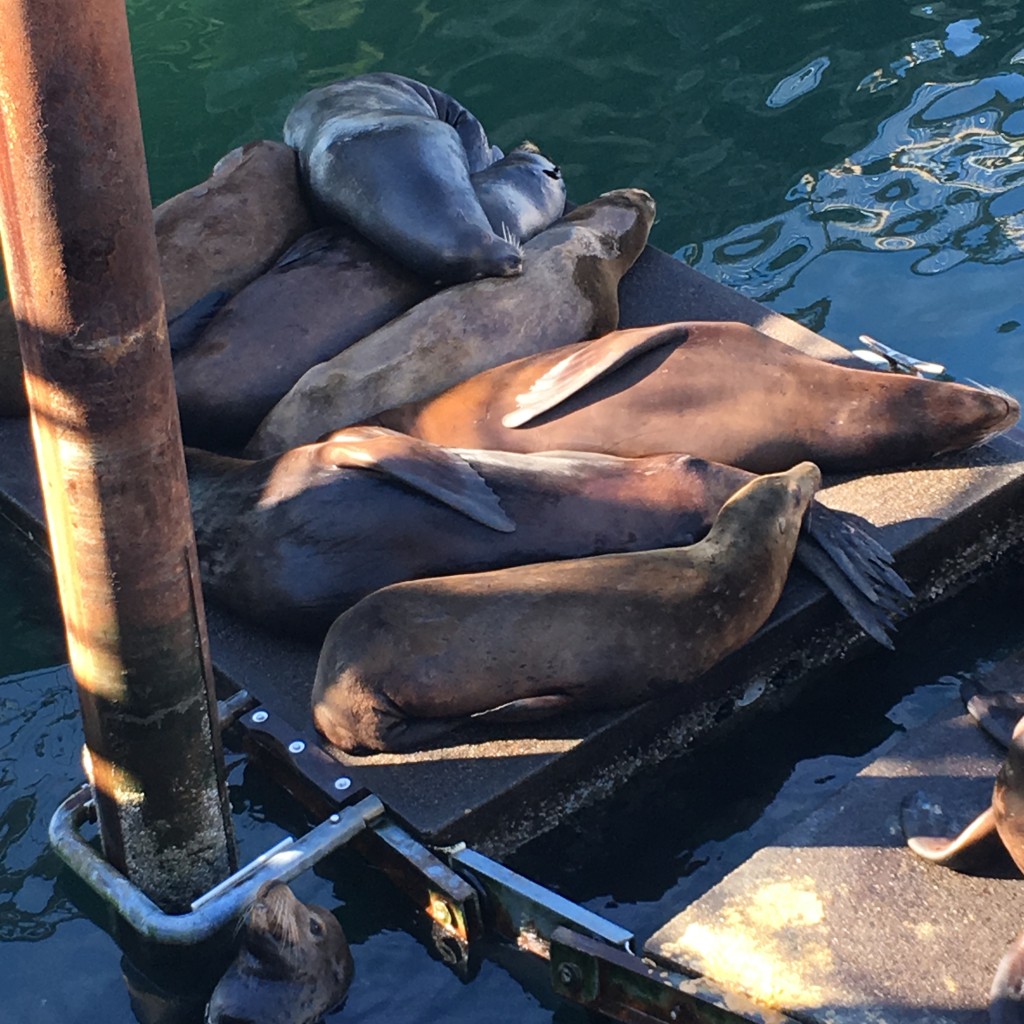 We went every morning for a long walk along the Old Bayfront in Newport. Sipping fresh roasted coffee, we would stand and watch the sea lions who were sleeping and playing on the floating docks. What a noisy bunch but so very entertaining!
The end of every day was spent on the accessible platform as the sun was setting. Like a postcard and what a memory!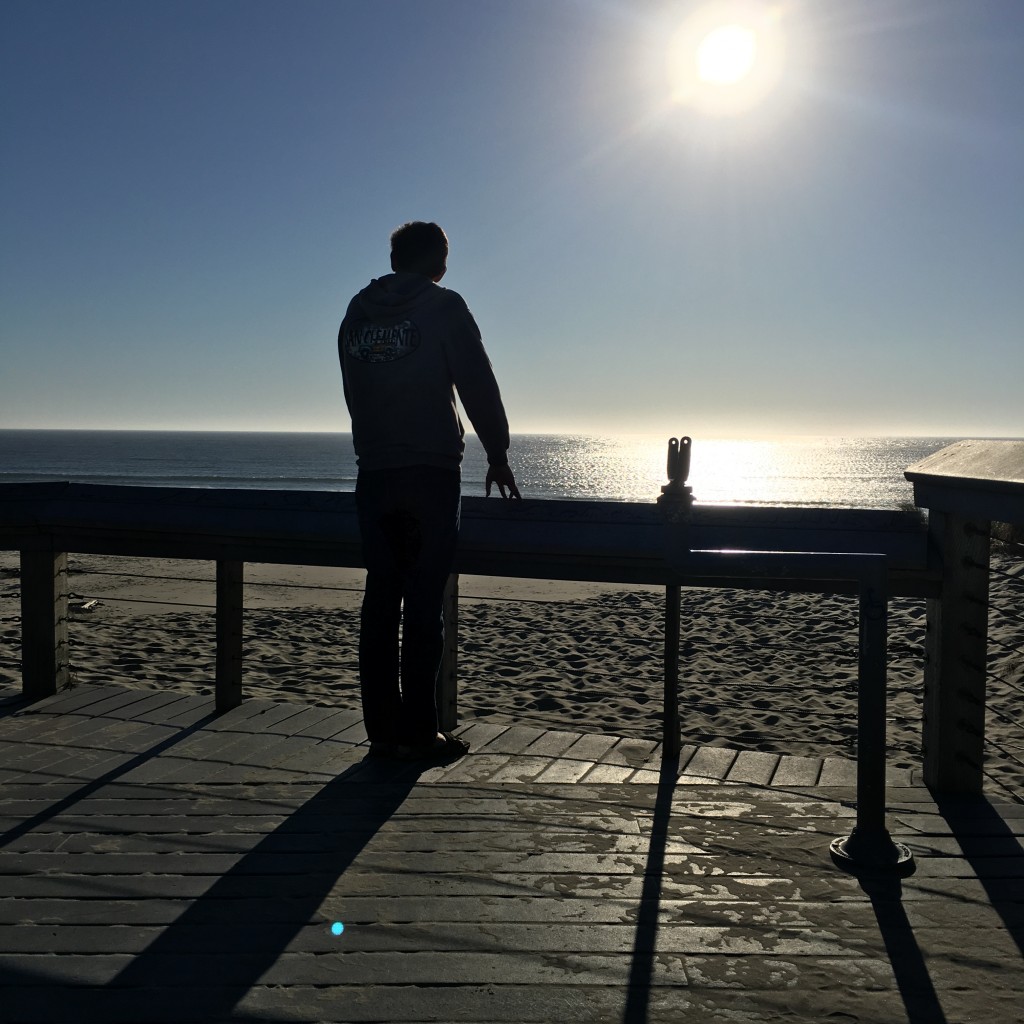 Read more detailed information on their website: South Beach State Park, Oregon.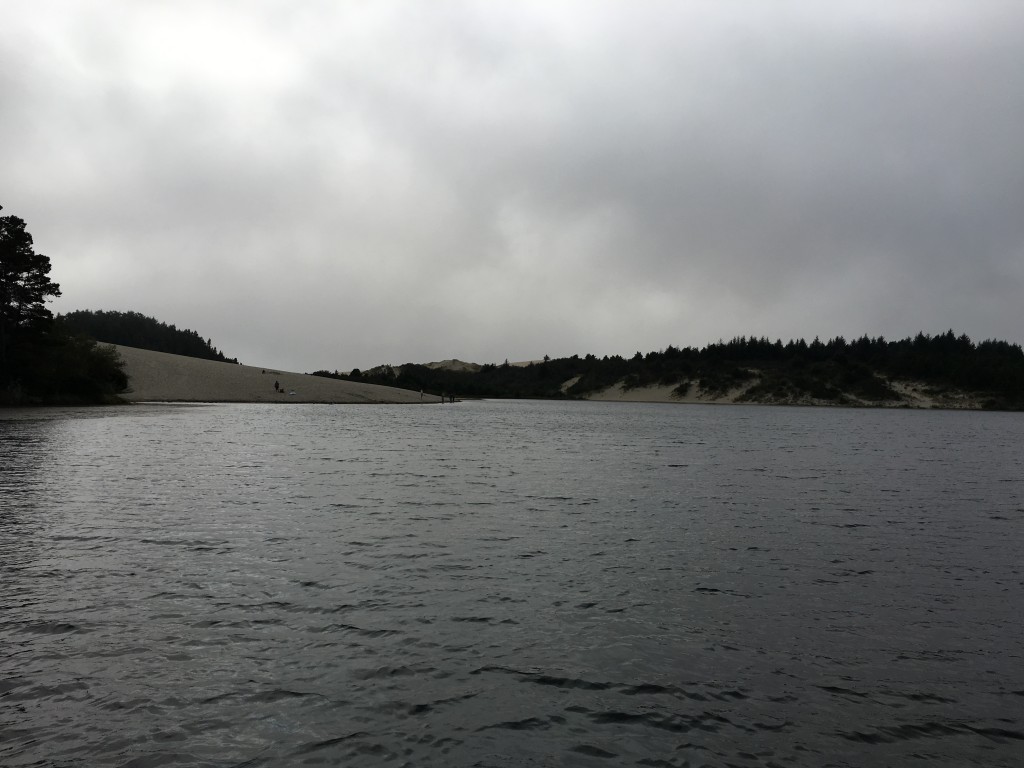 Jessie M.  Honeyman Memorial State Park
Further down the Oregon Coast, most people come to this state park to visit the dunes. The dunes provide a playground for those that love their sand sports like riding in quads and sand rails. We are much more of a people powered adventure sort and loved the fact that there are two lakes to kayak on in Jessie M. Honeyman Memorial State Park.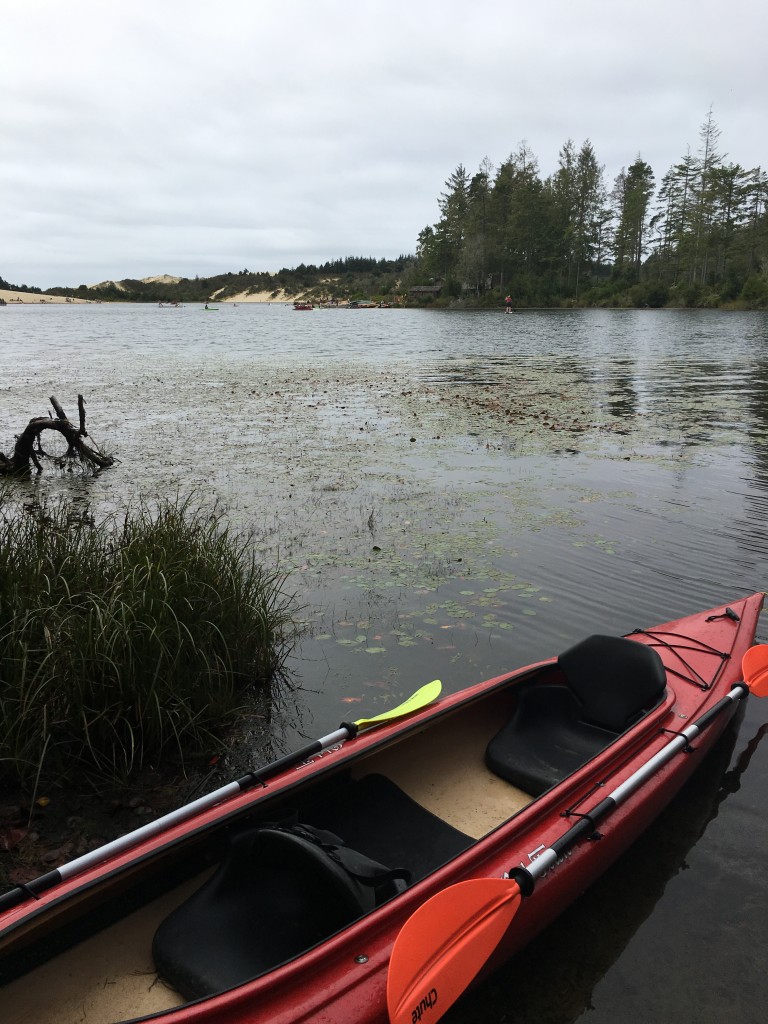 We spent one of the most enjoyable days ever kayaking on this lake but many people were canoeing, fishing, and swimming there as well. What a great place to bring your family!
The campground is large and popular so you will need to make reservations for to guarantee a site. We happened to book one of the last spaces available and enjoyed our time under the tall trees. The weather wasn't all that warm and the skies were gray but we still found plenty to do on our visit. The town of Florence is near-by and we enjoyed walking their little main street district and farmers market along the Siuslaw River.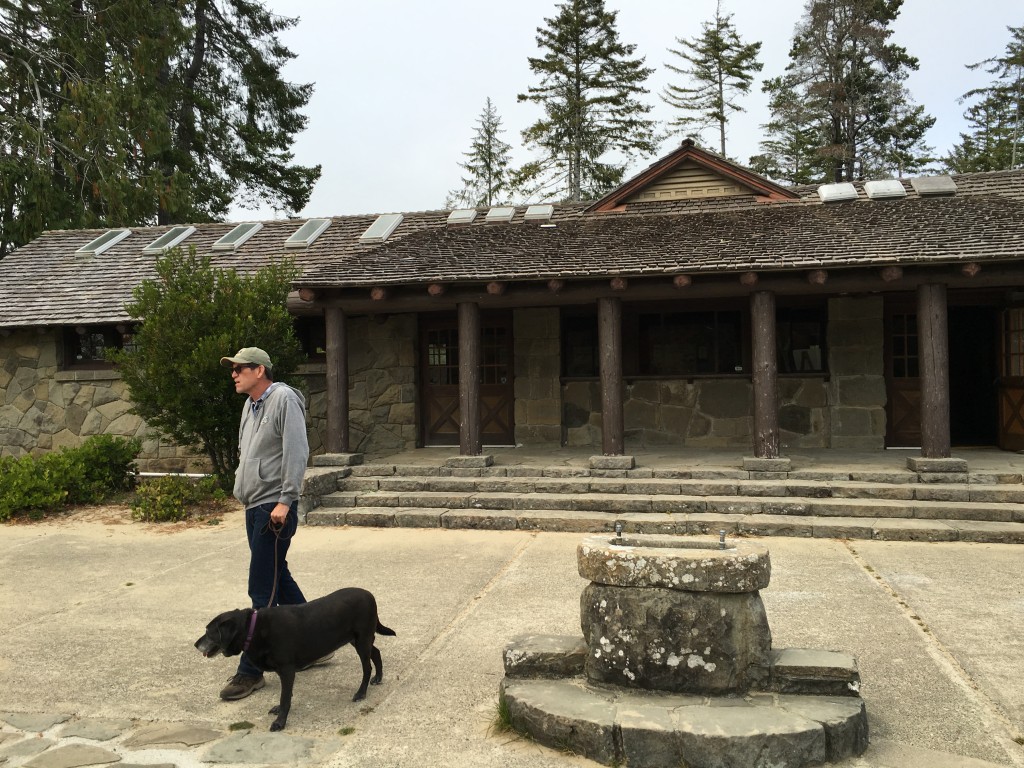 Read more detailed information on this state park here: Jessie M. Honeyman Memorial State Park, Oregon.
Valley of the Rogue State Park
This is our favorite overnight camping spot between our home and places we visit in Oregon. There isn't much here to do but it is a clean and pretty park along the Rogue River. We enjoy the convenience of it being close to I5. This trip we drove into Ashland, Oregon (Home of the Oregon Shakespeare Festival) for dinner at one of the many quirky little eating spots near Lithia Park. 
Read more information on this state park here: Valley of the Rogue State Park, Oregon.
We love Oregon and if you ever get a chance to travel in this state, make sure to look up any state parks along your route.
Posts from Other Oregon Parks
Have you subscribed to my email subscription yet? Along with getting every entry in your email inbox, you will also receive a link on the first of each month to my Handbook of Nature Study newsletter that features a nature study topic of interest. I invite you subscribe if you haven't already!
Sign Up Here for the Handbook of Nature Study Monthly Newsletter.
Sign up for an email subscription and receive every blog post in your email inbox. PLUS you will receive the exclusive monthly newsletter available only to subscribers!
Save