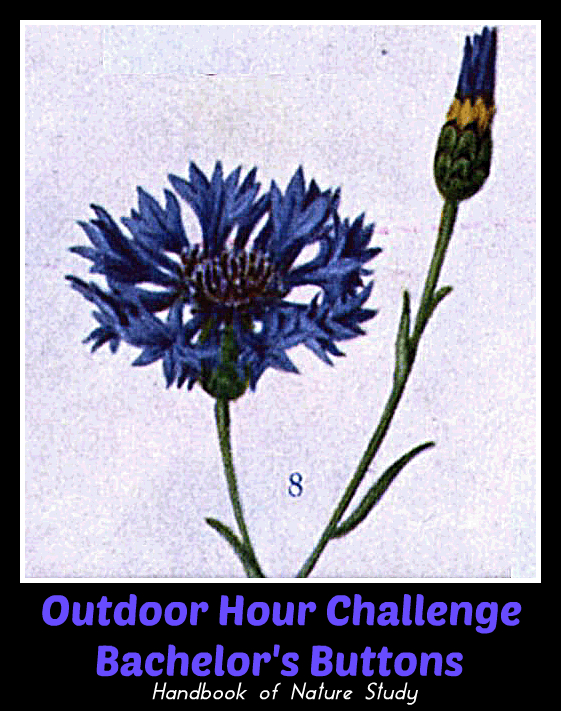 Outdoor Hour Challenge
Bachelor's Buttons
Inside Preparation Work:
Read pages  578-579 in the Handbook of Nature Study (Lesson #160). This is a short lesson but still full of interesting tidbits about bachelor's buttons, or cornflower.
Please note that this lesson refers you to Lesson #131 on composite flowers. You will be using the ideas in Lesson #131 to complete your Bachelor's buttons study.
Video: Here is a nicely made video focusing on Bachelor's buttons: https://youtu.be/nE8Wper3LzY
Outdoor Hour Time:
This is a perfect time of year to take a garden walk.
If you have your own flower garden, make a special point to prepare your child for a garden nature study by explaining what you will be looking for during your fifteen minutes outdoors.
If you need to visit a local flower garden, make sure to explain that you can't always pick flowers if they belong to someone else without their permission.
Look for this week's flower or look for plants at your garden nursery to observe.
Follow-Up Activity:
Create your nature journal entry featuring a Bachelor's button or another garden flower you observed for this challenge. There are notebook pages in the ebook for you to use.
Advanced Study: Research the difference between annual flowers and perennials.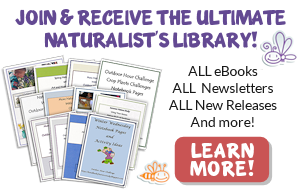 If you want to purchase the Summer Nature Study Continues ebook so you can follow along with all the notebooking pages, coloring pages, and subject images, you can join the Ultimate or Journey Membership Levels. See the Join Us page for complete information. Also, you can view the Summer Nature Study Continues – New Ebook announcement page for more details.