More Nature Study Book 2 – Winter Wonder Video Introduction
This is the third winter nature study ebook I have put together for the Outdoor Hour Challenge using the Handbook of Nature Study. It was a difficult task to come up with ten fresh challenges but the results are wonderful! I am excited about this series and I know you are going to be too. If you purchase the ebook you will have all ten challenges on hand to complete as the opportunity arises.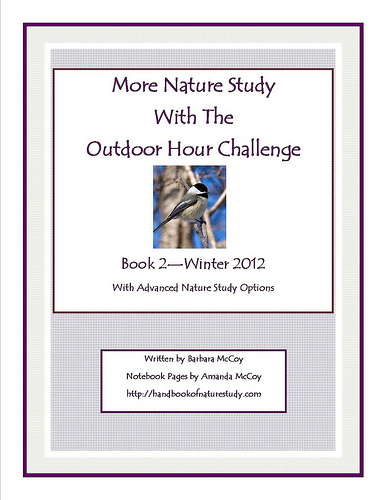 As always, each challenge gives you step by step instructions to get started with simple weekly nature study ideas…even in the middle of winter! This may just be what your homeschool week needs to get you through the cold winter days of January, February, and March. Each challenge is written for you to complete in your own neighborhood or backyard and you can adapt each challenge to fit your local area with suggestions I offer with each topic. Don't be discouraged if you look at the list of topics and think you don't have that particular subject close at hand. I will guide you through finding a replacement to still offer you a weekly dose of nature study.
The More Nature Study Book #2 challenges were written for families with children of all ages. In addition to the regular challenge, I have bumped up the nature study for older or more experienced children, complete with their own set of notebooking pages. You will be able to use this book with your whole family and pull it out from year to year and have a nature study resource for all levels.
Outdoor Hour Challenge: More Nature Study Ebook #2 Winter 2012
Ten completely new challenges using the Handbook of Nature Study. See a sample challenge: More Nature Study Winter ebook sample.
13 notebook pages and 5 coloring pages
17 Upper Level notebook pages for advanced or experienced students
11 Charlotte Mason style exam questions
Complete list of supplies needed
Detailed instructions for each challenge, including links and printables
Nature journal suggestions
All the challenges will coordinate with the January through March Outdoor Hour Challenge Newsletters
Alternate ideas to adapt the challenges to your local area
60 pages
Kindle Friendly

As always, please email me with any questions or comments. harmonyfinearts@yahoo.com
If you like what you see, spread the word about this winter nature study ebook! Share this entry and the YouTube video on Facebook, Tweet it out to your friends, or pin it on Pinterest! I appreciate all my loyal readers and fellow Outdoor Hour Challenge participants. I know that my success has been because of all your word of mouth advertising and it means a lot to me!
Save
Save