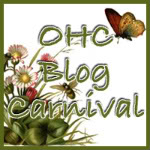 Did you have a good month of tree study? Our family had a full month enjoying our trees and having an idea of what to look for each week helped focus our eyes to notice things that might have been missed otherwise. Oaks were the tree of the month for us and we found the variety interesting, identifying several kinds for our nature journals. We made plans to continue our tree study into next month because we need to still observe our cottonwood (the subject of our year-long tree study).
Thank you to everyone who took the time to email me about the new Outdoor Hour Challenge format and letting me know how well it is working in your family. What a great community of nature study lovers we have in our midst! Take a few minutes to check out this rich and full carnival….spread some cheer by leaving a few comments as you read the entries.
Oaks and Acorns
Shirley Ann from Under An English Sky gives the account of their tree study this month: OHC-The Oak. As usual, she does a wonderful job of weaving her nature study into their week's activities. I love seeing how joyful their nature study is.
Cristy from Crafty Cristy shares how their Observation of Acorns developed and the reflections she has made about tree study after completing some of the tree grid ideas.
Lisa from What We Do has submitted their Oak Tree Study for the carnival. They observed and identified the galls on the leaves as well….great job!
Rachel from All Things Bright and Beautiful shares their study of Tree Pests (or bad bugs as her daughter calls them). They did a wonderful job learning about insects that affect trees including the acorn weevil. I learned a lot from the study.
Amy at Hope is the Word writes about their Oak Tree Study and shares it with the carnival for this edition.They did a lunch time study and found some mighty tall oaks to observe along with the acorns and leaves.
Sara from Garner Goings On shares her oak study entry: Growing in Knowledge of Oaks and Acorns.  What a wonderful glimpse into their oak study and their growing acorn collection for each oak they identified this month. Don't miss seeing their notebook pages where they recorded their findings.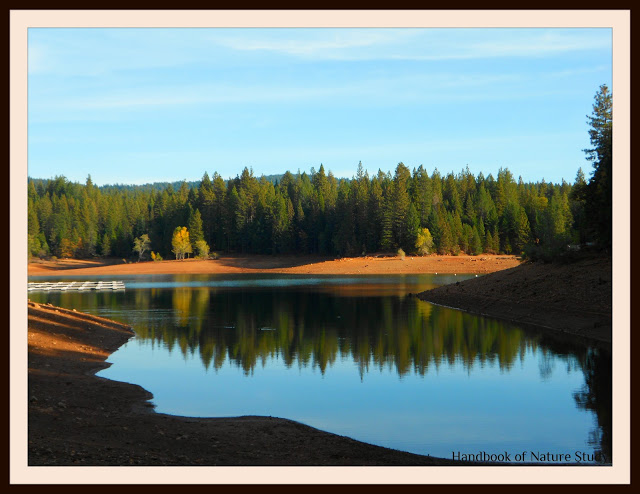 Our local reservoir is getting low but it made for a beautiful reflection of the autumn tree landscape.
Tree Grid Study
Cristy from Crafty Cristy submits their October Grid Study! One of the grid activities was to count the trees you can see from your window. Her son counted 115 trees! Don't miss seeing some more of their tree activities in this entry.
Robin from Academia put together a post of some of their tree grid activities: A Look At Trees. Check out Tabbi's four tree part images…love the roots!
Tricia shares How to Frame Your Days With Nature Study. In this entry she shows how scattering short periods of outdoor time throughout your day can make nature study a part of your regular routine. Using some of the tools in the monthly newsletter, including using things like the tree grid study, help her children to enjoy their outdoor time even more.
Melissa from Tending the Home Fires joins the carnival this month with her entry: Outdoor Hour Nature Study-Tree Grid Study. They have been doing the grid activities and this entry shows some of their highlights. What a great family nature study!
Jen from Snowfall Academy shares their entry: Fall Nature Study. Catch a glimpse into their autumn world and read how they are working at keeping a balance between structure and freedom in their outings.
Sarah from GranWood Explorers has given a thorough account of their October Outdoor Hour-Focusing on Trees for the carnival. Check out their list of trees and don't miss the photo of the beech tree! Glorious!

Carol from Journey and Destination has submitted her October Nature Notebook entry for you to enjoy. Take a look at two trees they had the chance to observe and then enjoy the bird images too!
Virginia from Livin' Lovin' and Learnin' put together a beautiful image filled entry sharing their tree study in The Beauty of Trees. They also are sharing their Trees-A Focus on Leaves and a Bit on Seeds in this edition of the carnival. I invite you to read how she is using her children's interests to keep the study of trees going and her plans for the future too.
Virginia from Livin' Lovin' and Learnin' also shares their November-The Grid: Trees entry with the carnival. She shows how their family is using the nature study grid from the newsletter to encourage some independent nature study.
Tree Poetry
Heidi from Home Schoolroom has submitted their Kicking off Our Focus on Trees With Poetry entry. They each took a different idea from the challenge and made some wonderful entries for the journals. Her daughter even completed a lovely cinquain!
Seasonal Tree
Shirley Ann from Under An English Sky submits their OHC Seasonal Tree Study for this edition of the carnival.  You will be interested to see how to measure the height of a tree and the width of the crown using instructions that she provides in her entry. Thanks!
Kim from Homepiecing has joined this edition of the carnival with their Maple Tree entry.  They have a glorious maple in their yard that they observed up close and recorded in their nature journals.
Nicole from Journey to Excellence writes up their seasonal tree entry for autumn: Which Tree is Yours? They each picked a tree at their park and they will following its changes throughout the year.
Potpourri
Michelle from Following Footprints has written up their Outdoor Hour Challenge #7 featuring a study of chickens using the Handbook of Nature Study with her little ones. What a great job they did on this challenge! Don't miss reading their entry and seeing their journals too. They also completed Outdoor Hour Challenge #8 – What a treat to read! I think it will encourage you too.
Cristy from Crafty Cristy substituted a study of goldenrod for the Queen Anne's Lace…what a wonderful study! You can read all about it here: In the Wonderful Days of Goldenrod. (She includes a poem that you may like to use in your nature journals.)
Anne from Harvest Moon at Home has submitted their Goldfinches/Yellow Birds Outdoor Hour Challenge for you to enjoy. What an informative entry for such a pretty bird that many of us have in our backyards! Anne has also completed their Blue Jays and Bluebirds entry as part of the the OHC. Don't miss seeing their nature journals too!
Martha from Sunrise to Sunset sent me her photo of some giant ant hills in Garner, Texas. Wow!
Kris from On The Eighth Day shares their Ant Study (September Newsletter Topic).  Wow! They have some really big ant hills to observe. I learned about something we don't have here in our part of the world.
Kim from A Child's Garden writes about their Signs of Autumn while on a trip to the apple orchard. It looks like they enjoyed their nature study and their delicious apples. (My favorite apple is a Fuji!)
Jamie from See Jamie Blog has written a wonderful reflection on their vacation nature study: Nature Study on Tybee Island. She shares how unstructured nature study has become a part of their everyday life and the enjoyment it has added to their family.
Angie from Petra School has submitted their One Small Square-Low Tide entry for you to enjoy. They found so many interesting things revealed for this period of time. Don't miss seeing her images of low tide creatures and their nature journals too.
Bethany from Little Homeschool Blessings share their Autumn Cattail Study. Looks like a great start to a year of observations. Brings back memories of our family's cattail study from a few years ago. Fun!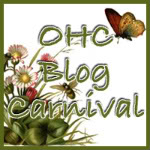 Don't forget to share your blog entries with the Outdoor Hour Challenge Blog Carnival. All entries done in November are eligible for the next edition. The deadline for entries is 11/29/12 and you can send them directly to me: harmonyfinearts@yahoo.com or submit them at the blog carnival site (link on the sidebar of my blog).
Also, tomorrow's post will have the November Newsletter download link in the footer so make sure to subscribe now to receive it first thing in your inbox! You can subscribe on the sidebar of my blog.