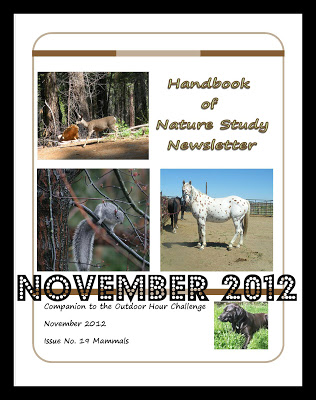 November 2012 – Mammals
This edition of the newsletter is packed with loads of useful information and ideas for a study of mammals using the Handbook of Nature Study. Although there are many, many mammals that can be studied, I chose to limit my suggestions to those covered in the Handbook of Nature Study. The mammals listed in the HNS are many of the common mammals you may have contact with in real life or have in your neighborhood.
Contents of this edition of the newsletter include: 
Learning Styles – My contribution to the newsletter this month is on learning styles and how they apply to a study of mammals.
2 articles contributed by OHC participants showing their urban nature study
Book

re

view by an OHC participant – The Burgess Animal Book for Children
Interview with a new OHC Family – so very encouraging!
November Study Grid and Bookmark – Mammal Theme
2 coloring pages
Show and Tell, Favorite Links, Winter Bundle Special Offer
I have attached the newsletter download link to the bottom of my blog feed so if you are a subscriber you will receive the link to the latest newsletter at the bottom of every post for the month of November. If you haven't subscribed yet, you can still subscribe and receive the newsletter link in the next post that comes to your email box. You can subscribe to my blog by filling in your email address in the subscription box on my sidebar.
Note: You can download your newsletter from the link in two ways: 
If your link is clickable, right click the link and then "save link as" to save the file on your computer.
If the link is not clickable, cut and paste the link to your browser, open, and then save your newsletter to your computer.