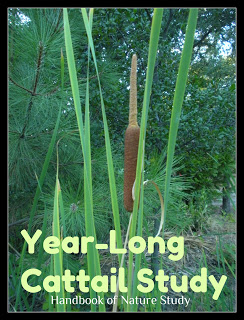 For this challenge, start a seasonal year-long study of cattails. This challenge from the archives will help your child learn the life cycle of the cattail in your neighborhood. Find a patch of cattails that you can observe in each season. Starting your study in the summer will be easy because they will be very recognizable.

See the suggested nature study ideas in this 2010 Challenge: Year-Long Cattail Study.
"It is an interesting process to take apart a cattail plant; the lower, shorter leaves surround the base of the plant, giving it size and strength. All the leaves have the same general shape, but vary in length. Each leaf consists of two parts; the free portion, which is long and narrow and flat toward its tapering tip but is bent into a trough as it nears the plant, and the lower portion, which clasps the plant entirely or partially, depending upon whether it is an outer or inner leaf."
Handbook of Nature Study, page 500
Printable Notebook Page – Seasonal Cattail Nature Study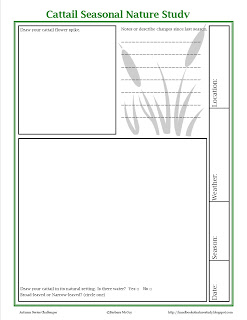 Use this notebook page to start your Year-Long Cattail Study with the summer season. Complete a new notebooking page in autumn, winter, and spring to see the complete life cycle of the cattail. You can also take photos of the cattails with your child and insert them into their nature journal.
Cattail Seasonal Nature Study Notebook Page
If you already own the Getting Started ebook, complete Outdoor Hour Challenge #10. Why not enjoy a picnic during your cattail outdoor hour? We have cattails at a local park and it would be fun to eat outside after making some cattail observations. Make it simple and fun….make some memories!