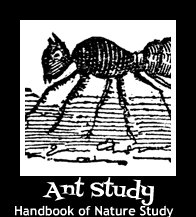 Outdoor Hour Challenge:
Every day we pass by ants, not noticing them in their busy ways. This week try to slow down and look for some ants in your yard, perhaps under a rock, in a crack in the sidewalk, or on a plant. Find a way to make this fun for your children. Invite them to open their eyes and to look carefully.
Use the ideas in this challenge from the past to get you going: Spring Series #10: Ants.
You can also use the Nature Journal Topper from the May 2014 newsletter to inspire a fun ant related nature study and journal entry.
If you have access to the new printables as part of your membership to this site, there is a new printable sheet with Insect Nature Table and Learning Style ideas for you to print out.
Special Activity:
Make a model of an ant out of clay or Sculpey
. Make sure to depict the three body parts of the ant: head, thorax, and abdomen. There is a great video to show you how to do this with clay and wire.
How to Build a Model of an Ant on YouTube.com

Getting Started Suggestion:
If you already own the Getting Started ebook, complete Outdoor Hour Challenge #3.  Use the suggestions in this challenge to make some ant observations and then follow up with a drawing activity for your nature journal. Here is a link to help with drawing an ant: How To Draw an Ant-Step by Step.

You are welcome to submit any of you blog Outdoor Hour Challenge blog entries to the Outdoor Hour Challenge Blog Carnival. Entries for the current month are due on 5/30/14.