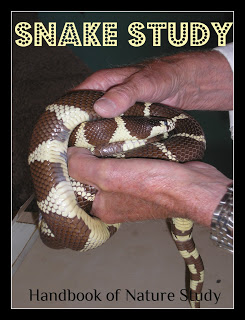 Outdoor Hour Challenge:
This may be a challenging study for many of you but from my experience I can tell you that you may be surprised when an opportunity to view a snake up close comes along. In any account, you can use this snake nature study to prepare for a future snake sighting.
Spring Snake Study using the Outdoor Hour Challenge: Use the ideas in this challenge to learn more about your local snake population. In my area we only have a few kinds of snakes so we listed them in our nature journals as a reference. This may give you a way to complete this study without actually seeing a snake.
April 2013 Newsletter – If you have access to this newsletter, there are some ideas and printables for you to use in your snake nature study, including a Reptiles and Amphibians nature study grid.
Special Activity: Field Trip-Amphibians and Reptiles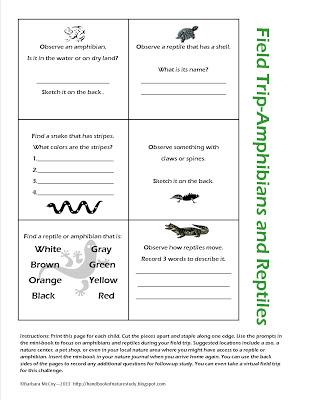 Use this free printable activity while on a field trip to a place in your local area that has reptiles and/or amphibians. This could be a zoo, pet store, nature center, or local park. Instructions are included on the bottom to create a mini-book to complete and then to attach in your nature journal.
Free Printable Amphibian and Reptile Field Trip Mini-Book
If you already own the Getting Started ebook, complete Outdoor Hour Challenge #2. Make sure to take your 10-15 minute outdoor excursion to spend some time outdoors this week. After you walk, help your child with finding words to describe their experience, whether they observed a snake or not. Use the accompanying notebook page to record your outdoor time.
Note: You can find the Getting Started ebook in all levels of membership here at the Handbook of Nature Study.