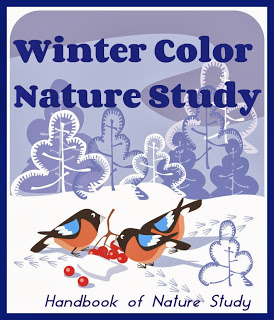 This week we are going to be completing the World of Color challenge from the Winter Wednesday ebook. This challenge invites you and your family to take a walk outdoors and find some color in your winter world. Even if you have to complete this challenge from your window, it will help train your eyes to see the bursts of color that are out there if you look carefully enough.
Original Challenge: The World of Color.
Don't worry if you don't have the Discover Nature in Winter book to use along with the challenge. Take the ideas listed in the blog post to complete a simple color hunt with your children and then follow up with an entry in your nature journal. The journal can be simply a list of colorful things you saw or a sketch of something your child found interesting. Make this a no-pressure challenge for your child.
There are a few other ideas in the ebook to try if you don't want to go outside for this challenge.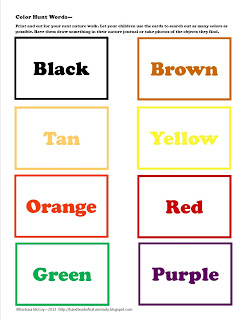 Color Cards For Your Winter Color Study
Use these color word cards to stimulate a fun nature study related activity. See how many of the colors you can find during your winter color hunt.
TIPS: These cards can be printed on cardstock or cut and pasted to index cards. If you only have a black and white printer, have your children color the words or the border with markers before going outside.
Printable Color Word Cards
Getting Started Suggestion:
If you already own the Getting Started ebook, complete Outdoor Hour Challenge #1. This is the perfect challenge to just take a simple walk outdoors with your children as part of completing challenge #1. Make sure to follow up your outdoor time with a discussion to find out one or two things your child would like to know more about. Don't worry that you won't know the answers to any questions they may have…just take the opportunity to learn together using internet resources or a trip to the library.