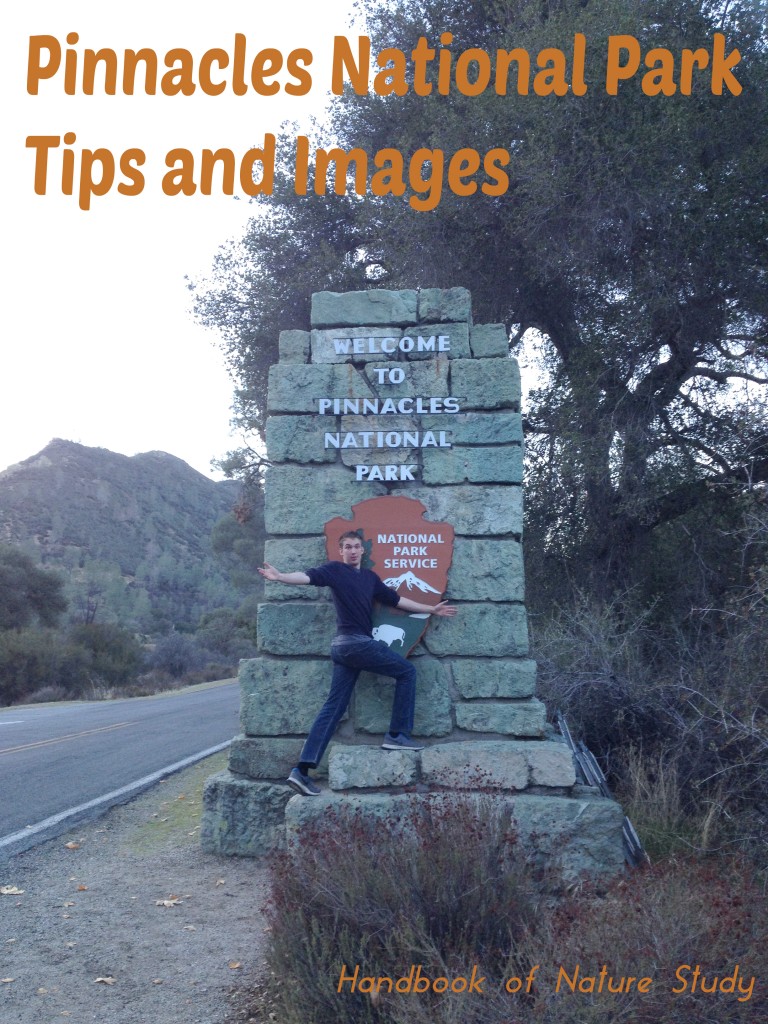 Pinnacles National Park – a park for exploring talus caves, rock spires, and geologic wonders.
Here in California there is a new national park…Pinnacles National Park! Well, it was made a national monument back in 1908 but they changed the designation to a national park in 2013. This park is located in central California about 125 miles from San Francisco which makes it an ideal day trip if you are planning an extended trip to this part of the world.
The drive into the park takes you through the rural farm lands that grow some of the vegetables you may be eating at your dinner table. The oak trees and rolling landscape create one of my favorite California views.
I have to admit as we drove into the park I was wondering why this area had received national park status. It doesn't have the dramatic Yosemite granite rock features or the towering redwoods of the Northern California parks. But, once you drive up into the park a few miles, the view opens up and you can really see the striking rock pinnacle peaks that have given this unique place its name.
I suggest you start your visit at the east entrance of the park at the visitor center. This is nothing more than a glorified store at this point but there are park rangers there that will direct you to the appropriate trailhead and trail for your amount of time and interests. See this page for directions and information about the two different entrances to Pinnacles National Park: Plan Your Visit.
During our visit, there were shuttle buses taking people from the Visitor Center up to the Bear Gulch trailhead because of the limited parking available at the day use area. There are several other trailheads that you could drive to if you wanted to experience a different part of the park.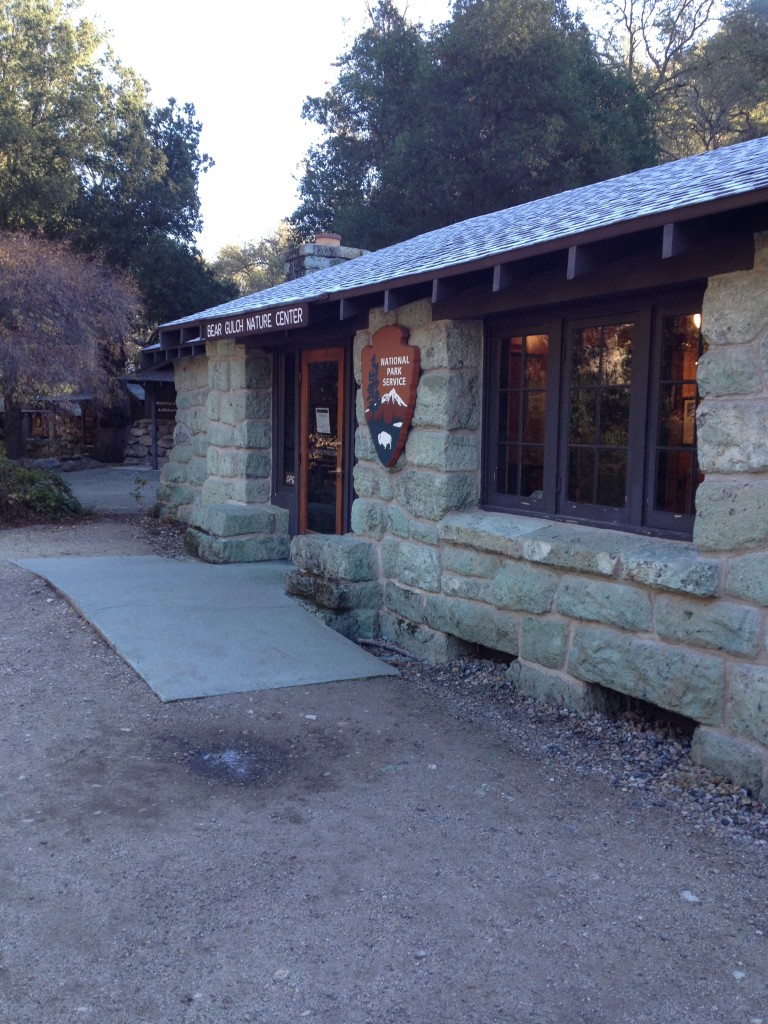 We decided to do a long hike with our boys and parked at the Bear Gulch day use area where there is a small but helpful nature center that had limited hours. Check at the visitor center before heading up there if you want to make sure it is open. We watched the introductory 14 minute long movie and highly recommend it at some point during your visit to Pinnacles. There were also restrooms available in the parking lot in addition to numerous picnic tables that are situated under trees for much needed shade.
Pinnacles National Park is HOT during the summer and the recommended window for visiting is during the months of October to May. Our visit in November was very enjoyable during the daylight hours but it was freezing at night….literally. I think it got down to 25 degrees one night!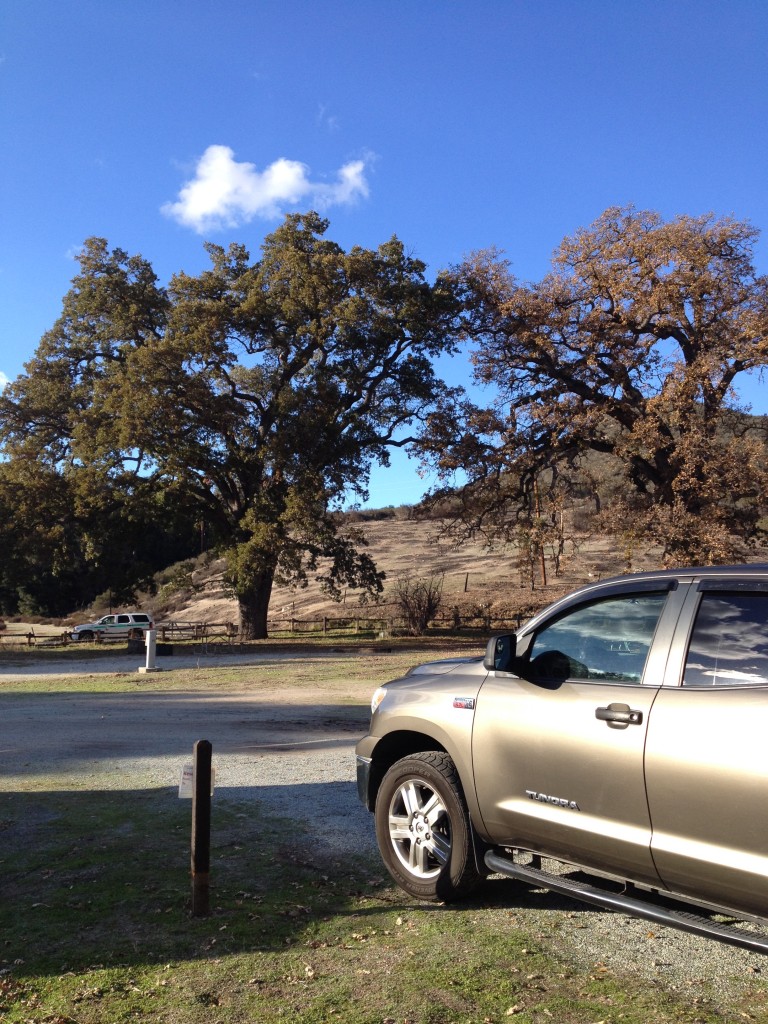 There is a nice campground if you are inclined to stay the night that has restrooms, showers, and a swimming pool. I highly recommend reservations during peak travel times. See this page for more information: Camping At Pinnacles.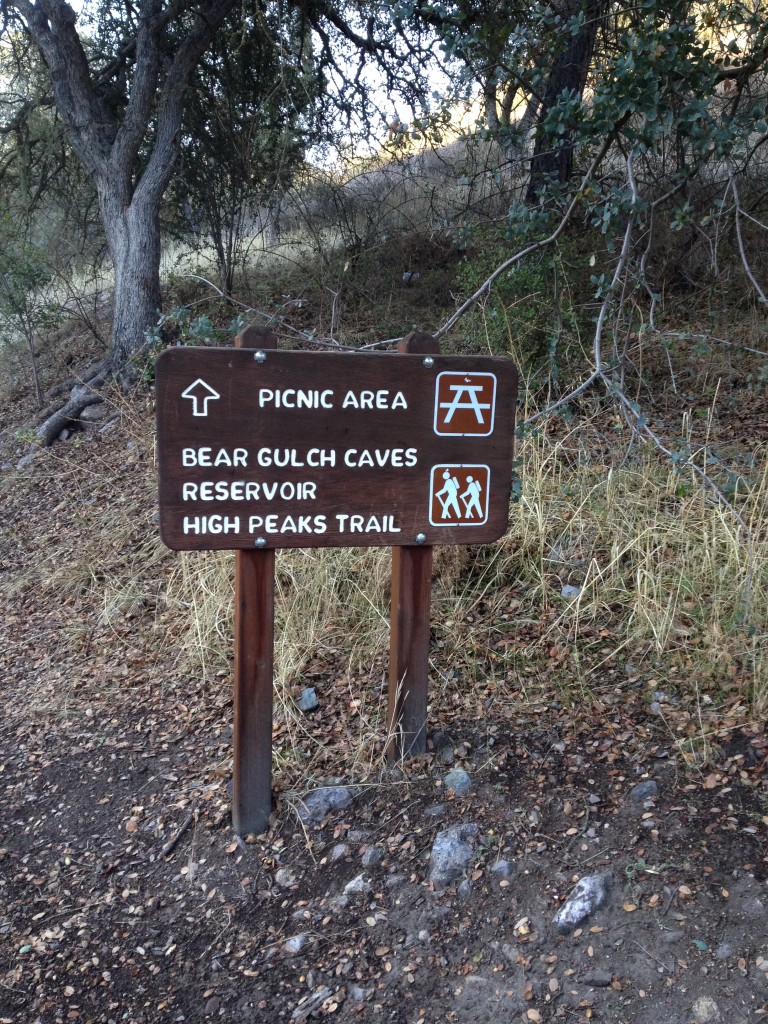 High Peaks Trail to Condor Gulch Trail: This is a long loop which on the map said it was 4.3 miles in total, starting and finishing at Bear Gulch day use area. My Fitbit measured quite a bit longer and I can't decide why there was such a discrepancy in mileage. We began early and had the trail pretty much to ourselves as we left the parking lot.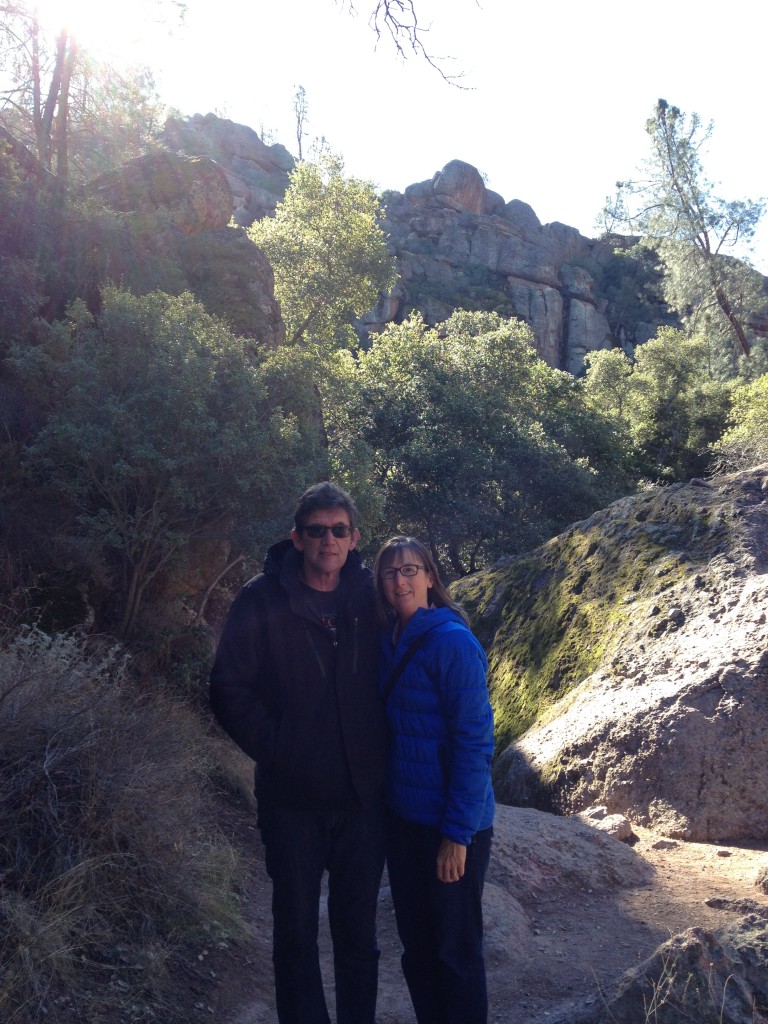 It was super cold and we had layered up. At some point in the first mile and a half, the trail breaks out into the sunshine and we began peeling off layers.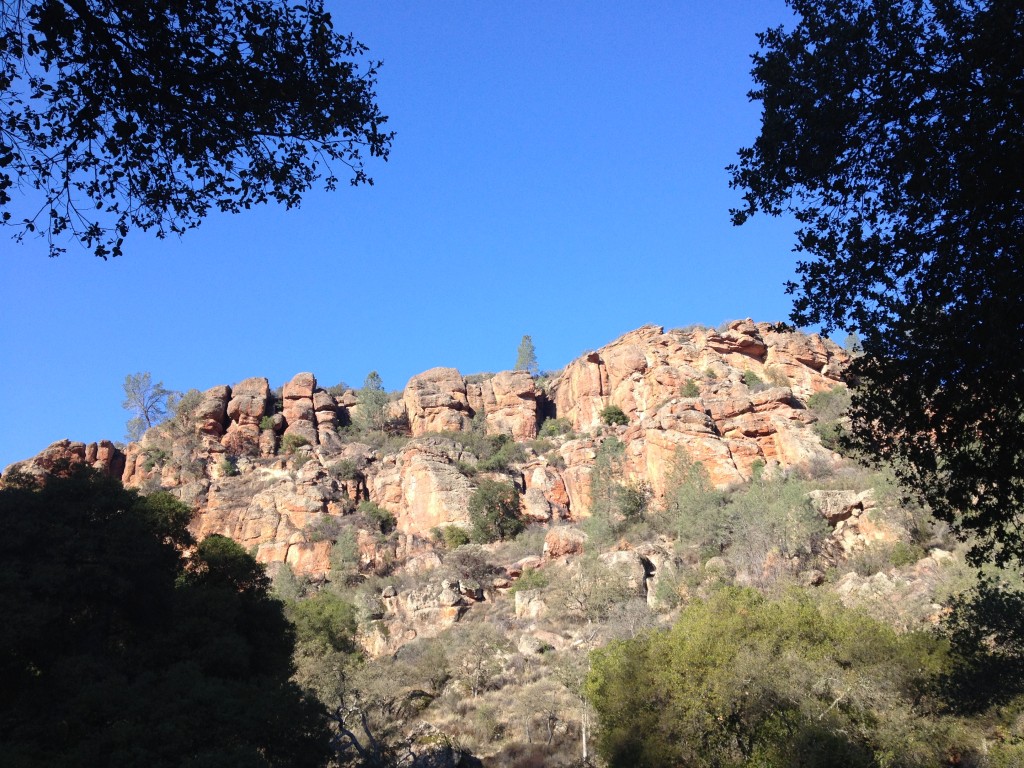 Then the gorgeous rocks of the pinnacle formations came into view as we hiked the ridge line.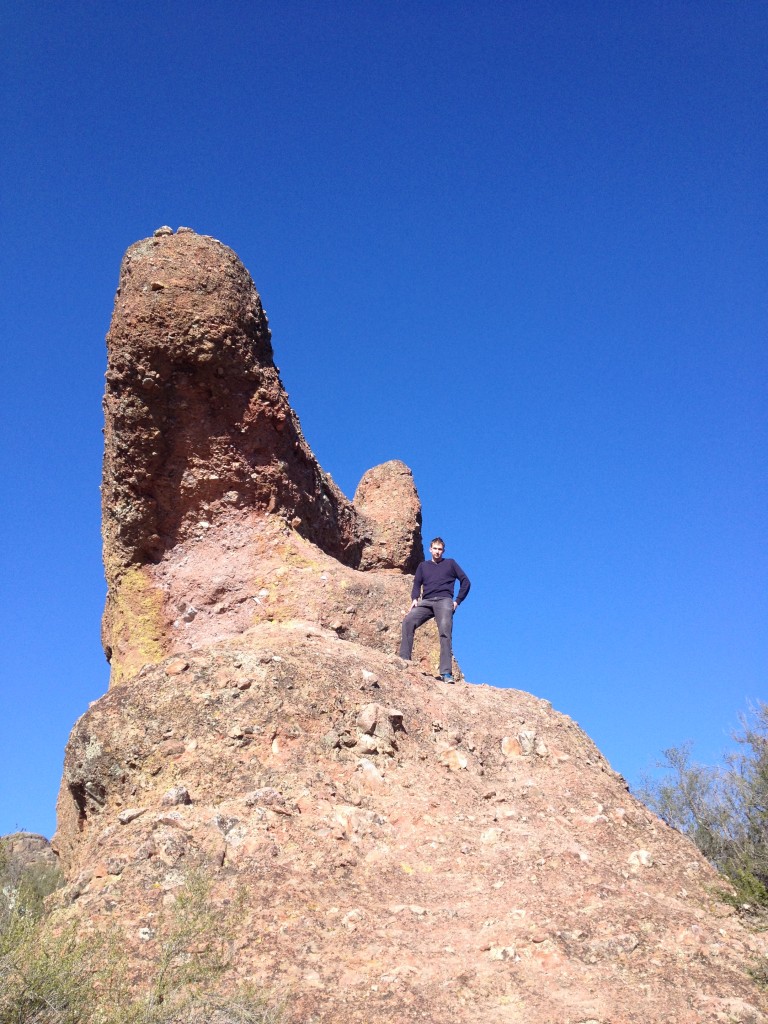 My son had to try climbing up a few of the rocks, of course! We were on the lookout for the famous California condors that are residents of the park but we didn't see one on this hike. Read more about the California condors at Pinnacles National Park on their website: California Condors.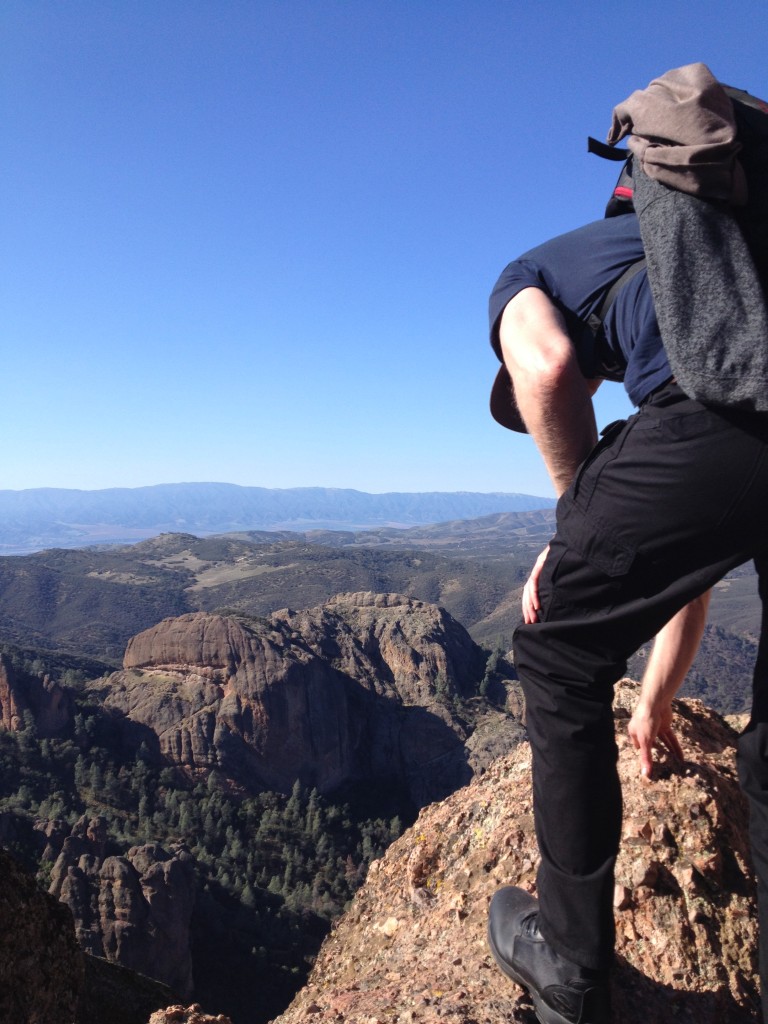 Once up at the top, the view goes in all directions. We could see down to the west side parking lot and visitor center from here. The park has two entrances but no road between the two. You can hike up from either side of the park to the High Peaks and on the west side there are the Balconies Caves.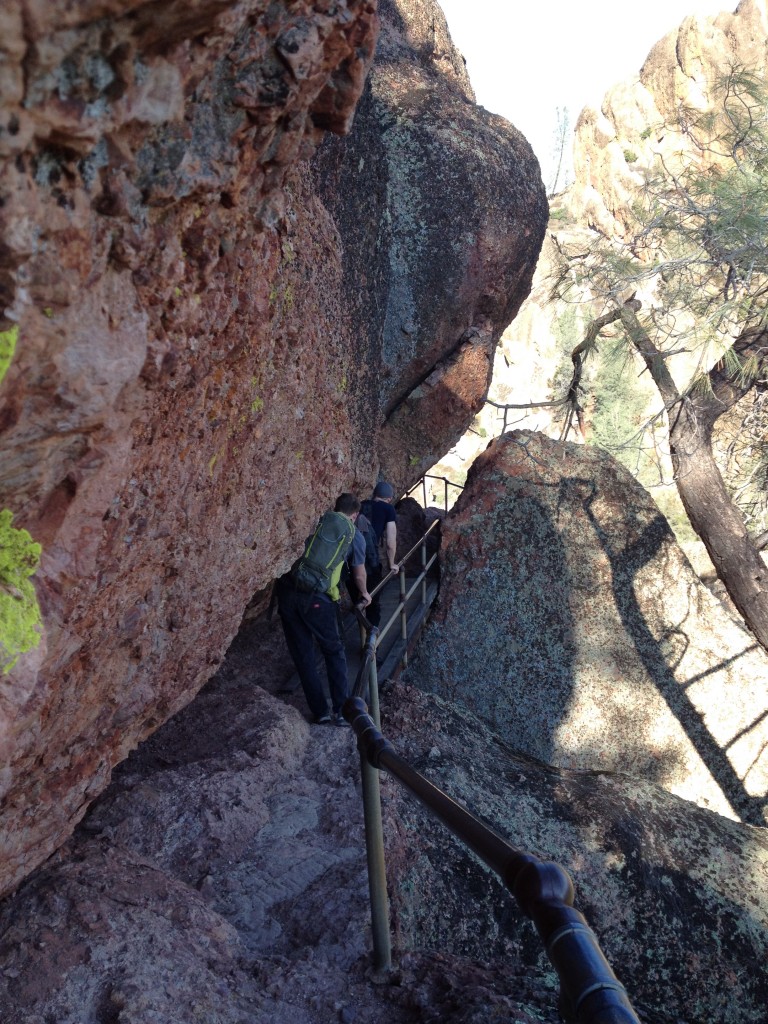 We opted to take the "Steep and Narrow" section of the High Peaks trail. I wasn't even sure what that meant until we got there. There are handrails to help you climb up and down and prevent you from slipping down the rockface as you squeeze through the narrow and sometimes low hanging rock openings.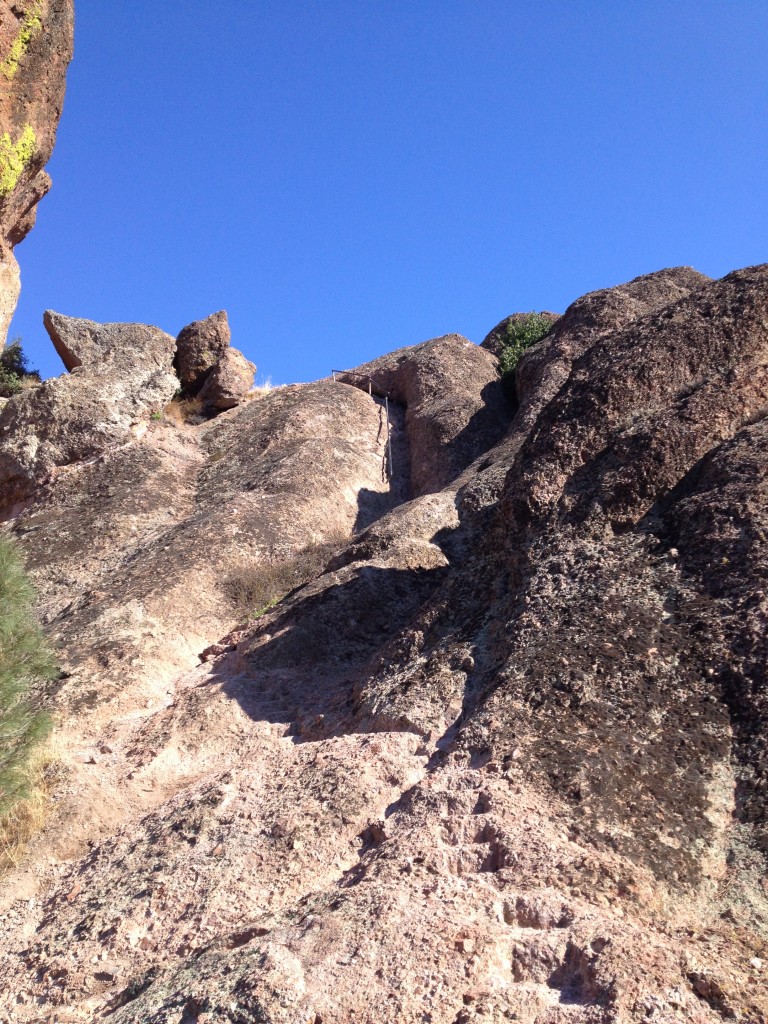 This part of the trail was created by a series of small narrow steps cut right into the rocks. There are portions that are almost like a ladder going up to the next section.You can see one at the top in the middle of this image…below see the stone step cut straight into the rock? I climbed up that!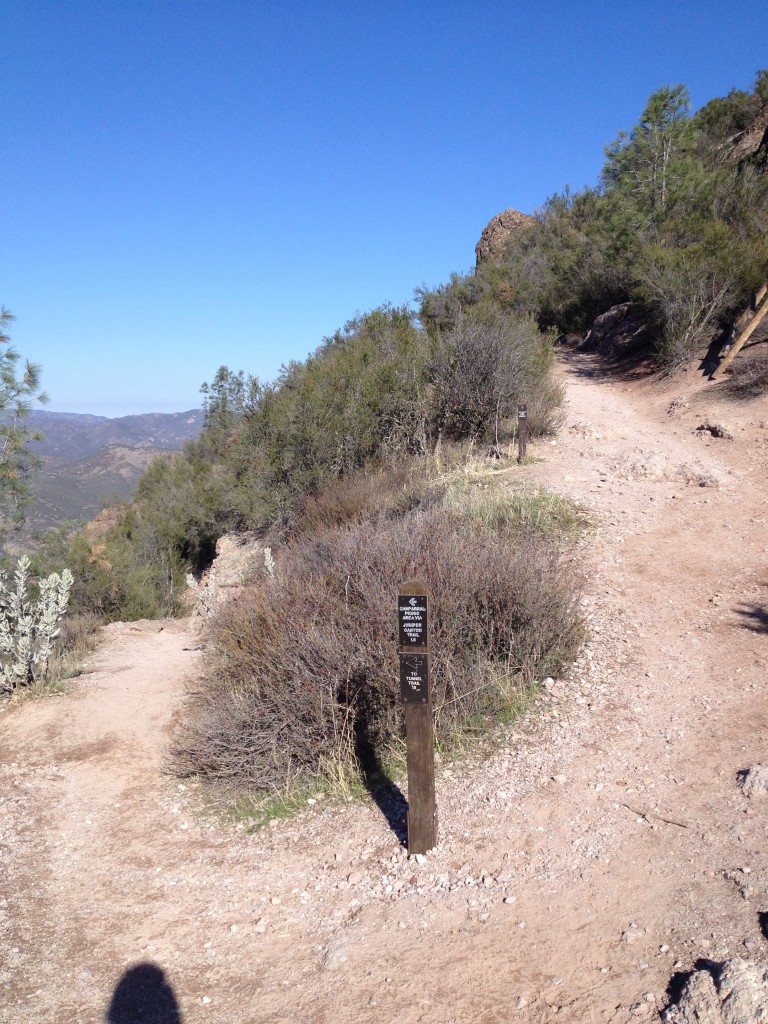 It was a great hike but much longer and more strenuous than I expected. The park literature really doesn't give you a lot of details about each hike and the map is not all that great either. Make sure to take plenty of water and food for you hike since it could take you 3-5 hours to make the loop.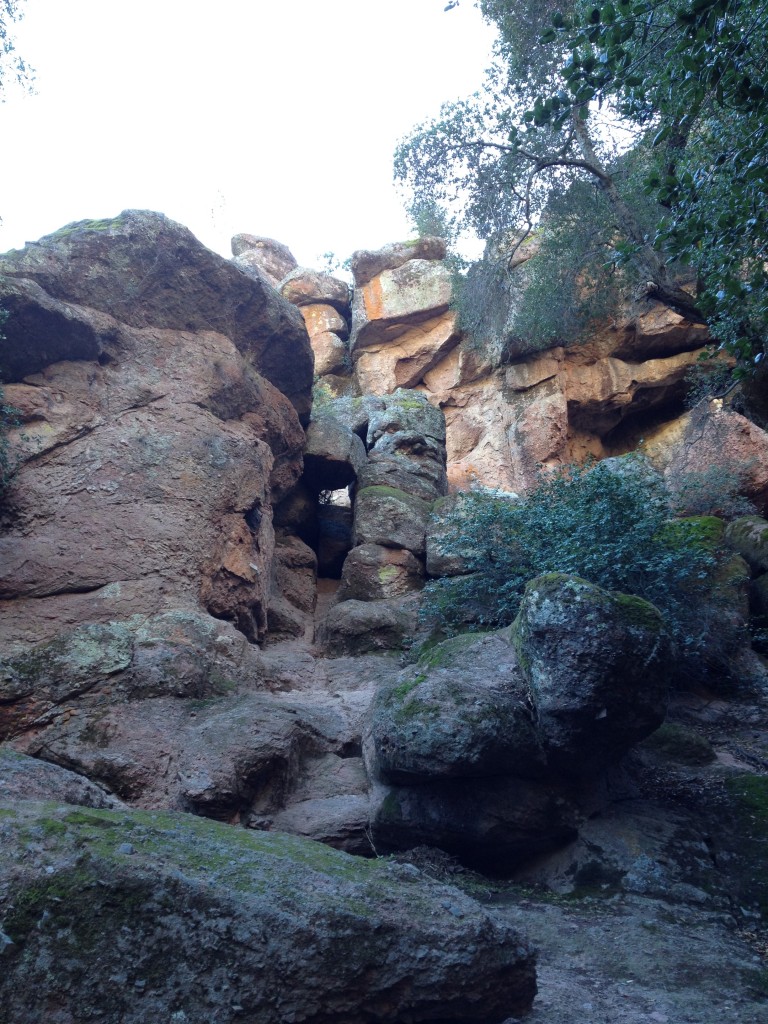 The other hike we took at Pinnacles National Park led us up from the Bear Gulch day use area to the Bear Gulch caves. These are unlike any caves we have been in since they are talus caves that are formed as giant boulders get wedged into steep canyons, creating a sort of roof over the area. You will need a flashlight for these caves but much of it is naturally light by sky lights created in the jumbled rocks. There is a clear trail through the cave area and stairs and a handrail that help guide you through.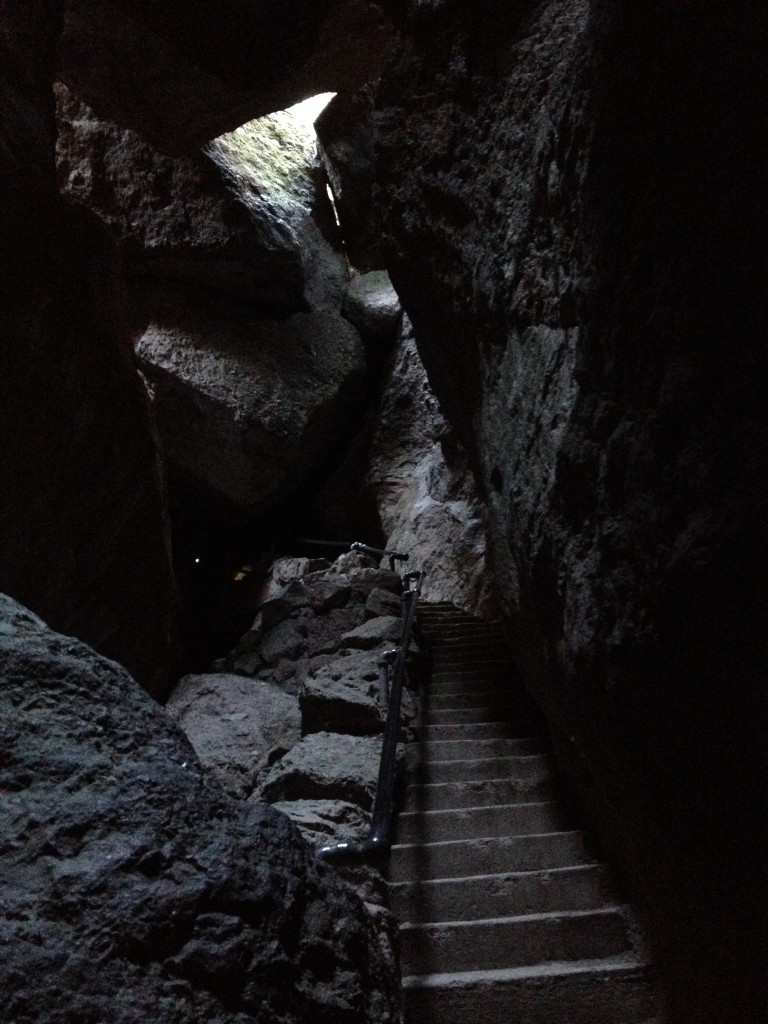 Note: Check at the visitor center or nature center before hiking up to the caves. There is a colony of Townsend bats that live in the cave at certain points of the year and they will close them off. During our visit, they were 90 percent open so we got to experience most of the cave.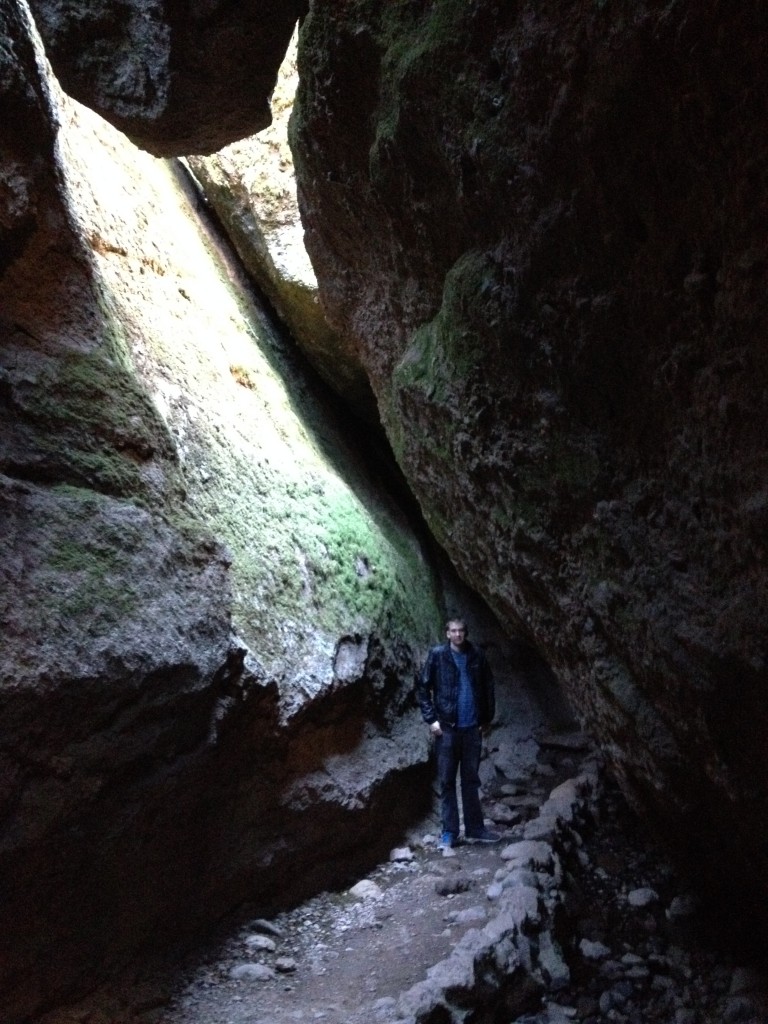 The caves are for the most part wide and tall but please note that my son had trouble in once section near the end of the cave where you will need to crouch down fairly low to get out of the opening. He had to take his day pack off and crawl on his knees which he didn't like. I had to squat down and sort of duck walk through it but I did it!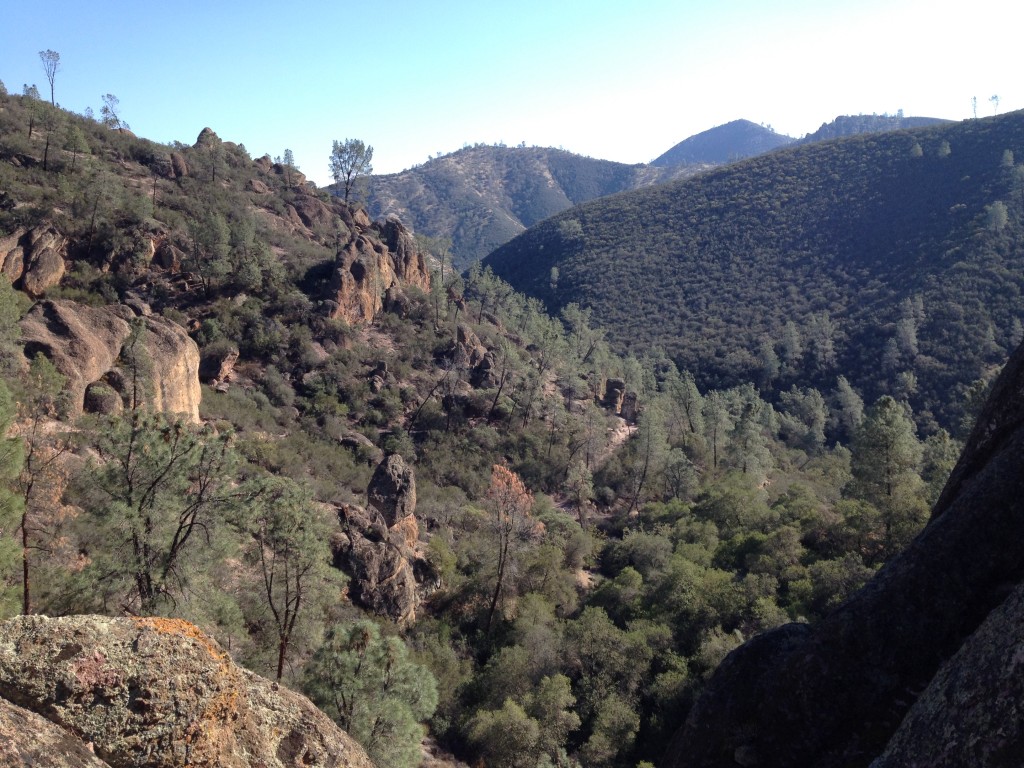 This was a winter trip to Pinnacles so I am sure each season would be a different experience. I am thinking a spring trip when the temperatures are still cool enough to hike and the park is filled with wildflowers would be a perfect time to visit. (I may have to add that to my wish list.)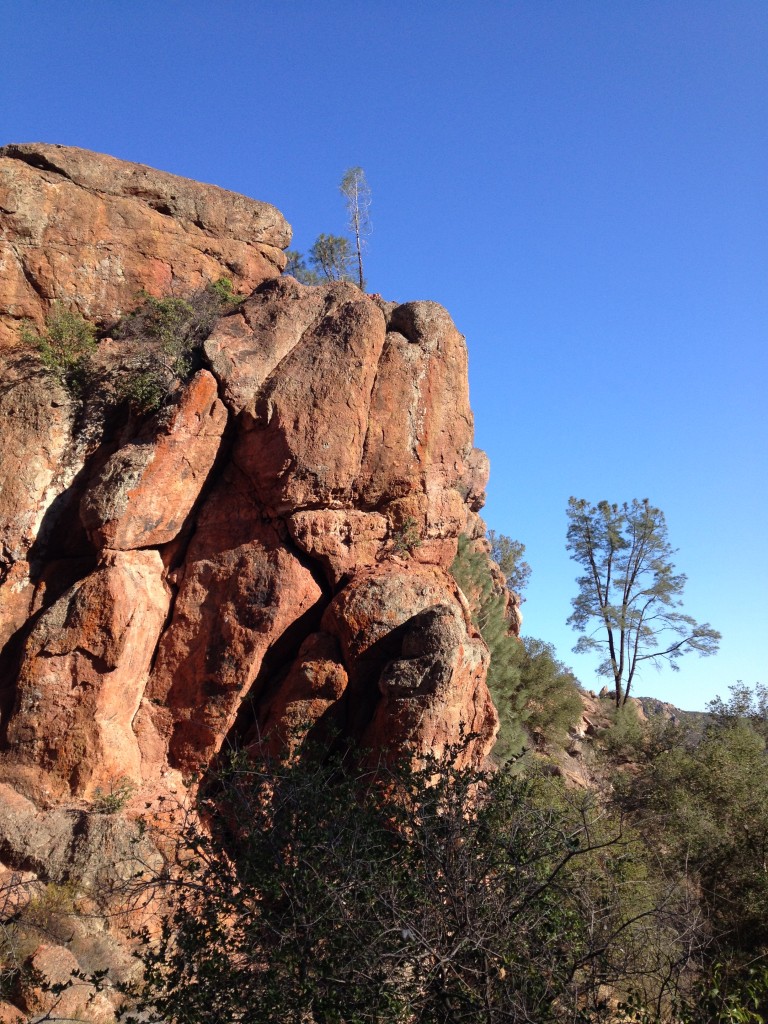 Tips:
There is an entrance fee of $10 per car as of the writing of this entry. (Free if you have a national parks pass.)
At the time of this post, there is no cell service or internet in the park.
125 miles from San Francisco, 190 miles from Yosemite National Park, 170 miles from Sequoia National Park, 270 miles from Los Angeles
Picnic area at Bear Gulch. There is a small selection of grocery type items at the camp store at the east entrance. Closest town with a large grocery store is Hollister, CA which is 30 miles from the park.
There are many places for rock climbing and designated rock climbing trails.
There is a Junior Ranger program available.
You can read more of my national park entries by following these links: